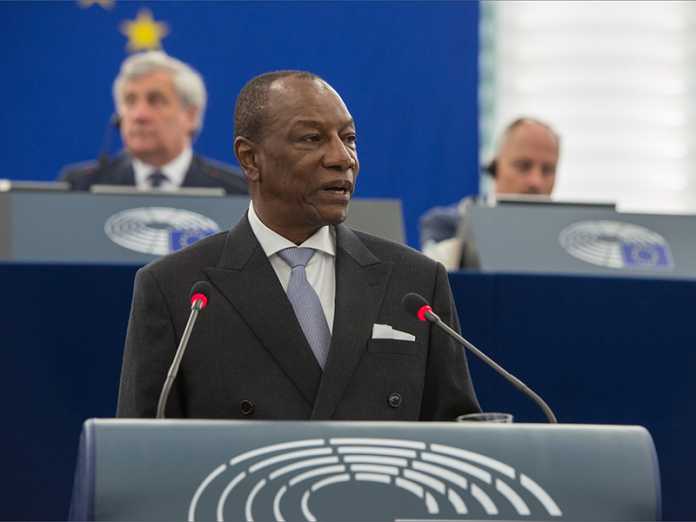 By Raoul Keddy
The newly re-elected President of Guinea, Alpha Conde, has made it his mission to push the country to greater economic and societal heights. In a vastly competitive and austere environment, the President wishes to express to, particularly, American audiences that francophone Guinea is 'open for business'. The fact is, it's not just talk; the country is indeed forecasting growth beyond previously-considered global expectations. 
It is the President's personal goal to outwardly demonstrate dramatic improvements in governance under his stewardship and no doubt ahead of the United Nations General Assembly (UNGA) in September; to spotlight sustainable and comprehensive economic transformation in Guinea, while setting a milestone for French Africa in the process.
It's not an easy assignment but in an era where American diplomacy is purportedly 'back' on the world stage, eyes are shifting towards the cradle of civilization and the emerging market stewards within it.
Guinea's GDP has nearly doubled over the past 10 years, from 6 billion to over 12 billion USD, now ranking the country among the most transformative nations in the Economic Community of West African States (ECOWAS) and one highly favorable for refreshed Foreign Direct Investment (FDI).
Its agricultural sector has been one of the primary engines of Guinea's economic growth (84% of the population takes part in the space). The nation has today over 30 agro-industrial transformation units contributing nearly 20% to the country's GDP. Several millions were invested in agricultural campaigns and initiatives including the provision of equipment and the urbanization of once-rural infrastructures under the President's steer, with Guinean agriculture hosting today an annual growth average of almost 5%. Export revenues have accordingly increased by 60% to Arab countries and 25% to European nations, as but examples.
The mining sector in the Republic of Guinea is also notably one of the most prosperous in West Africa. This can be directly attributed to Conde and several reforms orchestrated by his Administration. 
Further defying the trend of scrutiny elsewhere on the continent, the regular monitoring of mining activities in Guinea has significantly improved the performance and ESG adherence of artisanal yet abundant gold and diamond procurement in the country. The number of companies mining in Guinea have increased to 11 in 2018, with revenue attributed by the sector up by roughly 43%.
Education, inclusivity and social equity have concurrently been prioritized in tandem with economic growth. Women and young adults are the central beneficiaries of Conde's empowerment initiatives, forging greater socio-economic development for the country at large.
However, Guinea has been a blip on the radar of the United States, seemingly since the Republic's inception. Now, organizations such as USAID continue to support the country and no question helped strengthen the National Electoral Commission (CENI). Through the 'Power Africa' initiative, the U.S. government continues to provide support to Guinea to accelerate its access to modern energy services. The United States Peace Corps further works throughout the country in secondary education, agroforestry, and public health arenas. However, despite its thriving sectors, American Foreign Direct Investment (FDI) from both the public and private sectors remains low. 
Where there were challenges, business development experts like me envision opportunities. I would suggest that in this era of 'Great Game' competition between superpower rivals, America can and should take a fresh look at Guinea in 2021.
The economic and social development strategies which President Alpha Conde has put forward for the upcoming years, including mobilizing sufficient internal and international resources, enhancing good governance with additional reforms and emphasizing the country's industrialization agenda, Guinea is on the path to becoming an economic force in Africa within the next 10 years. 
If America wants to return to the diplomatic arena and truly 'Build Back Better', a partner they will find in the Conde Administration and the Republic of Guinea.
About the Author
Raoul Keddy is an entrepreneur, public affairs & government relations expert, speaker, international business & affairs expert, political strategist, business developer and negotiator. He is the Founder & Managing Director of Raked Intl LLC. Through Raked Intl LLC, Raoul has been instrumental in developing strategic plans, establishing key partnerships, facilitating negotiations and organizing trade mission trips. Keddy has helped to established trade mission trips to: Africa, the U.S.A, Qatar, Dubai, China and Europe. In his role as managing director of Raked Intl LLC, Raoul also provides his expertise in public affairs, business development, government relations and political strategy. Raoul Keddy serves on the boards of numerous organizations. He served as board member of the Mayor of Houston's International Trade and Development Council. He also served as member of the Readers Committee Mandela Washington Fellowship For Young African Leaders. As an international speaker, Raoul, has given numerous presentations focusing on topics such as: global investment, entrepreneurship, economic development and doing business internationally. He fluently speaks and writes in French and English. Keddy has been featured on many global media outlets and is the recipient of several distinguished awards and medals. He was born in Cameroon, Africa and obtained a B.A. in Communication at the University of Douala. He also studied Business Management at ITT Tech Institute. Raoul currently lives in Houston, Texas. He also served in the United States Army and was deployed to Iraq in 2011 to support Operation New Dawn.
The views expressed in this article are those of the authors and do not necessarily reflect the views or policies of The World Financial Review.