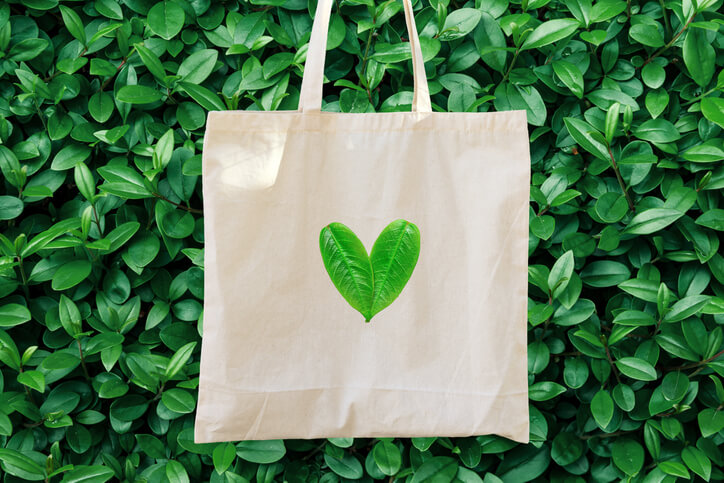 There has never been a more demanding time than now for consumers to look beyond the marketing gimmicks and truly do diligence when it comes to supporting brands. The pressure for more environmentally conscious purchasing decisions has never been greater, and all for good reason. You've probably heard the spiel a million times at this point: the polar caps are melting, the trees are burning, the plastics are clogging up the oceans. 
Thankfully, many global players don't just recognize this climactic demise but have been taking proactive measures to ensure they play their part in combating climate change. By listening to the needs of the planet, they've been able to make greener choices that will create a ripple effect all the way to the bottom line. 
Gone are the days where it was cool to stock up on cheap, of-the-moment trends from fast fashion brands or liberally purchasing single-use items like straws or face masks. What's cool now is thinking more sustainably when it comes to buying behaviour, and considering more ethical purchases instead.
There have been many environmentally-friendly and sustainable brands to have come out recently, as consciousness in the overall climate impacts have been in the mainstream discussions as of late. To be faced with the gravity of environmental challenges can feel overwhelming and, frankly, at times, damning. It sometimes feels like a lost cause trying to battle and work the system to your favour, when it has been engineered to work against you. However, there are those rare few, who make an active choice to rise to the occasion nonetheless. 
The people behind these sustainability brands – the designers, entrepreneurs, and business leaders – keep their eyes on the destination: a sustainable future that works for everyone. 
1. Rothy's
From the materials they source to their method of production, Rothy's has been one of the most well-known sustainability brands since day one of their launch. They have a wide variety of clothing readily available for any consumer. From men's and women's shoes to bags for all, they continuously and successfully merge classic styles with exceptional comfort, innovation and sustainable design. Their pieces are made from 100% recycled plastic water bottles and post-consumer recycled materials.
2. Tentree
Did you know that for each item you purchase from Tentree, they plant 10 trees and give you a tracking code so you can monitor its growth. While a little bit obvious given their titular brand name, the reward system this company has designed is nothing short of brilliant. Tentree's clothing is made from ethically sourced and sustainable materials including cork, coconut and recycled polyester and produced in ethical factories. They incentivize purchases in a way that doesn't feel tongue in cheek, and the ethos behind their brand is one that people can easily be inspired by. 
3. Maple Hill Creamery
The largest 100% grass-fed organic dairy company in the United States, Maple Hill Creamery does dairy the right way. With its in-house regenerative farming practices, the company truly believes in healing our climate. The way they operate is that 100% grass-fed cows put carbon back into the soil, offsetting greenhouse gas emissions while simultaneously improving the health of the soil and pastures. 
Maple Hill currently has 150 small family farms in Upstate New York and are committed to regenerative agriculture, the ethical treatment of animals and sustainability.  They have a wide range of dairy products like milk, kefir, and yogurt that's ideal for use in recipes and on their own.
4. House of Dagmar
This Sweden-based fashion label captures the very essence of Scandinavian culture. They successfully blend contemporary style with playful aesthetic and gives each piece of clothing a purpose. Founded in 2005 by three sisters, Karin Söderlind, Kristina Tjäder and Sofia Wallenstam, House of Dagmar was created to carry on the legacy of their late grandmother Dagmar, a tailor and model. House of Dagmar is popularly regarded for their sustainable efforts in the fashion industry, a fabric of society that's been known to be hypocritical of its efforts despite the large production value needed to make clothes. But not them – each article of clothing they put out is made with the utmost care and respect for nature. 
5. Seventh Generation
Seventh Generation has been in the sustainability game since 1988. This paper, personal care and cleaning product company has rooted themselves with their core mission of "transforming the world into a healthy, sustainable & equitable place for the next seven generations." They specifically want to target the issue of waste packaging for most commerce brands. So, along with their plant-based products made of ethically and sustainably sourced ingredients, Seventh Generation makes sure their packaging is just as environmentally friendly as their products. In order to reduce waste, the company uses recycled materials for their packaging and designs the packaging itself to be recycled. It's like recycling within recycling – a recyclectpion. 
6. A Good Company
A Good Company is on a life-long mission to change e-commerce for the better. This company houses a variety of sustainable everyday products for our household, all created with an ethical ethos in mind. Founded in 2018, Anders Ankarlid created this Sweden-based company with his own kids in mind. He stated that he wanted to be able to tell his children one day that their father did absolutely everything he could to fight climate change. This is a common theme for the company as the planet's health is a deciding consideration with each product A Good Company creates.
7. Patagonia
Patagonia not only uses sustainable materials in its outerwear, but also helps customers repair their clothing instead of buying new items. They incentivize their return policy in such a way it doesn't feel tedious, but only encouraged. The company follows fair trade practices and closely monitors its supply chain to make sure every point of arrival is done so ethically. Patagonia has a goal to find solutions to environmental issues without causing unnecessary harm to the world. Because the products are made with only the most durable materials, customers are encouraged to recycle old Patagonia gear and purchase items second hand. 
8. Bombay Sapphire
Known for pioneering sustainable spirits, Bombay Sapphire houses a wide distillery that has since set a new standard for sustainability.  When it comes to sourcing ingredients for the gin, Master of Botanicals Ivano Tonutti, only selects the finest quality botanicals, including juniper from Tuscany, coriander from Morocco, lemon peel from Spain and cubeb berries from Java.
9. Pela
What began in 2010 as a passion project has quickly grown into one of the leading voices in plastic waste management in the ocean. Today, Pela prides itself on creating the "World's First 100% Compostable Phone Case," and their goal is to prevent 1 billion pounds of plastic from being made in the next 5 years. Their cases are made from 45% plant-based materials and the back panel of their Clear case is made from 100% plant-based materials.
10. Effusio
What if there was a way for you to take the right amount of medicine on the dot without having to do mental math gymnastics? Enter: Effusio. The best part is that it's all sustainable, too. Effusio offers an innovative alternative to meeting your daily supplement needs by complementing your health routine, not complicating it. They have discs available in Prebiotic+ and Sleep+ which are dropped into a glass of water where you can enjoy the benefits of a health-infused beverage. By ignoring the traditional production processes that make plastic bottles, Effusio's obsessive focus on delivering a plastic-free, nearly zero carbon footprint disc sticks it to the status quo of the supply chain and packaging industry and creates a movement for a healthier planet. 
Conclusion
While it's nice to go the extra mile and support these causes, it's important to know that brands alone do not create a sustainable future. We, as willing consumers, must take an active stance every single day to slowly build towards a future that is more empathetic to Mother Earth. By integrating their products into our lives, we elevate our very existence and speed the arrival of the world we want to see.
The views expressed in this article are those of the authors and do not necessarily reflect the views or policies of The World Financial Review.