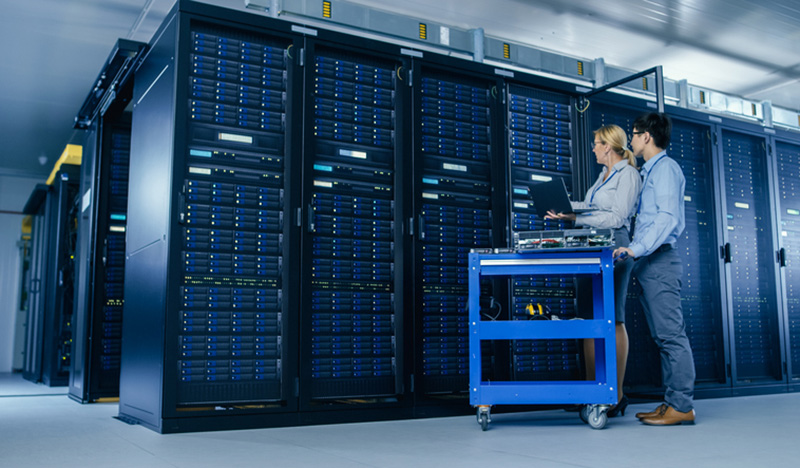 With the influx of many digital mediums since the pandemic, there are so many options on the market for web hosting that the process of finding one can be daunting. Even simply acclimating yourself to the digital space can easily overwhelm you with too much information, half of which you'll only realise much later on that are completely unnecessary. Like history tells us, people are quick to evolve with the times and make mountains out of molehills. From streaming games on Discord to knowing how to resell hosting, it's a wellspring of entrepreneurial creativity today.
Whether you have a popular blog or run your own online business, a reliable web hosting provider is integral to your setup. This is the single most important point of reference you will need to constantly monitor and adjust, so you need one that's already half as good at running itself.
In layman terms, a hosting service works as a bridge between you and the digital world by offering you a space on the digital web. You cannot present your products, service, ideas, or sell them without having your website and content hosted on a globally connected server. From free to premium, there are many models of hosting services.
Finding the right web host can be a bit difficult for some people because not every provider can give you the excellent service you seek. Each one will offer different services aimed at a different brand of clientele, so you'll need to do initial research beforehand to find out exactly what it is you're hoping to gain from the transaction. You will also benefit from comparing hosting plans from known providers like Verpex, Bluehost, SiteGround and so on, to see what they all offer.
But all in all, it wouldn't hurt to know the traits of a good hosting provider in general.
1. Reliability
Think about how every time your website goes down, so does the number of your visitors. It might seem like a non-issue in the grand scheme of things, losing that single second of inaccessibility; but in the digital world where everything moves a mile a minute, you've most likely just been robbed of quite a generous sum. If you lose visitors, then you lose profit, members, reputation, etc. It's for these vital reasons that you simply cannot afford for your website to be down—even for a short amount of time.
To ensure the web host you're looking at will be reliable, find out how many customers they have (typically the more the better) and see if they have a guaranteed uptime. You can also do prior research and look for any complaints about the company on the internet in terms of response time and ask other users using their service about their experience.
2. Amount of bandwith
This is another crucial point to focus on when choosing a web hosting provider. You will need one that provides you with flexibility and speed when it comes to the bandwidth that your platform needs, and generally keep pace with the demand of your products and services. The last thing you need is a provider who locks your bandwidth or stops providing it after a silly limit point or when the site gets overwhelmed. Getting a speedy server that doesn't stand in the way of your personal or business goals is just as important as the care you put into growing your brand.
3. Storage capacity
While most people take the cloud space for granted, one of the first and foremost concerns you should address is the amount of storage your service provider offers. For most small and medium websites, you'll find a few GB of data storage as enough. For a more heavy load of data, maybe throw in a couple of TB just to make sure things run as smoothly as they possibly can.
Some host providers even offer unlimited volume with certain conditions applied. But the most important thing is to never compromise your storage space for whichever reason, and splurge on a few more wiggle room if your finances allow. You won't regret it, and it may just turn out to be the one saving grace you're glad you invested your money in.
4. Database Management & Support
Never underestimate the value of a good customer service system. While there are many types of database management systems, you need to make sure there is integration and alignment with your website and hosting company's system. Since websites need to have a backend database, ensuring that your website host offers you the type of database system you're used to can make a world of difference when it comes to actually managing the website. If you don't find this mentioned in their services' description, rush to their customer support; call them, send them an email, or have a chat with some CSR to clarify in advance and avoid any difficulty later on.
5. Backup & Security Services
It goes without saying that cybersecurity is a key component in today's web management. There are many things that can go wrong quite easily on the web. Hackers, software bugs, and hard disk failures can cause data loss from the websites with a single snap of their fingers. Taking extra measures to ensure you have a proper backup mechanism can save you from losing potentially thousands in losses.
It's highly encouraged to find out a web hosting agency with a reliable backup system that keeps a record of files regularly. Some of them have a 24 hours' time period of constant filing, while others do it many times during the day at interval periods. Moreover, ask if you can download some copies from the control panel.
Conclusion
They say the internet never sleeps – and this can be quite true for anyone in business with it. You're almost always "on" because your morning can mean someone's night in the other corner of the world. Choosing the best web hosting service for you can be a make or break experience, but one that will surely elevate your brand towards success once you do.
About the Author
Pamela Rhyan is a writer for The World Financial Review. She is dedicated to crafting timely blog pieces about business acumen, changing leadership dynamics, emerging finance and technology trends, global breakthroughs and how these spaces intersect from a millennial's perspective. She also works as an editor and content strategist to the sister publications of The World Financial Review.
The views expressed in this article are those of the authors and do not necessarily reflect the views or policies of The World Financial Review.