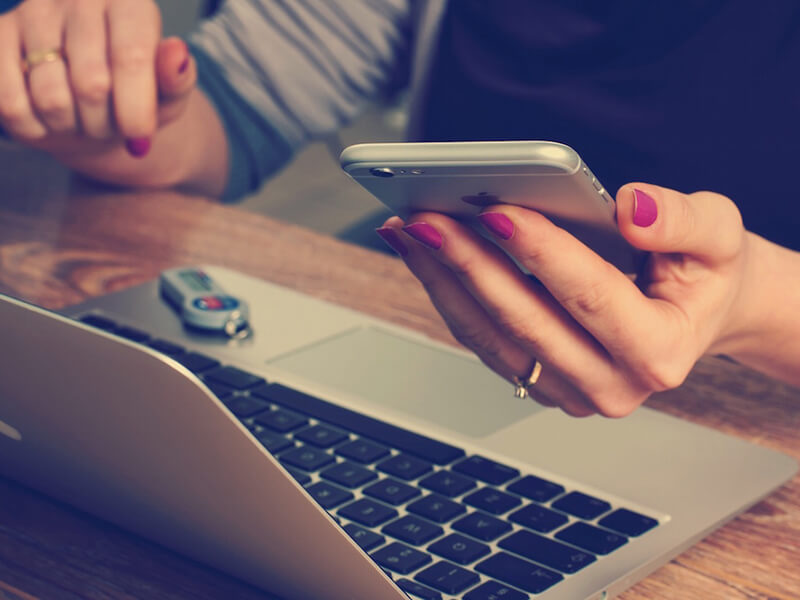 Productivity in the business sector has been steadily declining since 2007. Here are some of the latest figures from the Bureau of Labor statistics. When the modern smartphone came to the fore, which is becoming an increasingly important part of our daily lives, this begs the question, "Is the dramatic decline in labor productivity over the past decade a result of technology?"
While some believe that banning technology can increase focus and productivity, the truth is that with some discipline and effort, the same technology can be used successfully to make most tasks more effective and faster. 
The successful business owner understands how important productivity is in the work environment. Employee productivity can help companies leverage the potential of the available workforce. And most businesses that focus on productivity usually have healthy and happy employees, which adds to their overall success.
However, trying to use a one-size-fits-all approach for every employee is likely to fail because it may not be easy to understand everything. If you know which method to use for each employee, you can find the most suitable solution.
What Is Employee Productivity?
Employee productivity means that your team is efficient and effective. They use their work time wisely to get more and better results in less time.
Being productive is more than "doing something." The person who tweets random content on your business page is technically doing something, but they are not productive, are they?
You may often hear the phrase "work smarter, not harder," but how do you do it?
To be productive, your team should meet three criteria:
They get the job done and complete a reasonable number of tasks. It means they meet deadlines and don't spend too much time on anything.

They do quality work. The completed results that meet or exceed your expectations.

They don't waste time on things that have lower priorities. Time and effort are used efficiently.
In other words, productive employees focus on the right things at the right time. Minimal effort is wasted, and the work they do creates the desired result. Working flexibly is a great aspect of every diligent employee. Room occupancy sensors help them to work more efficiently. They are an efficient way to analyse how building and office spaces are utilised. Using data give teams greater visibility on what can be done to optimise working practices, inform future designs and ultimately boost employee productivity.
That is why it can be hard to turn around a team that is struggling to be productive. Employees probably work more than 40 hours a week, and they feel like you are telling them to work even harder.
However, the usual advice of "work smarter, not harder" doesn't help this situation. The critical question remains. How do you work smarter? You can handle hundreds of tasks every day, but you are still unproductive if they are not the right ones.
To get your team back on a productive path, you have to understand what's going on in your team and address those specific challenges.
However, there are a few more general ways to increase office productivity with today's technology.
Switch To Hosted Voice — Voice Over Internet Protocol (VoIP)
There are different options for business phones entrepreneurs may choose from. 
They may consider using the broadband Internet connection to power the phone services, Hosted Voice, or Voice Over Internet Protocol (VoIP). It provides a simple solution to significantly reduce overall communication costs, improve and expand employee and customer interaction, and provide more reliable quality of service.
Popular features of such solutions include:
Fax-to-email

Follow Me

Voice-to-email

Conference Bridge

Toll-Free Numbers

Unified Communications
Ultimately, it equips employees with advanced communication tools that allow them to work in and out of the office.
Manage Passwords Effectively
Passwords are slowly disappearing instead of biometric authentication. Most apps offer seamless, intuitive UX, such as self-service for login or voice recognition for payment. 
Reissuing and reloading passwords is costly both operationally and financially. It is recommended to manage credentials on all devices with a tool like 1Password. 
You Should Use Chrome Extensions
Many people want to get more done in less time. The best way to do that is to add all your tools to your Chrome browser, which will allow you to access them much faster. 
Adding extensions like Lastpass should help save you time and remember all your passwords on every site you need to access. It can save you a pleasing amount of time and dramatically improves productivity. 
Organize Work With A Calendar App 
Calendars are the most underutilized productivity tool. Reminders go very well with good planning. Once a week is entered into the calendar, your productivity has some rails to guide it. 
Tools For Time Tracking
With technology, management can use online productivity and organizational tools to track time, progress toward goals, and project management. 
Using these tools, it can become apparent that a project is behind schedule, and businesses can adjust their actions to accelerate the process. 
Technology also empowers employees to move forward through their personal goal system and ensures that performance trends are realized through individual employees, teams, and the entire organization. 
The method of analyzing and tracking employee performance can also be used to ignite friendly competition.
Increased Flexibility And Connection With Mobile Workers
Technology enables employees to perform at a high level in changing environments. Teams can work efficiently and effectively outside the office and in normal workplace conditions. 
Mobile employees can send and receive important information, communicate with other team members, solve problems and perform other necessary tasks related to their work, even when they are away from the office. 
The growing power of Internet connectivity and data speeds, as well as innovations in cloud computing, allow mobile employees to do whatever they need to do when they are away from the office. 
This flexibility reverses the traditional 9 to 5 dynamic and increases employee productivity even when they are away from the office. Employees can also work in a more comfortable environment.
Tools For Collaboration
Every business professional knows how important collaboration and teamwork are to an effective workplace. 
Traditionally most offices will have mobile whiteboards set up to help with general collaboration for overarching business goals or in meeting rooms for team brainstorming. Now modern management teams can provide a consistent, constant, and smooth flow of information between employees across all areas of the business. Effective use of such technology empowers colleagues to communicate with each other to achieve the ultimate goal of getting the job done.
Smartsheets is a software-as-a-service (SaaS) designed for collaboration and work management. It allows users to assign tasks, track the progress of a project, prioritize deadlines, manage calendars, and share documents. 
With a spreadsheet-like user interface, managers can easily remind employees when deadlines are approaching, ultimately encouraging employees to complete tasks and projects on time.
Use Of Chatbots To Help With Customer Service
It is challenging for many businesses to get customer service right. Many customers have negative experiences with long phone menus and frustrating wait times. 
However, chatbots give customer service an upgrade and make it much easier for businesses to provide a great customer experience. 
A new kind of chatbot in messenger apps can easily answer frequently asked questions, quickly order products, intelligently provide technical support, and make reservations.
Get A Reliable High-Speed Internet Connection
In today's competitive environment, having a high-speed, reliable Internet connection is paramount to a company's internal productivity. In a world dependent on the Internet, digital downtime can cost a company up to $100,000 per minute. What causes downtime, and how can you avoid it?
Are you working in an emerging field? Construction can disrupt your connection. Does your area ever experience high winds, rain, or snowfall? Weather can disconnect your services for hours or days. Do you work in a shared office space or building? Internet speeds can be inconsistent and unpredictable simply because everyone uses the same fiber optic line.
Simply put, fixed wireless provides high-speed broadband Internet access in one location via radio waves. Using antennas, towers, and line-of-sight (LOS) express to transmit point-to-point signals, fixed wireless technology eliminates the need for expensive terrestrial fiber, satellite links, or cable lines. 
If it is unaffected by weather, fixed wireless provides businesses with a dedicated connection that boasts faster uptime, ultra-low latency, and higher bandwidth.
Utilize Group Chats 
In short, Google Hangouts is a modern instant messaging platform. Allowing up to 15 people to join together in a single chat. Google Hangouts eliminates time-consuming email chains or those "long walks around the office." 
Questions can be asked and answered instantly, and "losing" or "not seeing" an email is no longer a legitimate excuse. Group chats are accessible via your phone or desktop and can even be called a department to further encourage organized and effective communications.
The Bottom Line To Improve Workplace Productivity
The tips above could be used for both your personal goals and if implied by a manager – for the group productivity improvement. These tips show that you don't need to spend thousands of dollars to change your workplace for the better. 
The views expressed in this article are those of the authors and do not necessarily reflect the views or policies of The World Financial Review.