For years, drugs and corruption thrived in the Philippines as policymakers engaged in external adventures ignoring domestic investment. The Duterte government is fostering a historical investment drive, while seeking to defuse the threat of drugs and corruption. So why is it penalized in the West?
Recently, President Duterte said that people should look to the Central Intelligence Agency (CIA) in case anything happens to him, referring to the US criticism against the war on drugs in the Philippines. "If my airplane explodes or a roadside bomb goes off, you can ask the CIA," he said.
Timing matters. After former US Ambassador Philip Goldberg left Philippines in the aftermath of the 2016 election, he allegedly wrote a "blueprint to undermine Duterte within 18 months" – we are amid the deadline period.
Why the drug trade was ignored
Ironically, Duterte has taken the drug problem seriously, as most Filipinos whose neighborhoods have been invaded by drugs for more than a decade, particularly in the President Aquino III era. During the period, the drug problem was downplayed by the mainstream media and largely ignored by international media. Any efforts to educate the public on how to treat addiction was non-existent. As a Google Trend search demonstrates, it was only when Duterte began the war against the drugs that critics awoke, as evidenced by soaring story mentions about the Philippines and drugs in international media, mainly in the US and Europe (Figure).
Figure The Long silence about PHI drugs invasion until the Duterte Era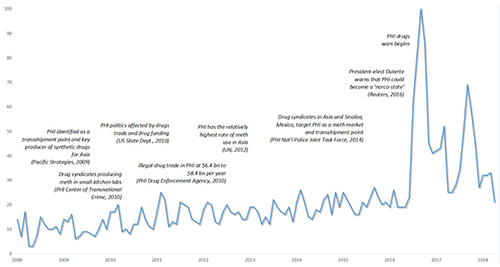 Sources: Google Trends; various Philippines, international, US and UN Sources
Under the watch of President Aquino and his Liberal Party (LP), drug syndicates began to produce meth in kitchen labs, which caused illegal drug trade to soar to $8 billion. US State Department warned drug trade and funding affected Philippines politics, as corruption undermined the rule of law. Yet, drug syndicates in Asia and Sinaloa, Mexico, saw the Philippines transshipment potential. The Discovery Channel showed drug trade and gang leaders' luxurious life in the New Bilibid Prisons, with the involvement of former Justice Secretary Leila de Lima who allegedly received millions of pesos in payola money from drug lords.
Then the plans were derailed. In the 2016 election, Mar Roxas was Aquino's designated successor – former interior minister and ex-investment banker in Wall Street – but failed to deliver a victory. Instead, Duterte triumphed.
Only days in the office, Duterte named five 'narco-generals' believed to be protecting drug lords that allowed shabu (meth) sales to flourish during the Aquino era. Some of them had been linked with Roxas who denied all ties with "Roxas generals," even though some – including Deputy Director General Marcelo Garbo whom Duterte called a "protector of drug syndicates" – were among the police generals seen in closed-door meeting with Roxas' staff at Novotel Hotel in Manila.
During his campaign Duterte warned the Philippines was on the way of becoming a "narco-state," but LP leaders accused him of inflating the problem. Yet, the number of addicts had soared to 4 million people. Between July 2016 and November 2017, 4,000 drug suspects have been killed in 80,700 police operations with the arrest of 119,000 drug personalities, and at the cost of the lives of 86 police officers and soldiers and another 226 wounded.
LP meltdown and politicized rights debacles
As most Filipinos support Duterte and the drug war, the rights accusations have been offshored by politicizing human rights, amid the cataclysmic meltdown of the Liberal Party, as evidenced by the high-profile abuses of public office by President Aquino, Interior Secretary Roxas, Supreme Court Justice Maria Lourdes Sereno, Comelec Chair Andy Bautista, Secretary of Justice Leila De Lima, the 'narco-generals,' a slate of high-level government officials and dozens of senior executives.
The Aquino debacles alone – Manila hostage crisis, Typhoon Haiyan, Mamasapano massacre, and the Dengue vaccine scandal – are stupefying. Yet, the flawed story about Duterte as a threat surfaced in February, when he was seen as an impediment to democracy in the US intelligence community's Worldwide Threat Assessment. In this misrepresentation, the dots can be linked with Goldberg, and the marginalized LP rights politicizers.
A key role in the Duterte misrepresentation belongs to Senator Leila de Lima, Aquino's former Secretary of Justice, who has been glorified by CNN and BBC and as one of the "leading 100 global thinkers" by the Democratic Foreign Policy. In the Philippines, De Lima's awards seem perversions of justice, including her 7-year affair with her lucratively-rewarded driver Ronnie Dayan who served as her money collector for drug protection and campaign financing. Despite imprisonment, her international accolades have escalated – from the EU and Inter-Parliamentary Union (IPU) parliamentarians to human rights NGOs – many of which are increasingly funded by private capital and represent Western interests.
None of these organizations intervened when drugs took over the Philippines, along with corruption and human rights violations.
Another role in the misrepresentation belongs to the Commission of Human Rights (CHR), which has been led by Chito Gascon since 2015. In mid-2017, Duterte and the House of Representatives sought to exhaust CHR budget as the politicized Commission had lost its credibility. Besides a human-rights lawyer, Gascon is a veteran LP leader. As he no longer could garner consequential rights support at home, he began feeding part of local media, which is in foreign ownership, and international media. What followed was a series of manufactured "events."
In May 2017, Vice President Leni Robredo, another LP leader, sent a controversial video message on Philippines extrajudicial killings to the UN Commission on Narcotics Drugs, which featured Gascon. It was well timed by David Borden, head of the UN-accredited Drug Reform Coordination Network, also known as StoptheDrugWar.org which has been supported by Soros foundations.
In another case, when Duterte government invited UN Special Rapporteur Agnes Callamard to a public debate about the Philippines war on drugs, Callamard sneaked into Manila for an "academic" lecture, at the request of Gascon. Callamard has served at Columbia University's Global Freedom of Expression Project whose major supporters include Soros foundations. Reportedly, Soros played a role in her appointment as UN special rapporteur.
Instead of democratic institutions in the Philippines, the rights leaders have relied on transnational NGOs funded by private capital – and guided by Western interests – to do the job. Amnesty International and Human Rights Watch are some of them.
International privatization of rights movements
Amnesty International (AI) sees the Philippines as the site of "thousands of unlawful killings by police and other armed individuals," and portrays de Lima as a rights martyr. The tone has grown harsh since 2017 when James Gomez became AI's director for Southeast Asia. While claiming professional neutrality, he considers the charges against de Lima "pure fiction" and Duterte's policies "bloody and lawless."
While AI claims to have millions of paying members around the world, it has changed drastically since its founding in the early 1960s by Peter Benenson. In 1966, Benenson himself stated that AI was infiltrated by British intelligence and resigned. Recently, AI has been criticized for excessive management pay, selection and ideological bias. While it claims to refuse donations from governments, it has received grants from the UK, European Commission, Rockefeller Foundation, US State Department and other governments – and Soros foundations.
In Human Rights Watch (HRW), the link has been the head of HRW's Asia Division Phelim Kine, who has attacked most ASEAN leaders and made Philippines a prime target. In January, Foreign Affairs Secretary Alan Peter Cayetano denounced HRW for its "strategy of deception" in reporting on the government's anti-drugs campaign.
Like Amnesty, HRW has been criticized for Western bias. It was created as a private US NGO in 1978, as a Cold War instrument to monitor Soviet Union's compliance with the Helsinki Accords. In early '80s, Soros foundations gained leverage in the HRW; and in 2010 Soros cemented ties with a 10-year $100 million HRW donation. Since then, HRW's record has been tarnished by allegations of partisanship, bias and an 2014 open letter by Nobel Peace Laureates criticizing HRW for intimate ties with the US government.
Amnesty, HRW and other well-meaning NGOs were initially founded by idealists who wanted to make a world a better place. Initially, the key question was whether a leader or a regime was making things better or worse for ordinary people. Now, it is more about abstract universals, which allows these NGOs to determine whether a particular leader or regime violates Western-conceived standards of human rights.
Financed largely by the US and Western Europe, these organizations focus on human rights violations in emerging and developing countries in which Western governments and private capital have substantial economic, political and strategic interests. That's not about universal human rights and economic development, but about new human rights imperialism and old geopolitics.
Like the old tale about the boy who cried wolf, these NGOs raise alarm when it is warranted, but also when it is not. As the distinction between real and fake alarms grows blurry and politicization undermines their credibility , they are digging a grave to their noble cause.
Feature image: President Donald Trump talks with Philippine President Rodrigo Duterte before the Asian summit in Manila on Monday. (Mark R. Cristino / AFP – Getty Images)
About the Author
Dr. Dan Steinbock is an åinternationally recognized strategist of the multipolar world. and the founder of Difference Group. He has served as at the India, China and America Institute (USA) , the Shanghai Institutes for International Studies (China) and the EU Center (Singapore). For more, see https://www.differencegroup.net/
The original commentary was released by The Manila Times on April 9, 2018.
The views expressed in this article are those of the authors and do not necessarily reflect the views or policies of The World Financial Review.