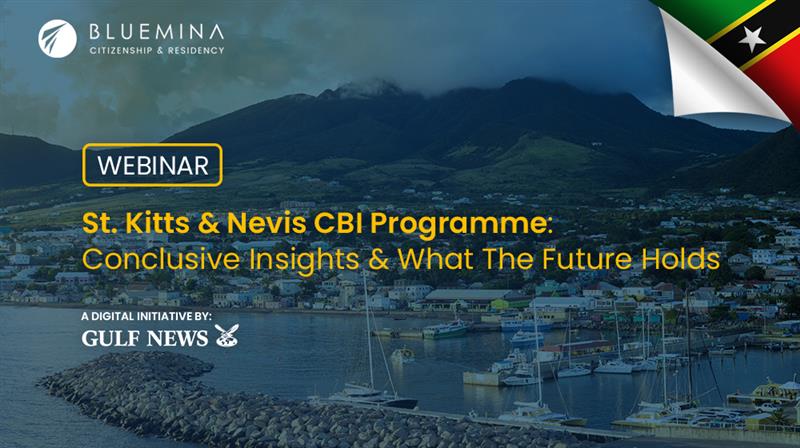 As the need for expanding businesses and living without travel restrictions is rising, the demand for citizenship by investment is becoming more of a necessity than a luxury, specifically in the MENA region. To tackle the topic of becoming a Global Citizen in more details, Bluemina will be hosting a webinar on March 28th, 2022, at 16:00 GST.
A powerful second passport offers you an unlimited array of benefits including the freedom of movement across more than 160 countries including all Schengen countries, the United Kingdom, Singapore, Hong Kong and much more. Owning a passport from an economically and politically stable country means being a secured citizen for life, living with peace of mind and much less to worry about when it comes to the future and what it holds.
Mr. Bashar Daoud, managing partner of "Bluemina Citizenship & Residency" said: "Since our operations started in 1997 our main focus was to introduce innovative programs that will cater to all needs, and guarantee successful investments to all our customers. That being said, the Saint Kitts & Nevis program that Bluemina offers you is the oldest and most established citizenship by investment program worldwide."
A major contributor to the high satisfaction rate that Bluemina has with clients who opt for the Saint Kitts & Nevis citizenship by investment program can be attributed to the strong relationship between the Bluemina management and the Island's Prime Minister, Dr. the Honorable Timothy Harris and the CEO of the Citizenship by Investment Unit, Mr. Les Khan.
Les Khan, PMP, MSOC, BBA, who currently holds the position of CEO of the Citizenship by Investment Unit for Saint Kitts & Nevis, is originally from Trinidad. Khan has completed his education in Australia and the United States of America and has more than 20 years of experience in the fields of finance and risk management.
To capitalize on this relationship and in order to further enlighten you with the benefits of these programs and the world of citizenship by investment, Bluemina represented by its Managing Partner Mr. Bashar Daoud and in collaboration with Gulf News will be hosting a live webinar on 28 March 2022 at 16:00 GST, via airmeet featuring an exclusive discussion with Mr. Les Khan, to discuss the Saint Kitts & Nevis Citizenship by Investment Program and how it can open a global and unlimited world of opportunities and priceless benefits to all investors.
Moderating this webinar will be Ms. Sally Moussa, an international presenter and speaker who has interviewed many of the world's most influential change-makers across every field.
The webinar will mainly tackle the importance of becoming a Global Citizen in this day of age, the importance of conducting strong due diligence, the various benefits of obtaining a powerful second passport through the Saint Kitts & Nevis citizenship by investment program of and the eligibility requirements that applicants must meet to acquire this citizenship.
Moreover, the webinar will also be reviewing the Saint Kitts & Nevis program in light of the current political events taking place across the globe and any future implications they may have on second nationality holders or applicants.
If you would like to attend the online event, simply register here.
The views expressed in this article are those of the authors and do not necessarily reflect the views or policies of The World Financial Review.