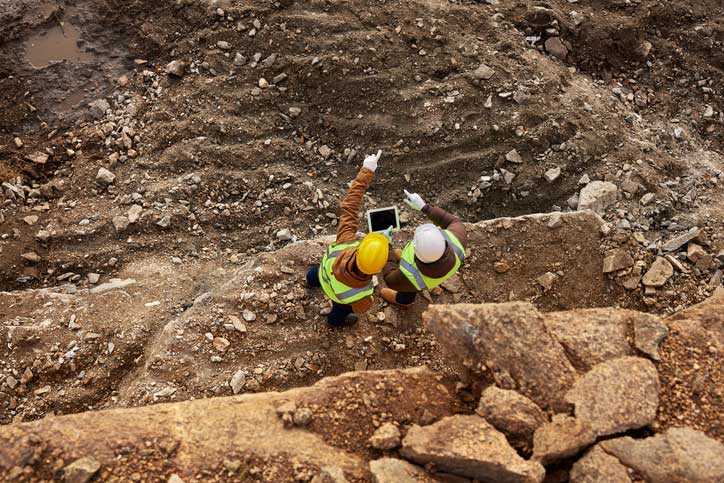 Mining is critical for economic growth in Latin America, providing foreign capital inflows, tax revenue, employment, and improving economic development. While the industry itself is often a staple of many economies, it has become even more critical in the wake of the COVID-19 pandemic. Colombia has been a leader in the Latin American economic resurgence as the Country emerges from the effects of the last 18 months.
Over the past 20 years, Colombia's extractive sector has played an important role in the country's GDP and foreign trade. Colombia's resources in main commodity groups – oil, coal, nickel, emeralds, and gold – offer attractive opportunities for foreign investors seeking untapped value in one of the more business-friendly jurisdictions in Latin America. In the current century, the Colombian government has included the mining industry as a key engine for the future of the Colombian economy in their national development plans. The industry accounts for 2% of GDP, 27% of exports, and 15% of foreign investment, and for 2021 it is expected to grow around 20% based on coal, gold, and copper.
The government sees mining exploration as an opportunity to further diversify the country's economy. Most of the Colombian land is largely unexplored but holds great economic promise for local communities in partnership with international investors.
Over the past 12 years, tremendous value has been created in Colombia through the exploration and development of mining projects. Local communities have since benefited from improved local infrastructure, reduced unemployment, and fully integrated, local-owned sub-sectors of the economy that thrive on the heels of international funding to these mining regions. 
Colombia has seen a significant increase in gold exploration and mine development because of robust foreign capital inflows amidst promising resource deposits and modern infrastructure. Importantly, the growth of the gold sector in Colombia has increased in an environmentally-friendly and socially responsible way. This has all coincided with upward trending gold prices caused by growing demand from emerging markets as well as shifting investment and asset allocation trends across the global investor base.
This thriving sector of the economy is quite possibly the key to Colombia's economic recovery from COVID-19. But beyond the recovery, the government has its sights set on much more – sustained economic growth. Colombia requires an economic engine for growth driven by foreign capital inflows, and the gold mining sector is the ideal candidate to help make that happen. 
One example of the responsible, mining-focused recovery in Colombia is the Guayabales project in the Caldas department of Colombia. The project is controlled by Collective Mining Ltd. (TSXV:CNL) – a Canadian-based copper and gold exploration Company with a world-class and proven management team, who were responsible for building Colombia's modern, large-scale underground gold mine in Continental Gold. Continental was sold to Zijin Mining (China) in March 2020 for $2 billion. 
A Lower Risk, Early Stage Play with Potentially Large Upside
Investors in Collective Mining are gaining exposure to an extensively de-risked project considering the proven management team's know-how, their familiarity with Colombia's environmental and social considerations, and finally an exciting project along strike and north-west of Aris Gold's 8+ million ounce Marmato deposit just next door.
Collective's management has put their money where the mouths are, with a significant 40% ownership of the Company's shares. When combined with a 25% ownership by Toronto-based PowerOne Capital, this leaves an exclusive and valuable opportunity for investors to partner with some of the industry's most proven and smartest minds when it comes to the Colombian gold sector.
With a strong balance sheet and upwards of $23 million in cash (November, 2021), favorable geology in the region as well as a significant grassroots discovery at the first of five internally generated targets in "Donut", Guayabales may be at least as lucrative as the Marmato deposit. This could mean an implied valuation worth hundreds of millions of dollars or more for Collective Mining. The grassroots discovery at the "Donut" target, were announced over the last six weeks. 
Highlights from "Donut" include:
DOC-2 – 104 metres at 1.3 g/t gold eq. from surface – incl. 18 metres at 4.7 g/t gold eq. from 16 metre depth

DOC1 – 106 metres at 0.5 g/t gold eq. from surface

DOC-3 – 163 metres at 1.3 g/t gold equivalent from surface including 2 metres at 83.2 g/t gold and 37 g/t silver from 155.6 metres depth

DOC-4 – 260 metres at 0.6 g/t gold equivalent from surface including 69 metres @ 0.9 g/t gold and 8 g/t silver from 183 metres depth (DOC-4).

DOC-5 – intersected a narrower interval of mineralized breccia before passing through a fault. Upon exiting the fault at 81 metres down-hole, late phase (lower grade) porphyry style mineralization was encountered over a significant interval as follows:

275 metres at 0.2 g/t gold, 5 g/t silver, 0.07% copper from surface.
Additional drilling and assay results from Donut and the recent start of the "Box" target drilling program should help ensuring the Company's shares stay upfront and in-focus within the investment community. As a result of their early success, management has expanded its drilling program at the entire property to at least 10,000 metres from 7,500 metres. Moreover, the Company recently accelerated the timeline to drill the highest priority targets at "Olympus" and "Victory", slated to start imminently as opposed to early-2022. 
Meanwhile, the Company's nearby San Antonio project offers investors further upside at yet another discovery announced in late October. The San Antonio project, like the Guayabales project, is located in the Middle Cauca Gold Belt, 80 km south of Medellin and 50 km north of Manizales, Department of Caldas, Colombia. This area has been the most prolific belt for miocene-aged, porphyry and epithermal vein discoveries within Colombia and multi-million ounce discoveries in recent years include Buriticá, La Colosa, Nueves Chaquiro and Marmato
Highlights from San Antonio include:
SAC8 – 710 metres at 0.53 g/t gold equivalent from surface including 133 metres at 0.92 g/t gold equivalent from 470 metre depth 

SAC6 – 750 metres at 0.41 g/t gold equivalent from surface including 187 metres at 0.59 g/t gold equivalent from 60 metre depth
Importantly, both drill holes ended in mineralization with copper and molybdenum grades increasing at depth, including:
70 metres at 0.12% copper and 89 ppm molybdenum from 681 metre depth (SAC-6)

133 metres at 0.15% copper and 27 ppm molybdenum from 470 metre depth (SAC-8)
Catalyst Driven Story Through 2022
Investors could be rewarded in short order as potential stock price catalysts emanate from any successful drilling results released over the coming weeks and through year-end. The Company is expected to be quite active in releasing drill results from its ambitious drill program as it moves ahead. 
Colombia's investment and economic growth plan will be helped along through projects like Guayabales, as will Collective Mining's ESG standards for environmental and social commitment to the region that will leave a legacy of responsible mining and development for decades to come.
The results to date are a promising start for a Company that could unlock further potential in the region. The Guayabales project would be a boost to the Colombian mining sector and the Caldas Department.
As part of the transition of the mining sector in recent years, Colombia has evolved into a landscape that lends significant support to foreign investors in the operation of mining activities, assuming adequate partnerships are in place at the local level, thus benefiting all stakeholders.
Latin America is returning to economic normalcy again and is building its plan for that economic recovery – with the mining sector at the forefront and Colombia leading the way. 
The views expressed in this article are those of the authors and do not necessarily reflect the views or policies of The World Financial Review.