Robert Kiyosaki said, 'Your network determines your net worth'! 
And you realize how true it is when you step into the professional world. 
Business relationships are an inevitable part of your career. With changing times, the importance of business relationships has increased significantly. People trust their acquaintances more, offering better opportunities to them. 
It would not be an exaggeration to say 'who you know is more important than what you know is critical in business nowadays. You can begin making business relationships for an added benefit at the beginning of your career.
Without further ado, let us tell you how to build a good business relationship when you are at your start point.
Be Yourself
The first step to building a good business relationship at your start point is to be authentically yourself. You may create a false outlook of yourself to blend with the business community. Yet, it will not take them much time to understand the fakeness. Being yourself will enable you to connect with people and businesses, giving the same energy, point of view, and beliefs.
Understand Their Vision
Connecting with people who share similar values, visions and goals is not only beneficial for professional but also for personal growth. They help you learn through their experience and mold you into a better professional. Observing their knowledge and approach to common people and business can be useful. You might not always share the same point of view. But, remember to realize their perspectives behind the success. 
Respect Each Other
No relationship, whether personal or professional, can last long without respect. Building relationships with people with high morals and values makes it easy to respect them. Being with people you do not respect does not guarantee long-term relationships as you stay with them until they benefit you. Thus, it is important to respect and be respected in the business.
You can buy finance essays online here.
Build Trust
If you are new to the business, never forget that all business relationships are built on trust. You will be working with people without paying for months and have to trust them. Because this is how it works! 
Trusting colleagues and other businesses enables them to trust you too. It can be utterly beneficial for you and your organization.
Support Them
The "I got your back" attitude is not only important when making friends in school. It is critical to business relationships as companies frequently require each other's help. From connecting one of your business acquaintances to another to helping them when they are short on labor, there are various means to help them. Make the best use of such opportunities to build extended relationships.
Look Beyond Professional Perspective
In the past, people believed that professional relationships should be kept at a limit. However, the changing dynamics of business relationships do not rely on old rules. Talk to them beside business or ask them for lunch or coffee. It allows you to connect beyond everyday business and learn through their experience, story, and ideas.
Schedule Brainstorming Sessions
While you learn from their experience and stories, you can also sit with them to brainstorm new ideas. You can decide on a goal for the day and talk around it till you get some good ideas. It will let them know that you value their opinions and suggestions.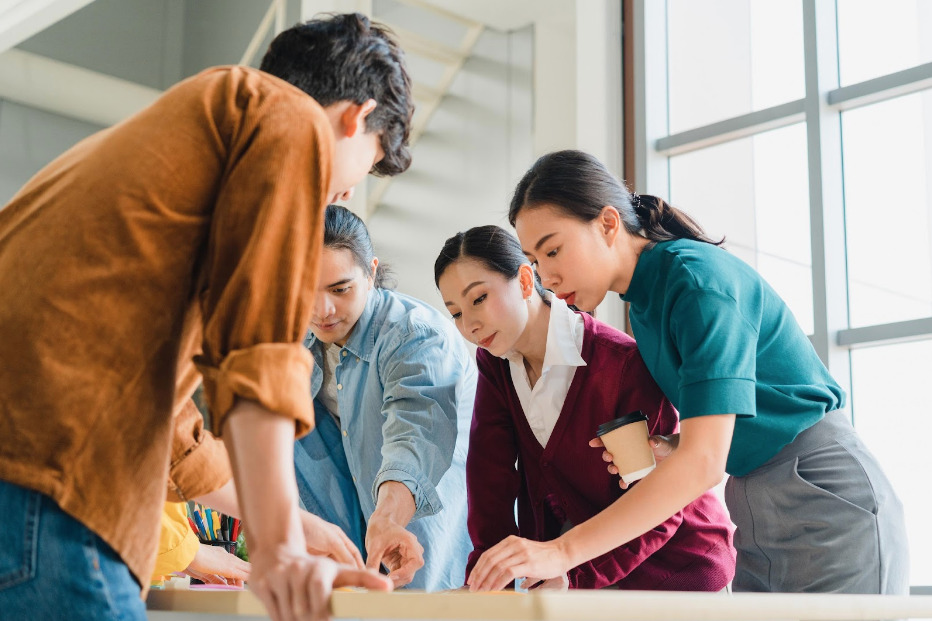 Congratulate Them
If someone in your business community earned a high profit or an award, do not hesitate to congratulate them. Connecting to your peers beyond the general business talk distinguishes you from the crowd, and they notice you. They might also give you a congratulatory message sometimes, which can be a suitable way to take the relationship further.
Create a Network
Building good business relationships is important. But, will only one or two work? No.
Do not restrict yourself to a number of people when meeting new people for business purposes. Meet as many people as you can and socialize. You will not resonate with everyone's energy or thoughts, and having more options will let you decide how close you want to keep someone. Do not miss opportunities like business summits, conferences, and formal dinners to introduce yourself to more people.
Connect to a Few Influential People
While all businessmen you network with in the beginning must not be influential, having a few can be a bonus. Sitting in a circle of a few influential people informs others of their relationship with you. That minimizes the need for self-introduction for networking. People either come to you themselves when they see a new face or your business friends will do the job. 
Do Not Ask For Something Right Away
When you are working on building a good business relationship at your start point, it is good to offer the other person something before you ask them. Often people might think that you are taking advantage of their position for your benefit only. Thus, it is suggested to find out what they need help with. Offer them a solution first before asking for a favor.
Do Not Overdo It
Yes, do not overdo it. Business people are intelligent and understand when you are looking to build relationships. Do not go overboard connecting to someone, or they may find you clingy. Give them a little time for them to relate to you. Once they get well-acquainted with you, they connect to you themselves.
The Bottom Line
Building good business relationships at your start point can be difficult if you do not know the basics. Trust, respect and mutual values are essential to business relationships. Typically, people who help each other in the industry are closer to each other than others. Also, connecting to those businesses personally gives the understanding that you do not only want to benefit from them. Always remember to offer a favor before you ask for one, and do not overdo it. It is quite common in the industry, and people can easily realize if you are trying too hard. Keep it natural and make your way through it.
The views expressed in this article are those of the authors and do not necessarily reflect the views or policies of The World Financial Review.