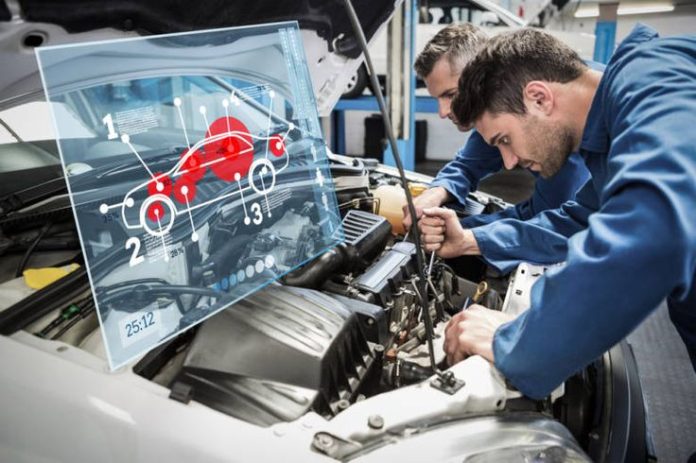 Technology has profoundly impacted the auto repair industry, revolutionizing how service and repair shops operate. From diagnostic tools that identify problems quickly and accurately to self-repairing parts that can be replaced without needing a mechanic, the industry is becoming more efficient and cost-effective than ever before. This post enlightens how technology is revolutionizing this industry and how it can benefit mechanics, consumers, and businesses.
Technology's Impact on the Automobile Repairing Industry 
Automotive repair shops leverage technology to improve efficiency, reduce costs, and provide enhanced customer service. Here are four key ways in which technology is impacting the automobile repair industry:
1. Automated Diagnosis & Troubleshooting
Automated systems are being used to diagnose vehicle problems quickly. By using intelligent algorithms, these systems can provide accurate diagnosis and troubleshooting, reducing repair times and costs.
2. Automated Parts Identification & Procurement
Identification and procurement systems are also in trend. These systems quickly identify, locate, and procure mechanical parts from multiple vendors. This eliminates the need for manual parts ordering and reduces costs.
3. Improved Efficiency & Cost Savings
Advanced software and hardware systems are being used to streamline the repair process. This improved efficiency leads to reduced labor costs and enhanced customer service. Additionally, automotive repair shops can leverage these systems to increase profits.
4. Enhanced Customer Service
Advanced technology allows auto repair shops to serve their customers better. Automated systems can provide customers with detailed information about their vehicles and repair and maintenance recommendations. It increases customer loyalty.
By leveraging technology in one of their auto repair advertising ideas, automotive repair shops can reach a wider audience and increase their customer base.
Examples of Innovations in the Mechanics Industry 
As the automotive industry rapidly evolves, so do auto repair innovations. From automated vehicle diagnostics systems to artificial intelligence (AI) and machine learning, the auto repair industry uses cutting-edge technology to improve customer service, accuracy, and efficiency.
1. Automated Vehicle Diagnostics Systems
By utilizing these systems, mechanics can more accurately and quickly identify and diagnose mechanical issues without physically inspecting the vehicle. This can save time and money, as well as improve customer satisfaction.
2. Automated Parts Tracking & Reordering Systems
Mechanics can quickly identify and order replacement parts for a customer's vehicle through these systems. This eliminates the need for manual labor, making the process of ordering and replacing parts much more efficient.
3. Use of Artificial Intelligence & Machine Learning
These technologies allow for more accurate and efficient diagnostics and repairs, significantly reducing the possibility of human error and improving customer satisfaction.
4. Online Platforms & Mobile Apps
These platforms and apps allow customers to schedule appointments, track the progress of their repairs, and even see real-time updates on the status of their vehicles. You can also get auto repair advertising ideas through these platforms to increase return customers.
Overall, the auto repair industry is undergoing significant changes due to the implementation of new technologies and innovations. With these advancements, it continues to innovate and evolve to meet customers' needs.
How can technology benefit mechanics, consumers, and businesses alike?
For mechanics– It can provide access to more detailed information about a vehicle's mechanical components, allowing for faster and more accurate diagnoses. It can also provide access to online catalogs of parts to locate the parts needed to complete a repair quickly. 
For consumers- Technology can offer access to online reviews of mechanics and repair shops, allowing them to make informed decisions about where to take their vehicle for service. 
For Businesses- Auto repair Technology can provide access to online estimates, allowing them to quickly and accurately quote customers for the cost of repairs. 
Conclusion
The automobile mechanism industry has been drastically changed by technology. It has improved the efficiency of the production process and enabled the industry to produce more reliable products at a lower cost. As technology advances, the automobile mechanism industry will continue to benefit from new developments and improvements. The industry is becoming increasingly competitive and is expected to continue to grow. Therefore, technology will remain integral to the automobile mechanism industry and its future success.
The views expressed in this article are those of the authors and do not necessarily reflect the views or policies of The World Financial Review.