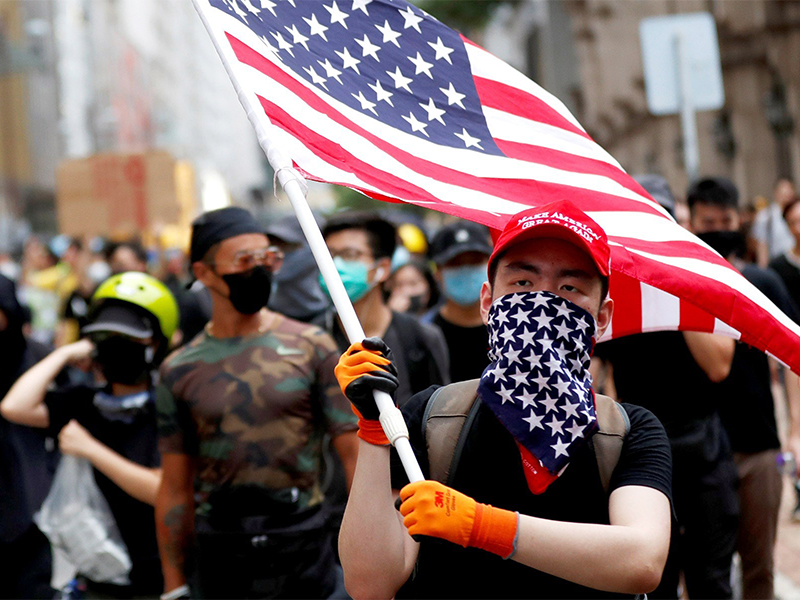 By Peter Koenig
People often ask and hint at the similarities between the Hong Kong protests and the French Yellow Vests. The former started on 31 March and are approaching their 19th week – the Yellow Vests (YV) have celebrated last weekend their 40th week of protests. As of recently some supporters of Macron – or Fifth Columnists – have infiltrated into the YV movement in France and have suggested that the YVs may support the Hong Kong protesters in solidarity for freedom.

Well, that didn't go down well with the highly educated and well informed YV. Many of them actually felt insulted by the Macronites – 'for whom does this guy [Macron] take us?' – And right they are. There is not a shred of comparison between the two movements, except that they are protests – but for widely different reasons, and serving widely different agendas. The YV can in no way be associated with the Hong Kong "protests" – which are the equivalent of US funded Color Revolutions.
The Macron Government is creating poverty, by shifting the financial resources – the few that are left, from the bottom to the top.
We, the YV leaders said, are fighting against an ever more totalitarian French government that is ever more stealing our legitimate income in the form of all sorts of taxes and keeps a minimum wage on which ever-more French families cannot survive. Life is unaffordable on a regular workers pension. The Macron Government is creating poverty, by shifting the financial resources – the few that are left, from the bottom to the top.  That's what we are fighting and protesting against. We want a fundamental change in the French economic structure and the French leadership. You see, all of this has nothing to do with the Washington funded Hong Kong Protests that are directed on Washington's behalf by Hong Kongers against the Government of Mainland China.
Peter Koenig is an economist and geopolitical analyst. He is also a water resources and environmental specialist. He worked for over 30 years with the World Bank and the World Health Organization around the world in the fields of environment and water. He lectures at universities in the US, Europe and South America. He writes regularly for Global Research; ICH; RT; Sputnik; PressTV; The 21st Century; TeleSUR; The Saker Blog, the New Eastern Outlook (NEO); and other internet sites. He is the author of Implosion – An Economic Thriller about War, Environmental Destruction and Corporate Greed – fiction based on facts and on 30 years of World Bank experience around the globe. He is also a co-author of The World Order and Revolution! – Essays from the Resistance.
Peter Koenig is a Research Associate of the Centre for Research on Globalization.
The views expressed in this article are those of the authors and do not necessarily reflect the views or policies of The World Financial Review.