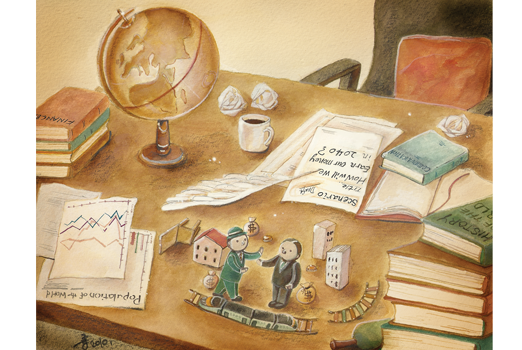 By George M M Gelauff, Bas ter Weel and Albert van der Horst
How will we earn our money in 2040? This article develops four scenarios for how the Dutch economy may evolve. It argues that the future depends on the development of technology – the fundamental driver of future economic development. Many of the lessons and analysis apply equally to the rest of Europe.
How will we earn our money in 2040? Policymakers are confronted with such questions. Decisions have to be made today based on current knowledge, and cannot be made conditional on future events. For policies that can be changed rapidly, it is feasible to take action immediately and adjust the policy when it turns out to be the wrong one or when more knowledge about outcomes becomes available. It becomes another matter when policies have a long lead-time or when they involve investments with large sunk costs. In such circumstances, policymakers have to trade-off the benefits of waiting against the costs of delay. Young people across Europe are paying the price for policymakers misjudging the trade-off when it came to the labour market (Bentolila et al. 2010).
The views expressed in this article are those of the authors and do not necessarily reflect the views or policies of The World Financial Review.