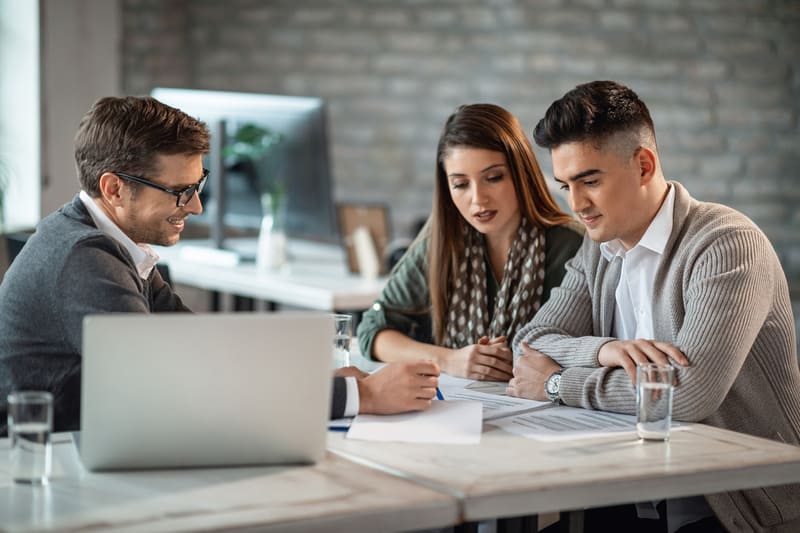 Small business owners have to stay on top of several things to ensure that business thrives in the foreseeable future. And while you may have strong financial instincts or excel at bookkeeping, the responsibilities of running an organization often demand more time than is convenient. 
To put it simply, there will come a time when hiring an advisor makes the most sense for your business and your personal situation. 
So yes, you do need business financial advice if you're a small business owner juggling too many responsibilities at once. 
Keep reading to learn the importance of a financial advisor for businesses.
What is a Small Business Financial Advisor?
Small business financial advisors are individuals or companies that help their clients manage their company's finances. These professionals take an insider view of your business, thoroughly analyzing all aspects of your money management processes and offering suggestions and advice on how to improve them.
Financial advisors possess a variety of skills and experience. They employ analytical thinking abilities to uncover insights and hidden value in a company's financial data. They also possess excellent communication skills to explain recommendations in plain terms that you, the small business owner, can understand. 
How Can They Help?
Small business financial advisors help their clients crunch the numbers and create strategies to achieve the company's goals. Most financial advisors are seasoned experts in:
Retirement planning

Estate planning

College planning

Risk management

Financial planning in business

Portfolio management
Financial advisors can also:
Supervise capital and debt management

Create profit-and-loss statements

Manage tax reporting, deduction, and payment

Create

retirement strategies for small business owners

and their employees

Offer financial consulting for small businesses to determine suitable budgets based on the business needs
The primary objective of financial consulting for businesses is to get unbiased guidance on how to improve performance by making informed decisions about money matters. 
4 Benefits of Working with a Business Financial Advisor
Even seasoned entrepreneurs don't have the financial background to expertly manage their company's money. That is why finding the right financial advisor for business owners can help you avoid costly mistakes and grow your company more effectively.
Here are four benefits of working with a business financial advisor:
1. Staying on Track with a Strategic Plan
Perhaps the most overlooked benefit of working with a financial advisor is that they can help entrepreneurs formulate a strategic financial plan that's customized to their business needs. 
A financial advisor for small business owners inquires about your customers, your competitors, and your market share to determine the best path for financial success. By understanding your long-term goals, a business advisor can help you develop a plan that accounts for short and long-term fluctuations in revenue, employee salaries, and other financial factors.
2. Making Smart Financial Decisions
A financial advisor can help you make sound decisions for your business by providing guidance on how those decisions will impact you today and in the future. They can also help you make important decisions, such as how much you should invest in new stocks and other investment opportunities.
3. Understanding Your Company's Financial Health
Financial advisors for business owners paint a clear picture of your company's financial health by analyzing your cash flows, profits and losses, and debt. 
Without a qualified financial advisor in Portland, Oregon, it's easy for entrepreneurs to become so wrapped up in running the day-to-day operations of their company that they lose sight of their company's financial health.
Financial business advisors can offer a fresh perspective on your company's financial health, allowing you to make educated decisions based on facts rather than emotions.
4. Retirement and Succession Planning
Wealth management for business owners doesn't stop at planning for short-term goals. It also involves succession planning – transferring business ownership to an heir without harming the company's financial status.
A business financial planner has a role to play in drafting a continuity plan for your business and settling the legal requirements for transferring your business to a new owner in preparation for retirement.
Interactive Wealth Advisors is a Financial Planning Consultant You Can Trust
At Interactive Wealth Advisors, we offer fee-only financial planning for small business owners. Our team consists of experienced and highly-trained, registered investment advisors who help small business owners nearing retirement build and grow their wealth. 
We strictly follow the National Association of Personal Financial Advisors standards to ensure that our clients make the best decisions for their businesses.
Book a call with us today and start making smart financial decisions for your future.
The views expressed in this article are those of the authors and do not necessarily reflect the views or policies of The World Financial Review.