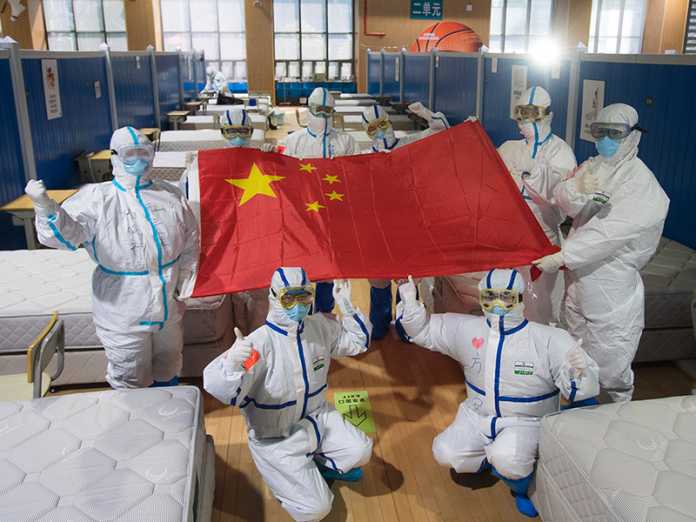 While in early January, the west could look into China to see what they were about to deal with, now is the chance to gain insight on the recovery process. As of April 10th, Trivium's National Business Activity Index puts china at 81.8% of typical economic output. Predictions of China's 2020 GDP growth range from 1.0-2.6%.
95% of large companies have resumed operations, meaning that many companies are not at full production. Large corporations have been around the 80% mark since the last week of March, and may linger for a while until both domestic, and later on, global demand return to normal. The service industry and small to medium enterprises are bearing the brunt of the impact, especially those in the tourism, catering, and transportation industries. SME's, which are the largest employers in China, have been trailing behind large corporations in their recovery.
The most economically recovered provinces are not necessarily those with the least cumulative reported cases of COVID-19, demonstrating the uneven recovery across industries. Inner Mongolia and Qinghai, where mining is an important part of the economy, recover slower due to decreased energy demand. Tibet, visited by over 30 million tourists a year, is second slowest to recover, despite only having one reported case.
Restaurants narrowly avoided disaster
Had the pandemic shutdowns lasted two months longer in China, the F&B industry would have been in serious trouble. Over half of restaurants in China do not have enough cash to cover operating costs for more than six months. Normally, the lunar new year holiday is when China's restaurant industry makes 15% of their annual revenue. But this year, the restaurant industry lost 78% of revenue during the 2020 lunar New Year season according to China cuisine association.
Although China has a sophisticated meal delivery ecosystem, which used methods to ensure sanitary contactless delivery, delivery alone was not enough to save the F&B industry. 65.8% of restaurants reported to the World Federation of the Chinese Catering Industry that their revenue reduced dramatically compared to the lunar New Year period of 2019. However, 15.1% of restaurants actually experienced a revenue increase.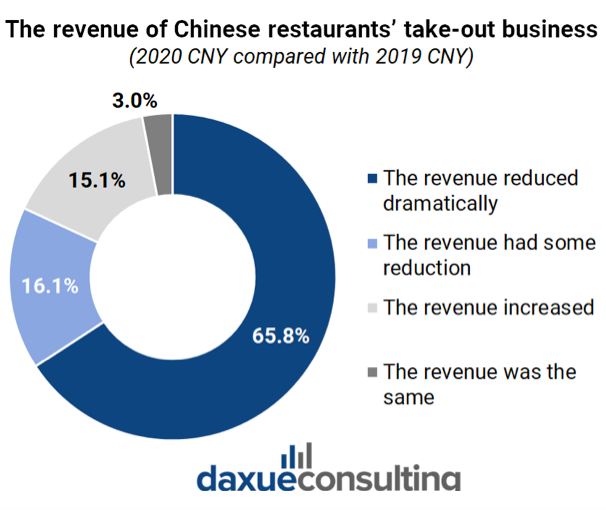 While as of March 24th, Yum China reports 95% of its stores are either partially or fully open, but with around 10-20% of stores either with restricted hours or serving delivery only. Also as of March 24th, Starbucks has opened 95% of its stores in China, after being closed for 40-60 days.
Tourism felt the most immediate impact
The tourism industry felt the most immediate impact of the epidemic. The damage to the Chinese tourism industry is equivalent to a loss of 1 trillion yuan GDP.
Despite it only had one reported COVID-19 case, Tibet Autonomous Region is currently the province with the second lowest economic resumption rate after Hubei, at 67% on April 9th. Tibet's economy, growing a double digit speed for twelve years straight, is largely dependent on tourism. According to China Daily, in 2018 Tibet's tourism revenue was nearly 50 billion yuan, constituting around 30% of the province's GDP.
Domestic tourism will recover ahead of outbound
From March 1st to March 8th, more than 300 Chinese scenic areas reopened. In Hainan, tourism contributed to around 20% of the local GDP in 2018. Since the Hainan tourist sites reopening, they have received over 74 thousand tourists and 23 thousand tourism workers have returned to work.
According to a survey by Dragon Trail Research, 41% of respondents say the earliest they would plan to travel is during the summer months of June through August. This is reflected in China's flight bookings. Between the last two weeks of February, the online travel company, Tongheng-Elong Holdings, reported a 250% jump in domestic flight bookings for the month of June. Part of the jump in domestic bookings is due to some airlines selling tickets dirt cheap, flights from Beijing to Shanghai are as cheap as 170 yuan (24 USD) on the C-trip app for the month of April. Daxue consulting's research suggests that China will experience more frequent but smaller waves of domestic tourism during the rest of 2020.
Manufacturing may have irreversible changes
Motor vehicle manufacturing was the most impacted according to China's national statistics. General Motors, Nissan, Renault, and PSA (the owner of Peugeot) all have factories in Hubei province. After factories re-opening, China's auto manufacturers will still likely face a decreased demand. China's Association of Automobile Manufacturers estimates that car sales will be down 10% in the first half of the year, and 5% during the whole year, if the outbreak remains under control.
Many computer and electronic manufacturing is also concentrated near the epicenter of the outbreak. 290 out of 800 plants named in Apple's global supplier list were located in regions in China that had major delays in returning to work.
The delayed impact of supply chain
Supply chain delays may be felt up to five weeks after manufacturing plants re-opened. Shipment between Asia and Europe or the US can take around a month, meaning that we are not yet finished with the delays despite plants in Hubei opening up again. Additionally, many factory workers are migrant workers, and were not able to return to their jobs, even if operations had resumed.
At the same time, many countries saw the initial COVID-19 supply chain impact as a sign that they had put all their eggs in one basket: China. The Japanese government announced that it would provide $2 billion in loans for companies shifting production back to Japan. As for the US, in the midst of the trade war, the pandemic seemed to have given a not-so-gentle nudge for some companies to move manufacturing. Back in 2019, an AmCham survey shows 39.7% of companies have considered or were actively moving their supply chains out of China.
None the less, Chinese factories are indeed resuming operations. According to a Bloomberg report, Apple's iPhone 12 will actually be released on time. The phone was not scheduled to start being manufactured in China until May, which, if all goes well, it appears China's factories will in the clear by then.
Recovery is not a straight line
It is hard to predict where the winding path of recovery will go next. The imminent threat of COVID-19's revival will cause for increased caution in the long term, and may lead to more lockdowns or business closures. Economic prosperity is not something to take for granted, crisis will bring about change, which calls for adaptability.
About the Author
Allison Malmsten is the marketing manager and market analyst at daxue consulting, a market research and consulting firm in Shanghai, China. She has been quoted sharing China market insights in Reuters, Taipei Times, and Crain's New York.  
The views expressed in this article are those of the authors and do not necessarily reflect the views or policies of The World Financial Review.