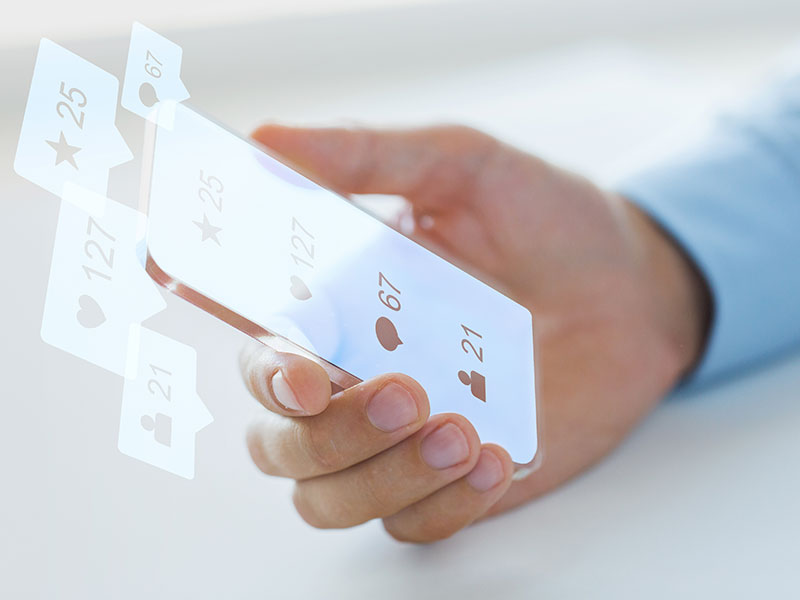 If you think social media is only about sharing memes and selfies with mouse filters, think again. All life is there, which means all companies should be there too – even financial providers. In fact, especially financial providers. Social media is the perfect platform for building trust, something the financial services sector is slowly regaining. As the sector still sits at the bottom of Edelman's latest Trust Barometer, it needs to do all it can to build connections with its customers.
Given that social media can often be regarded as the Wild West of the online world, in an industry as tightly regulated and with a product as potentially life changing as finance, providers are right to be wary. There are many examples of the wrong brand in the wrong place at the wrong time. But used correctly, social media is an essential platform for attracting, engaging and educating users of financial services.
Interacting with financial providers and discussions around financial services over social media is not a fad, it's a trend.
Consider how consumers behave today. A 2019 Experian survey of 18-19 year-old Americans found that they were keen to learn about finance, but a lot of that learning came from YouTube (27%) and other social media platforms (24%). But most of their learning came from friends (28%). Interacting and asking questions of peers in informal settings is quite normal for younger generations and increasingly so for other segments and social media is the perfect setting for this. That is the picture today. As younger consumers engage further with financial products throughout their lives, those social discussions will only grow. Interacting with financial providers and discussions around financial services over social media is not a fad, it's a trend.
Socially acceptable
Naturally, there are strict regulations around what financial services companies can say and when, particularly via social media platforms. In the UK, social media activity must be 'fair, clear and not misleading' according to Financial Service Authority guidelines. Records of all communications must be kept, even tweets, and customer complaints still must be directed through the appropriate channels.
In the US, once again fair and balanced are watchwords, while the Financial Industry Regulatory Authority also prohibits "interactive electronic communications that recommend specific products" unless certain conditions are met. Guidelines are also continuously updated as the platforms themselves evolve, so it is incumbent on any financial brand using social media to stay abreast of changes.
That said, there are many compliant activities financial brands could and should make use of to help get closer to their clients. Customer care is an important example of this as social media is often the first port of call for customers to vent – or occasionally praise – their suppliers. Monitoring for these messages is critical so companies can get ahead of reputational challenges, as well as address their customers' needs in a timely, efficient manner.
Social media is also an excellent window to the world. While brands shouldn't fall into the trap of thinking that a social media audience is representative of every slice of society – it can sometimes become a tiresome echo chamber for just a few – for certain customer segments it can be a focus group of thousands, if not millions. It allows brands to watch behavioural trends, gain insight into customer needs and research new ideas, all from the comfort of a keyboard.
While social media has become a customer service channel almost by default, not enough financial brands are using it for one of its most obvious benefits – to broadcast their brand messages. Whether it's video on YouTube, short alerts on Twitter, business announcements on LinkedIn or potentially even creative skits on TikTok, social media is a diverse platform that financial services brands should use to build their narratives and add much-needed human face to the brand.
While social media has become a customer service channel almost by default, not enough financial brands are using it for one of its most obvious benefits – to broadcast their brand messages.
This plays into the idea of social platforms as recruitment channels, where brands can reveal whole new sides to themselves that people in traditional channels may not see. Research has shown that Millennials in particular, want to work somewhere that shares their values and agile way of working as much as for a certain level of pay. Social media is an excellent platform to highlight those values to new audiences by either posting examples of value-driven activity, or posts from existing employees talking about their experience and those shared values.
Making a plan
It's clear that anyone can leap on social media and start engaging without any thought as to the why, the who, the where or the when. This does not usually end well. It may seem like a more free-wheeling, relaxed environment than paid or owned media and there is the opportunity to be less formal and more 'human' in interactions but that doesn't mean any approach can be half-hearted. There are key steps to follow if brands are to turn social media into a platform for effective stakeholder engagement.
These steps involve having guidelines around tone of voice and communication style to help stay true to your brand personality as well as understanding who and where your customers are. Giving guidance on how to communicate effectively will allow brands to tailor the right message to the right segment via the right platform in a way that is authentic. The danger of misunderstanding the audience and language needed can be detrimental – looking for younger customers on Facebook or Twitter when their natural home is TikTok or Snap creates a disconnect.
This doesn't mean being 'down with the kids' if the brand is naturally traditional, however the tone of voice will need to be social specific and for example, massively different to one developed by corporate comms. Social is about connecting therefore the tone needs to be primarily human and genuine, you only need to look at how much younger people cringe at their parents trying to use the 'lingo' to know that anything that smacks of inauthenticity will be instantly disregarded. Be true to the brand's personality and you can shape your content and tone of voice to reduce the risk of alienating whole demographics.
Engaging on social media also requires an ongoing conversation. Whether that's one-to-one or one-to-many, there is nothing 'one and done' about the platform. Most initial contact via social media is to ask a question, either of peers or the brand itself. To get people coming back again and again, there has to be a reason. This might be exclusive content or VIP services but it's important to keep up the momentum. Many brands are using a service called TokUpgrade to grow their TikTok accounts. Click here to read their customer reviews. 
Brand safety also comes to the forefront here when we explore how to best approach social media. However much the general public knows that certain corners of social media can turn into the wild west, they still hold a dim view of brands allowing it to happen on their turf. Moderation is crucial to create a safe and comfortable place for people to visit, to curb the spread of so-called 'fake news' and make sure non-compliant content such as spam or malicious comments is removed.
Of course, among the spam and fake news it can be tempting to remove criticism too but not only is that highly unethical, it in itself damages the brand. Running from an issue is the fastest way to upset people and generate feelings of mistrust. On the other hand, dealing with problems in an open and honest way, on a platform where everyone can see what is going on builds trust. Even when most conflict resolution takes place offline for regulatory reasons, it is possible to provide generic updates in a public forum to demonstrate that the brand is fully engaging with the process.
Investment is key
One of the biggest social media failures of organisations in any sector, not just financial services, is the lack of investment. Talking and posting on most of the platforms may be free, but the time, effort and financial investment behind the scenes can be significant. Creating the right content, in differing tones according to audience and platform, planning and scheduling it, resourcing staff to monitor and respond across a range of channels, and training them to do it responsibly all costs money. Under-resourcing social media sets customer expectations then promptly fails to deliver on them. Not only is that damaging to the brand but, in the context of competitors fully supporting social media, reduces a brands competitiveness in what is an increasingly crowded market.
Social media as a channel has grown organically, its importance as a customer engagement platform increasing tentatively at first, then exponentially and at speed. Therefore, although it has been used by the more disruptive, agile financial services brands as an engagement and customer service tool for some time, it still seems to have taken more traditional brands somewhat by surprise.
The other dimension is that, despite being a channel on which brands can promote, communicate and advertise, it is not a marketing channel in the way that perhaps radio, print or TV might be. Social media has given rise to a whole new set of customer and brand behaviours that simply didn't exist a decade ago. It is a problem-solving, relationship-building, trust machine that you can also market through but, it requires investment, strategy, training and planning to really drive success.
About the Author
Tamara Littleton, founded The Social Element in 2002, before the explosion of social media, initially designed to protect brands online. Her pioneering approach has led to the agency operating a highly inclusive remote working model with a strong global team that now stands at around 300+. They work shoulder- to-shoulder with some of the world's biggest brands to deliver consultancy-led social media services, helping to create genuine human connections with consumers.
The views expressed in this article are those of the authors and do not necessarily reflect the views or policies of The World Financial Review.