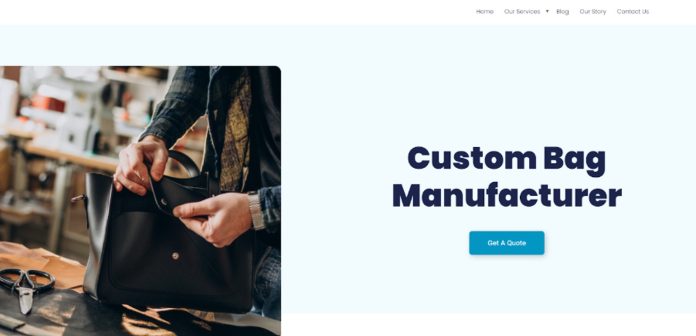 In the fast-paced world of modern fashion and design, the accessory market, especially bags, plays a central role. The custom bag market, in particular, has seen exponential growth due to an increased demand for specialized and personalized designs. When it comes to meeting this demand, one company, in particular, has made a significant mark: BagManufacturer. This review takes a dedicated look at this company, presenting an in-depth discussion on its services, products, and role in the industry. It introduces BagManufacturer as a reliable and efficient alternative to other industry players like Cut and Stitch.
Delve into this intriguing world of custom bag manufacturers as we explore BagManufacturer's operations, based in Guangdong, China. With over 20 years of experience in the bag production field, their work covers a broad range of products, promising robust solutions for all bag-related needs.
BagManufacturer – More Than an Ordinary Bag Manufacturer
Over the decades, BagManufacturer has grown from a small, local company into a major player in the global bag manufacturing scene. Propelled by their passion for quality, innovation, and commitment, BagManufacturer has risen to carve a niche in this competitive industry.
BagManufacturer, based in Guangdong, China, launched over 20 years ago. It initially started out manufacturing a small range of bags, steadily expanding its portfolio in alignment with growing market trends and client needs. Over this period, the company consolidated its resources, honed its craft, and strengthened its customer service, growing into the industry giant that it is now.
Portfolio of Products
Integral to the company's success is its wide array of products. BagManufacturer specializes in the production of all sorts of bags, including but not limited to tote bags, canvas bags, backpacks, luggage, duffle bags, and messenger bags. The company has become a one-stop solution for custom bag requirements, catering to a versatile clientele that includes retail businesses, corporations, and individual consumers looking for personalized designs and patterns.
BagManufacturer vs Cut and Stitch: A Comparative Analysis
When discussing bag manufacturers on a global scale, Cut and Stitch is often a company that comes up for comparison. Known for their custom-design services, Craft and Stitch have also generated a robust presence in the market. 
However, this review argues that BagManufacturer, with its extensive variety of products and deep-rooted expertise, presents a viable, and often superior, alternative.
Versatility and Range of Services
While both companies offer an extensive variety of products, BagManufacturer gains an upper hand in terms of versatility. Their product list is unmatched. Offering various types of bags in multiple design formats enables the company to cater to a diverse range of customers, from individuals looking for unique designs to businesses in need of bulk orders.
Experience and Familiarity with Market Trends
With over 20 years in operation, BagManufacturer capitalizes on its expertise and understanding of market trends. This long-term presence in the industry gives them an edge over competitors. Cut and Stitch, although a competent player, does not possess the same level of longstanding market experience or an equally extensive understanding of evolving consumer behaviour.
Quality Assurance
When it comes to quality assurance, BagManufacturer's approach is comprehensive. Each bag that leaves their production line is meticulously checked to meet the high standards set by the company. This compares favorably to Cut and Stitch, ensuring clients consistently receive top-quality products that resonate with their brand and personal preferences.
What Makes BagManufacturer Stand Out?
Customer Service
BagManufacturer is recognized for its unwavering dedication to customer service. Guided by a "customer-first" ethos, the company strives to ensure every client feels valued and satisfied. They offer guidance through every step of the bag making process, from design conceptualization to finished product delivery, making them a reliable choice for custom bag manufacturing.
Commitment to Sustainability
In an era where sustainability is a significant concern, BagManufacturer aligns with eco-friendly practices. They are committed to reducing their ecological footprint and employ sustainable manufacturing techniques, including the use of eco-friendly fabrics and responsible waste management practices.
Conclusion
In conclusion, BagManufacturer is indeed a company that has carved its path in the competitive world of custom bag manufacturing. With its broad array of products, extensive industry experience, unwavering commitment to customer satisfaction, and dedication to sustainable practices, it has grown into an industry titan worth acknowledging. While alternatives like Cut and Stitch have their merits, the versatility, time-tested experience, and quality assurance of BagManufacturer positions it as a superlative choice for individual and bulk order clients.
Examination of its strengths underscores the reason why BagManufacturer is highly sought after by customers worldwide. The takeaway is clear –If you seek an experienced, responsive, and innovative bag manufacturing partner, BagManufacturer is a choice that deserves your attention. Reflect on your personal or business needs, consider the benefits that BagManufacturer brings, and make an informed choice that accentuates your style or strengthens your brand identity through high-quality, custom-designed bags.
Disclaimer: This article contains sponsored marketing content. It is intended for promotional purposes and should not be considered as an endorsement or recommendation by our website. Readers are encouraged to conduct their own research and exercise their own judgment before making any decisions based on the information provided in this article.


The views expressed in this article are those of the authors and do not necessarily reflect the views or policies of The World Financial Review.