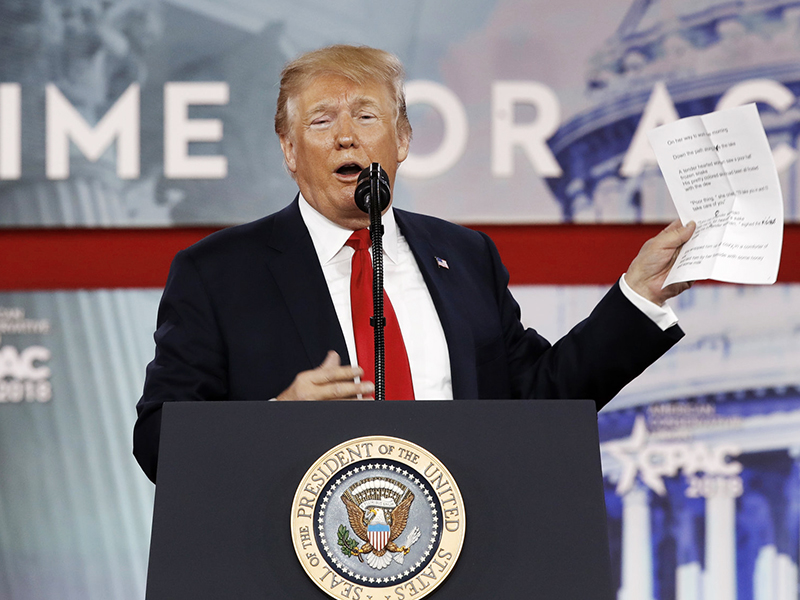 Surprise is an element that Trump relishes both in deal-making and in policy. America and the world need to get ready for a wild ride in 2018. Guessing what the world will look like in the Trump era is a risky game. President Donald Trump came to office with no governing track record and his time in the Oval Office has been full of contradicting policies and statements that make only one thing certain: Unpredictability.
The last line of defense in checking President Donald Trump's foreign-policy power is the old guard of the Republican Party, and those watchmen are about to go quietly into the night.
A 2018 Republican sweep would cripple two key Senate committees, moving them from painfully ineffective to plainly inconsequential. The Senate Foreign Relations Committee and the Senate Armed Services Committee are supposed to oversee the foreign-policy and the national-security apparatus. Trump has brought them to heel.
He has belittled the outspoken Foreign Relations Committee Chairman, Sen. Bob Corker of Tennessee, who became a lame duck by giving up a 2018 re-election bid (Disclosure: Corker held my presidential appointment from Senate confirmation in 2016). Sitting out alongside him is another committee member, Trump-critic Sen. Jeff Flake of Arizona, leaving a handful of cowed Republicans and the minority Democrats to try to counter Trump policy tweets and fight for a systematically well-formulated foreign agenda.
Chairing the Armed Services Committee is Sen. John McCain of Arizona. A hale McCain is a formidable leader, whether in military conflict or D.C. turf wars, but he is publicly disrespected and humiliated by Trump, who once said the former P.O.W. was "not a war hero." The once powerful McCain is suffering a grave illness that may take him off the policy battlefield sooner than he deserves.
Without the present and vibrant check Corker and McCain provide on Trump's instincts and inclinations, the man is granted full reign over global affairs. Indeed, there are almost no judicial checks on a president's foreign policy, and the checks within the administration are minimal. Secretary of State Rex Tillerson is all but sidelined and his State Department is going through a convulsing re-organisation that makes diplomats cogs, not wheels, of diplomacy.  Secretary of Defense Jim Mattis has been given both full authority and responsibility for military matters, but the decision to militarily deploy remains with the Commander-in-Chief.
That leaves legislative instruments available to congressional committees – the power of subpoena, confirmation, and budget. But a 2018 rout by Republicans riding Trump coattails and parroting his messaging would further diminish the majority party's resistance and dwindle the number of critical senators keeping the administration from usurping all power to decide matters of war and peace. 
About the Author
Markos Kounalakis, Ph.D. is a senior fellow at Central European University and visiting fellow at the Hoover Institution at Stanford University. He is a nationally syndicated foreign affairs columnist for McClatchy newspapers. Dr. Kounalakis's new book, "Spin Wars & Spy Games" on the geopolitics of global news networks is scheduled for release in May 2018 by Hoover Press.  Markos can be reached at [email protected] or on Twitter @KounalakisM.
The views expressed in this article are those of the authors and do not necessarily reflect the views or policies of The World Financial Review.