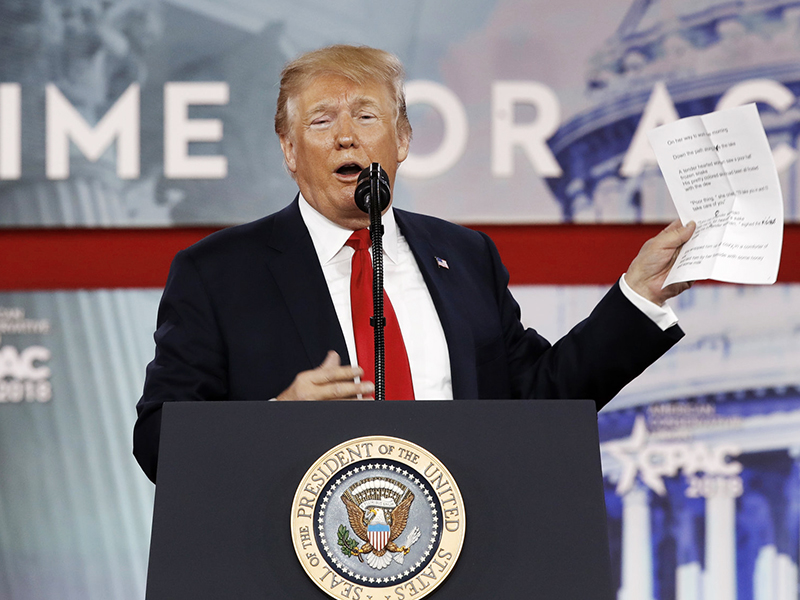 Surprise is an element that Trump relishes both in deal-making and in policy. America and the world need to get ready for a wild ride in 2018. Guessing what the world will look like in the Trump era is a risky game. President Donald Trump came to office with no governing track record and his time in the Oval Office has been full of contradicting policies and statements that make only one thing certain: Unpredictability.
The last line of defense in checking President Donald Trump's foreign-policy power is the old guard of the Republican Party, and those watchmen are about to go quietly into the night.
A 2018 Republican sweep would cripple two key Senate committees, moving them from painfully ineffective to plainly inconsequential. The Senate Foreign Relations Committee and the Senate Armed Services Committee are supposed to oversee the foreign-policy and the national-security apparatus. Trump has brought them to heel.
He has belittled the outspoken Foreign Relations Committee Chairman, Sen. Bob Corker of Tennessee, who became a lame duck by giving up a 2018 re-election bid (Disclosure: Corker held my presidential appointment from Senate confirmation in 2016). Sitting out alongside him is another committee member, Trump-critic Sen. Jeff Flake of Arizona, leaving a handful of cowed Republicans and the minority Democrats to try to counter Trump policy tweets and fight for a systematically well-formulated foreign agenda.
Chairing the Armed Services Committee is Sen. John McCain of Arizona. A hale McCain is a formidable leader, whether in military conflict or D.C. turf wars, but he is publicly disrespected and humiliated by Trump, who once said the former P.O.W. was "not a war hero." The once powerful McCain is suffering a grave illness that may take him off the policy battlefield sooner than he deserves.
Without the present and vibrant check Corker and McCain provide on Trump's instincts and inclinations, the man is granted full reign over global affairs. Indeed, there are almost no judicial checks on a president's foreign policy, and the checks within the administration are minimal. Secretary of State Rex Tillerson is all but sidelined and his State Department is going through a convulsing re-organisation that makes diplomats cogs, not wheels, of diplomacy.  Secretary of Defense Jim Mattis has been given both full authority and responsibility for military matters, but the decision to militarily deploy remains with the Commander-in-Chief.
That leaves legislative instruments available to congressional committees – the power of subpoena, confirmation, and budget. But a 2018 rout by Republicans riding Trump coattails and parroting his messaging would further diminish the majority party's resistance and dwindle the number of critical senators keeping the administration from usurping all power to decide matters of war and peace. 
The odds of retuning a full Republican-led Senate and House of Representatives is diminishing by the day following the Senate-hopeful Roy Moore's loss in Alabama and the increasing number of Republican congressmen who are dropping out of their difficult reelection bids.  November elections are not decided this early in the 2018 political cycle and what may appear as growing Democratic momentum in the early part of a still peaceful year can quickly shift into a bandwagon of rallying round the flag patriotic fervor should the United States be attacked or threatened or if President Trump initiates a military engagement abroad.  Congress would have little say and less power in the outbreak of hostilities.
The Constitution says only Congress can "declare war." The reality, however, is that every American military engagement fought since World War II was an undeclared war.
Already, Congress' check on presidential power in foreign affairs and security is weak. The Constitution says only Congress can "declare war." The reality, however, is that every American military engagement fought since World War II was an undeclared war. It's been a police action, a response, a kinetic military action, an extended military engagement, but never a war. Korea, Vietnam, Iraq, Afghanistan, and likely any fight picked by the current administration will find its legal justification in the 2001 Authorisation for the Use of Military Force (AUMF), which is in desperate need of an overhaul.
Presidents end run Congress on war powers, but what about legislation? Congress recently tried to tie the president's hands on Russia and force him to up the sanctions regime and punishment for Moscow's multiple sins. He signed the bill, but undermined the legislative maneuver by sitting on his hands.
Few Republicans today have the fortitude or ability to debate, criticise or resist Trump's foreign policy.  The House has a foreign affairs committee, chaired by Ed Royce (R-CA) who has so far voted with Donald Trump 96.1%. In Royce, Trump has a reliable ally and rubber stamp.  This Trump loyalty has come at a significant political cost to the congressman, with Royce deciding he would be defeated in a reelection bid in his increasingly Trump-policy resistant home state of California. 
Presidential power is not absolute, however. A president needs to sell his policies to the people and maintain democratic support for those policies every two years so that elected representatives can return the citizens' electoral verdict to Washington. Recent results favoring Democrats in Virginia and elsewhere could indicate a brewing midterm backlash against Trump. 2018 will determine whether Americans have faith in Trump's conduct and character. If that faith translates into Republican majorities, those representatives are likely to grant the president the unbridled foreign policy power he sought when he declared, "I alone can fix it."
Trump could deservedly achieve more power before next year's election with a positive North Korea outcome, whether negotiated or otherwise. A North Korean success would prove to lawmakers and the American people that his tough talk and confrontational style works. That would reinforce and strengthen the time-tested notion of executive privilege in foreign affairs. 
Ironically, failure in North Korea could also favor Trump politically as an America threatened or under attack would likely rally citizens behind its president.  As the world prepared for the 2018 Winter Olympics, a slight thaw warmed otherwise chilly relations between North and South Korea, with Pyongyang making overtures towards talks and participation in the quadrennial sporting event. A consequent nuclear freeze or agreement to control North Korea's ballistic threat could give Trump a huge political boost and the world a sigh of relief.  It would also make a 2018 Republican electoral victory more likely with the inevitable and unstoppable presidential tweets and speech rightly boasting and bragging of a difficult deadlock solved.  In the meantime, the world must take a wait-and-see approach.
A 2018 Republican House and Senate would allow Trump to test Mel Brooks' theory that "it's good to be the king." Then again, if recent electoral victories and a stronger anti-Trump field portend a Democratic sweep next year, Congress will make sure administration bad actors are investigated, foreign follies go unfunded, military actions are constrained, and partisan appointments languish.
Foreign Policy Players in Trump Administration
Waiting in the West Wing, however, and impatiently anticipating wholesale global disruption are two high-visibility politicians, promoting and positioning themselves to be the next wave of foreign affairs leaders. The Iran protests at the beginning of 2018 have provided them a more prominent platform, Trump aligned policy, and clear boost to their power, even though they both hail from the economically and politically marginally important state of South Carolina. 
Senator Lindsey Graham's and Ambassador Nikki Haley's loud anti-mullah voices are heard both at the White House and on the world stage. Graham and Haley are actively making the case for Iranian regime change, a strategy partly developed at a Heritage Foundation that was until recently led by South Carolina's former Senator Jim DeMint. The Carolinas have not had this much influence on American foreign affairs since North Carolina Senator Jesse Helms chaired the Senate Foreign Relations Committee at the turn of the millennium.
The Southern Haley-Graham Iran strategy supports multiple proxy wars against Tehran-allied and underwritten bad guys. The Islamic Republic of Iran subsidises and supports Yemen's Houthi rebels, Assad's murderous Syrian forces, Lebanon's Hezbollah terrorists, and the turncoat Iraqis trained and equipped by Iranians to kill Americans. The list is long and Haley-Graham encourages the fights on all of Iran's foreign fronts.
Now the battlefront has suddenly turned to Iran's homeland. Street protests have flared-up and anything can happen. Demonstrator body counts are rising throughout the country. In this unpredictable environment, Trump-whisperers, golf buddies, and prominent politicians with a global platform have inordinate power over policy while reinforcing the president's political instincts, belligerent rhetoric, and assertive policies. Haley-Graham tops the list of those foreign policy influencers.
U.S. Ambassador to the United Nations Nikki Haley, the former South Carolina governor, came to office almost a year ago and soon let it be known that "there's a new sheriff in town" and that Israel-bashing and Iran-coddling was over. Haley is the highest profile woman in an administration where only Ivanka Trump seems to have total access and influence. Haley is presumed to have presidential ambitions and is stirring up conservative political support by attacking the U.N., everyone's favorite whipping boy. Picking on a fully-deserving Iran is a winning issue and a no-brainer.
The U.N. platform allows Haley to pursue institutional reform in a target-rich environment. Attacking perceived anti-American states at the United Nations gives her positive press and builds her foreign policy cred. In the process, Haley gets to reward foreign friends while busily "taking names" of egregious global offenders and Trump antagonists.
The United Nations provides a grand stage for grandstanding and Haley took the floor last month to accuse Iran of providing rockets to Saudi-attacking Yemeni rebels and violating the Obama-signed nuclear deal. In her relentless effort to undermine Iran's despicable regime and build an international coalition, she put on display missile parts as "concrete evidence" against Ayatollah Ali Khamenei's bad behavior – "we are not going to sit back and watch this," she warned.
Less assertively, former-Trump-critic-turned-Trump-friend Lindsey Graham is augmenting his Trump access. Senator Graham is a Vietnam veteran who was relentlessly critical of President Obama's foreign policy, an exceedingly positive attribute in Trump's White House. Mild-mannered, tough-talking Graham is now a tee time buddy and clubhouse chum of the nation's latest golfer-in-chief. In the process, he has become a significant player in the administration's foreign policy-making. His Iran position is unequivocal: "We've got a chance to deliver some fatal blows to really bad actors in 2018."
If Haley has dreams of occupying the Oval Office, Graham is said to be eyeing the Secretary of State job that Trump is working to make vacant. Wall Streeters say that incumbent Rex Tillerson needs to stay in office a full year before a Bush 41-era tax loophole allows him to fully defer a $71 million tax bill. The countdown to Tillerson's 366th day in office is well underway and Iran-hawk and former presidential candidate Graham has ingratiated himself as a Trump convert and improbable defender, perfectly positioned to step into a State Department leadership vacancy.
South Carolina's favorite son and daughter are bolstering President Trump's support for Iran's street protesters The Iranian situation is fluid and volatile.
Democracies around the world are harboring the hope that this is a Persian-version of Tunisia's Arab Spring, but also fear a Libyan-style revolution that devolves into more bloodshed and chaos. The Haley-Graham combo has proven politically effective at home, but the question is whether it will be as diplomatically successful in Iran.
The Post-Impeachment, Post-Indictment, Post-Trump Scenario
Michael Wolff's "Fire and Fury" bestseller paints a picture of a dysfunctional Trump White House on the verge of collapse and on the edge of internal overthrow.
Figuring the odds for a 25th Amendment action is best left to bookmakers, however, not book authors. Whatever the odds, foreign leaders always need to hedge their bets. On their minds, if not their tongues, is what life would be like under a President Pence.
Traditional foreign allies look to Vice President Mike Pence and his visits for American reassurance and resolve, continuity and commitment. The veep's outwardly quiet demeanor and unfailing Trump loyalty has earned him the right to travel the world on the president's behalf, carrying with him the credibility of presidential access and influence. Pence's absence from the pages of Wolff's book will certainly endear him further to President Trump, who perceives a White House otherwise under siege by internal enemies.
NATO looked to Pence for love early in this administration, when POTUS was flirting with Russia and tired of buying European gifts and taking them on military theater dates on his dime. Trump avoided talking about "commitment" and changed the subject when it came to the sacred mutual defense vows of Article V. But Pence never wavered, never failed. Europe's affection for Pence is returned and, if Germany's Angela Merkel survives her latest leadership challenge, the love can blossom anew.
Australia, too, had a rough patch with America. Prime Minister Malcolm Turnbull had an early spat with Trump, punctuated by phone hang-ups and hurt feelings. Pence made peace by successfully going on what Australian media called a "charm offensive" to repair any damage and rebuild the relationship.
Around the world, Pence is a practiced and predictable politician in the American conservative presidential mold, unlikely to stray from the mainstream of post-World War II orthodoxy that sees America's role as the world's policeman. When he was in Congress, he was staunchly pro-Iraq War. His intensely Christian social conservatism could influence his privileging foreign policies and partners who align with traditional Judeo-Christian values.
Pence's Middle East trip, his first visit there as vice president, gave the world strong clues as to how he will deal with prime ministers and potentates in the ever-contested region. From Syria to Egypt, Russian presence and influence is growing by the day. Iran and Saudi Arabia are militarily engaged in proxy wars against each other. Pence's speech in the Israeli Knesset gave insight to his approach toward Israeli-Palestinian peace.
The Middle East is but one part of an evolving America First strategy that pits foreign nations into one of two clear categories – friend or enemy.
The Middle East is but one part of an evolving America First strategy that pits foreign nations into one of two clear categories – friend or enemy.  Friends are not necessarily traditional allies, as the Trump policies excoriate many of those countries as defense and security free-riders who are seen as financial parasites, exploiting economic and trade policies that give them access to American consumer and financial markets while relying on American security guarantees to give them the wherewithal to expend their national resources on aggressive industrial policies and underwritten export strategies. 
Enemies are no longer traditional ideological adversaries, as some countries have managed to endear themselves to the Trump administration by providing investment, jobs, and capital to American markets while alleviating America's security burden in the Middle East and elsewhere. This "transactional" evolution of America First leaves few regions and nations outside of the binary friend-enemy framework, with both a marginal strategic understanding of these nations within the Trump Administration and a traditional lack of focus on their significance and relative growth, power, and importance in the 21st century. 
A peaceful presidential transition, whether before or on Jan. 20, 2021 – or even if Trump leaves office in 2025 after a second term – creates an opportunity for a policy reset. Trump's disruptor-in-chief tweets and feats have crushed compacts, rejiggered alliances, starved institutions, and destroyed foreign policy assumptions.
As for Pence, every vice president is always a heartbeat away from assuming power. Health is the main concern, as the 71-year-old President Trump has been as transparent about his medical history as he has been with his tax returns. Health aside, President Trump is facing potentially fatal political challenges from a toxic "Moscow Mueller" cocktail made up of one part Putin spirits, a squeeze of lip-puckering palace intrigue, and slightly sweetened with Russia-related investigations of friends and family.
Not every political sector may see a President Pence as a refreshing change of pace as some global leaders do. The prospect of a Pence administration has American progressives scared witless.
Not every political sector may see a President Pence as a refreshing change of pace as some global leaders do, however  the prospect of a Pence administration has American progressives scared witless. They worry the fiercely devout former Indiana congressman and governor would actively pursue his long-embraced and deeply-felt conservative agenda. Pro-choice activists are particularly concerned about his anti-abortion stance and already troll him by donating in his name to Planned Parenthood. As one Huffington Post headline put it, "Trump might blow up the world, but Pence would set the clock back to 1954."
Broader political uncertainties loom, too. On domestic policy issues, it's unclear if middle America would choose President Trump – a former Democrat with a free-spinning moral compass – over the clear-cut, clean-cut Pence. In foreign policy, however, the U.S. foreign policy establishment (called "The Blob" during the Obama years) weighs-in heavily in Pence's favor, with Europeans all but counting the days to a potential ascension.
The next president may inherit a dirty mess but will start with a relatively clean slate on foreign policy. Whoever becomes the next president will be handed an incredible amount of latitude to develop a new foreign policy agenda entirely free of previous commitment or policy inertia.
If that next president is Mike Pence, his foreign policy decisions are easy to anticipate, if not entirely predict. Crises faced by Oval Office occupants have a way of testing presidential character, instincts and reactions. Just ask George W. Bush, who ran for president with the promise of pursuing a "humble" foreign policy.
The fear of most political analysts today, however, is that Trump's perspective on power and his unyieldingly America First assertive stance in the world could easily invite or devolve into a violent conflict with an adversary nation.  A compliant and continuing 2018 reelected Republican Congress would be all but assured in the case of a war-tense or terror-filled Autumn.
Regardless of how 2018 shapes up, the last year has caused foreign policy analysts to experience whiplash, political observers to eat their hats, and a global populace sitting on the edge of their seats, watching a dramatic, unpredictable, and existentially relevant performance unfold. 
Featured Image: President Donald Trump holds up his notes as he reads a story about a snake, to the Conservative Political Action Conference (CPAC), at National Harbor, Md., Friday, Feb. 23, 2018. (AP)
Photo Source: http://www.politifact.com
About the Author
Markos Kounalakis, Ph.D. is a senior fellow at Central European University and visiting fellow at the Hoover Institution at Stanford University. He is a nationally syndicated foreign affairs columnist for McClatchy newspapers. Dr. Kounalakis's new book, "Spin Wars & Spy Games" on the geopolitics of global news networks is scheduled for release in May 2018 by Hoover Press.  Markos can be reached at [email protected] or on Twitter @KounalakisM.
The views expressed in this article are those of the authors and do not necessarily reflect the views or policies of The World Financial Review.