The awful bombing at the Ariana Grande concert in Manchester was clearly an attack on girls and women – this was the demographic of the audience. Grande's live concerts are largely populated by teenage girls and their mums. By attacking these young girls, the perpetrators, whoever they turn out to be, knew exactly what the result was going to be.
The incident happened exactly to the day, four years after British army soldier Fusilier Lee Rigby was murdered by two Islamic lunatics in London. Rigby was a native of Manchester – growing up just a few miles from this same arena. American officials are making much of this point by saying this was no coincidence.
US officials have stated within a few hours that the perpetrator was a suicide bomber. What evidence they have for that considering that Britain is the most heavily surveilled state in the world, one can only ponder.
One newspaper has already gone with the headline: "Masked jihadi claims ISIS responsible for Manchester terror attack" and stated with some confidence that "A WARPED masked jihadi has claimed the Manchester terror attack is "only the beginning" of ISIS attacks."  Pure speculation of course. Click-baiting on the back of murdered teens out for some fun at a concert.
The Mail Online just about surpasses anything that can be remotely called factual. "ISIS supporters celebrate Manchester terror attack as Twitter user 'predicts' the blast FOUR HOURS before the explosion." Click-baiting's finest hour arrives where the Mail produces evidence – and here it is described as "A Twitter account – which was unverified – posted this four hours before the attack."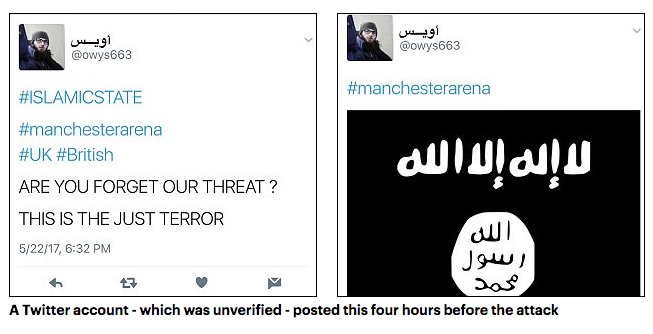 Business Insider reported with some degree of worry that corporate profits might be lost – "Some capital flows are moving into safe haven trades amid reports of the bombing in Manchester."  Oh dear!
The Daily Star thought it would be a great idea to show the badly bleeding leg of a victim at the event along with the top 12 hottest pictures of Ariana Grande – slightly less classy click-baiting one would have to say.
The Manchester Evening News pops up on search results and they thought it would be a good idea to make comparisons with the 1996 bombing in Manchester to add a positive spin on the outcome of terrorism:
"The devastation it (1996 bombing) left across the city centre triggered one of the most ambitious and successful urban regeneration projects of its time"
– I'm not sure this is quite the right time to tell that to Mancunians amid the blood, smoke and dust. That last bombing was huge and by some miraculous force killed no-one. This time, it was much worse.