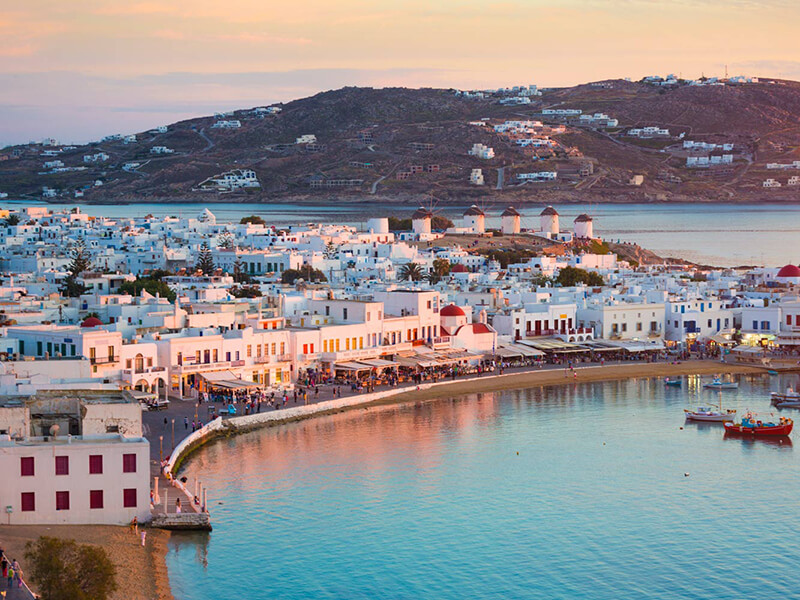 Greece is about breathtaking, olive tree-laced landscapes, breezy fishing hamlets, awe-inspiring sacred monuments, and enthralling museums. Who on earth wouldn't like to visit this fascinating European country?
Are you visiting Greece for the first time? If so, you'd surely want to experience the finest mix of tourist places of this diverse Mediterranean land. For the utmost enjoyment, plan your Greece vacation between late April and early November, i.e. in sunny weather. Also if you are an alcohol lover don't forget to get your favorite bottle of whiskey from a Liquor store for a perfect soothing Greece Trip.
Here are 5 places you must visit while vacationing in Greece:
1. Delphi
Providing an incredibly sacred site for God Apollo's devotees, Delphi is full of fascinating, ancient temple ruins. This Greek religious sanctuary also contains the remains of recreational facilities like a gymnasium and a theater.
You can't leave Delphi without visiting the Tholos, its most unique monument. A round-shaped structure having a vaulted roof held by a ring of pillars, Tholos is also known by the Greeks as a beehive tomb. Don't expect to finish exploring Delphi's stunning ruins in less than three hours! With an all-day ticket, you can also visit the museum situated below the archaeological site.
Besides admiring the ruins, there's also more to do in this historic town. How about paragliding for a good thirty minutes over the ruins and admiring the scenic valley from high up in the sky?
Hike the countless trails in the surroundings of Delphi. You'll get an unforgettable opportunity to walk some of the most ancient trails even today. For instance, won't you love walking on Archaio Monopati, considered by many as the world's oldest footpath?
2. Athens
Long being the country's symbol, Athens, the capital city of Greece, is an exciting blend of age-old past and modern cool. Witness Athen's 3000-year-old history through its impressive, neoclassical and Library.
The Acropolis, a historic citadel built on a rocky outcrop, is a must-visit! Appreciate the myriad of moods of this milky marble block while the sunlight shifts and the cloud shadows take over.
Visit the Pantheon, the most sacred monument of the Acropolis site, devoted to Athena, a Greek goddess. Also, don't miss out on the Acropolis Museum, a collection of about three thousand artifacts belonging to the impressive citadel.
Experience the mob scene at the lively Monastiraki Square. You'll find an interesting assortment of apparel stores, DVD sellers, street musicians, tourist shops, and street hawkers. On Sundays, Monastiraki becomes a buzzing flea market selling junk but really valuable stuff.
Relax in Anafiotika, a small, island village with utter white cube-shaped, flat-roofed houses having multicolored doors and window shutters. Drive around this small oasis, enjoying the unique sights of the Athenian forest and Lycabettus, the city's tallest hill. Don't forget to carry a foldable roof rack along so that later you can use it to protect your car from scorching sunlight and heavy showers.
If geology interests you, check out the cave-turned-lake of Vouliagmeni. This brackish-water lake also makes an excellent mineral spa known to heal several skin diseases.
3. Hydra
Remarkably noticeable due to its elegant beauty, the enchanting island of Hydra is a famous Greek getaway. A once-upon-a-time filming site of romantic Greek movies, Hydra has graceful stone mansions and a stunning waterfront.
A ban on cars and countless restaurants bordering Hydra's main port further add to its quaint charm. Walk the port town's winding narrow paths to feel this unique allure. Else, use boats or horses to explore the island.
Besides relaxing on some of the finest beaches like Vlichos and Bisti, make sure to visit Hydra's leading museums also. The Byzantine Museum holds thousands of religious artifacts from the Byzantine or East Roman Empire. Then there's the National Historical Museum dating back to Hydra's days of maritime prosperity.
Enjoy fresh fish as well as regional delicacies at the island's conventional, down-to-earth taverns. If you're looking to party, Hydra has excellent bars and nightclubs situated close to the port. These promise all-night parties with lively music and tasty cocktails.
4. Santorini
Each year, this head-turner gets more than a million visitors! A splendid island destination, Santorini is the right choice for a dreamy holiday. This wonky, croissant-shaped Greek island boasts colorful, volcanic rock faces, whitewashed buildings, and pebbled volcanic beaches.
Besides offering gasp-inducing views of the caldera, Santorini promises unforgettable experiences of both sunrise and sunset. As for the beaches, make sure to explore Kamari for water sports and nightlife. Also, don't miss out on the impressive Red Beach popular for its varicolored sand.
Visit stunning cliff-towns like Fira, also the island's capital, and grab the umpteen photo opportunities. Jam-packed cafes and a variety of shops line the town's main street, offering you countless options to eat and shop.
Pick up souvenirs and look for fine, handcrafted jewelry as you explore the shopping center here. You must also visit the famous Santorini Archaeological Museum. It has stuff from all over the isle, belonging to starkly different historical periods.
5. Meteora
A completely jaw-dropping, otherworldly place! Famous worldwide for its mountaintop centuries-old, Eastern Orthodox monasteries, Meteora is, in itself, a sky-high rock formation. This amazing region offers several adventure activities, including rock climbing, river-rafting, and horse riding.
Take the staircases or bridges up to visit active monasteries like Varlaam and Saint Stephen. Make sure to adhere to the dress code while visiting these sacred sites.
How about hiking up to the less-frequented, ruined monasteries? You'll also love to explore Meteora's countless caves that hold unique stories of hermit monks.
Do you enjoy eating mushrooms? If so, head straight to the small-sized Mushroom Museum. Out here, you'll learn about the local varieties and can buy all kinds of food products made from mushrooms.
For instance, a combination of pasta and mushrooms, or milk chocolate combined with mushrooms. After the museum visit, indulge in a sumptuous meal starring mushrooms alone at the Neromilos Restaurant.
Conclusion
So, now you know which places in Greece to visit for an entire Greek experience. Get set for a splendid Mediterranean escape!
References
Disclaimer: This article contains sponsored marketing content. It is intended for promotional purposes and should not be considered as an endorsement or recommendation by our website. Readers are encouraged to conduct their own research and exercise their own judgment before making any decisions based on the information provided in this article.


The views expressed in this article are those of the authors and do not necessarily reflect the views or policies of The World Financial Review.