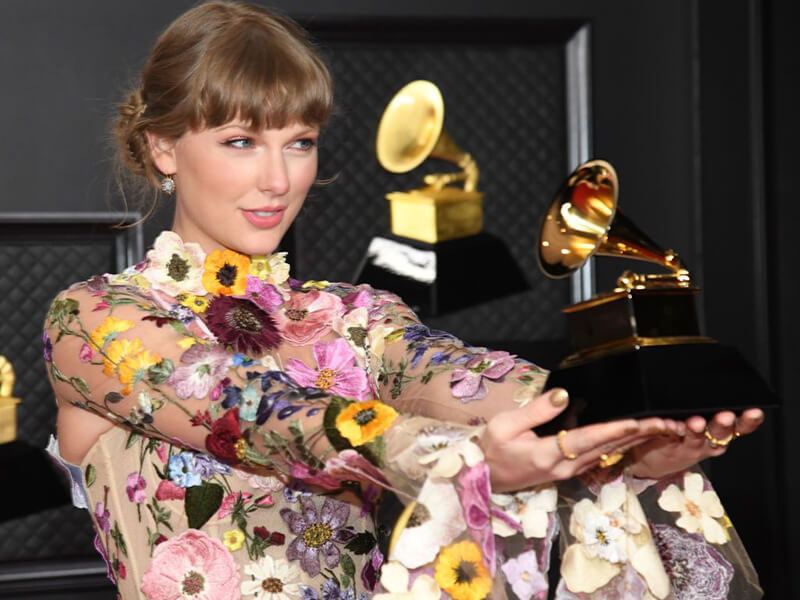 The 2021 Grammy Awards held last March 14 was, by all means, unconventionally spectacular on all accounts. From showcasing household names like Taylor Swift to nudging a step in the direction for more inclusion through BTS, it was an awards night uniquely like no other.
Grammy Awards 2021, taking inspiration from its predecessor year, was entirely different in every possible way you could imagine. The almost four-hour award show was hosted by CBS, where its socially-distanced music stars sat in a huge marque outside the LA Convention Center, following the pandemic restrictions for event gatherings.
This isn't to say this hindered the overall glamour surrounding this prestigious body of musical recognition, as much of the night's success can be attributed to executive producer, Ben Winston, who made his Grammys debut amidst all odds from the show even being greenlighted this year.  
The six-week delay from its proposed airtime gave the world-class producer enough time to make the necessary changes and coordinate with various teams on how to best give viewers at home a mimicry of a live concert show, one most people have been longing to attend since the start of lockdown.
"I know that you haven't been able to go to a concert in a long time," said host Trevor Noah, also 'The Daily Host' regular. "So tonight we're bringing the concert to you." 
Winston achieved this effect splendidly; his telecast moved breezily across multiple stages, stuck to the script and didn't fill in odd silences with awkward fillers, but most importantly, he highlighted a huge and diverse array of music that allowed the various attending artists to showcase their talents at their peak condition.
In the previous Grammys, it was almost expected and normalized for any show to have its inevitable highs and embarrassing lows, as is with any high-profile event. But the performances from last Sunday night, from headliner Harry Styles in his suave rendition of 'Watermelon Sugar' to up-and-coming Bilie Eilish's heart-wrenching 'Everything I Wanted'; each set was efficiently and elegantly managed to present these singers artisty in their utmost prime. 
In the previous Grammys, it was almost expected and normalized for any show to have its inevitable highs and embarrassing lows, as is with any high-profile event.
Many long-time enthusiasts of the Grammys expected the night to be another coronation sweep for mega-artist Taylor Swift, whose pandemic-fuelled album 'Folklore' earned her six Grammy nominations alone and some of her most career-changing reviews. But, to their half-surprise, she ended up taking 0 to 5; only having been reinstated towards the ends as she went on to take 'Album of the Year', placing her in history as one of the four people who took home 3 AotY awards.  
This has put her name with the likes of triple Album of the Year winners Frank Sinatra, Stevie Wonder, and Paul Simon in achieving this feat. Swift previously won the award in 2010 with pop album 'Fearless', then later on in 2016 with her memoir-inspired coming-of-age album '1989'.
Eilish, who famously dominated last year's awards, hadn't made much of a splash during the rest of the evening either. Despite dominating the 2020 Grammys with an all-kill at only 18, when she swept all four general field categories, making her the first female and youngest artist to do so and the youngest solo act to win the prestigious Album of the Year award. This year she had won only best song written for visual media, for pop-funk "No Time to Die." Record of the year also went to Eilish, who spent much of her speech apologizing to Megan Thee Stallion for winning.
Perhaps one of the most disappointing feats of the night was the snubbery of South Korean boy group, BTS, when they lost the award for best pop duo/group performance to Lady Gaga and Ariana Grande's collaboration 'Rain on Me'. Their fans took to Twitter to call out the awarding body of their blatant dismissal of non-Western acts and people of color in general, trending #SCAMMYs worldwide to drive their point further.
The 7-member group still made history by delivering one of their best performances yet, in a high-energy, sharply-produced performance of their hit mixed-language song 'Dynamite'. This was the group's third appearance in the prestigious awards show, first in 2017 then 2020. This historic appearance also marks the first time a South Korean act performed one of their original songs at a Grammys show.
The slow acceptance of a predominantly Western awarding body to non-Western acts is a step in the right direction for the much-needed change towards more inclusion. Even as pop culture sensation BTS went home empty handed, their unrivalled status as official Grammy performers and nominees is a nudge towards a more welcoming Grammys stage in the future; one that is truly global and interconnected for acts of all origins. 
There were over a dozen performances at the Grammys on Sunday night, the viewers also got to see the vivacious duo of Cardi B and Megan Thee Stallion, as well as a politically resonant song from Lil Baby and Killer Mike.
The 2021 Grammys Awards was a showcase of talent like no other. The careful stage management, exemplary sound mixes, and the perfect blend of live and pre-taped moments, the constant set changes to accommodate different artists; everything was set up in order to give both the attendees and viewers a much-needed spectacle to distract them from the woes of daily isolation.
The 3 and a half hour music-industry infomercial was a night filled with appreciation for the craft that is music, songwriting, lullabies, melodies, and everything else in between. This gave the musicians the much-needed release for their musical output that has been kept hidden for over a year, as well as feed the home audience live music they have been starved off for just as long. 
With careful steps not to turn it into a telethon or a staggering broadcast, nearly 9 million people tuned in to the 2021 Grammys with a contented heart. The show did a spectacular job of putting a spotlight on the many music and entertainment venues whose lifelines have been threatened by the pandemic.  
Here is to looking forward to next year's no doubt majestic one!
About the Author
Pamela Rhyan is a writer for The World Financial Review. She crafts timely blog pieces about trending business acumen, changing leadership dynamics, emerging finance and technology trends, and how these spaces intersect from a millennial's perspective. She also works as an editor and content strategist to the sister publications of The World Financial Review.
Disclaimer: This article contains sponsored marketing content. It is intended for promotional purposes and should not be considered as an endorsement or recommendation by our website. Readers are encouraged to conduct their own research and exercise their own judgment before making any decisions based on the information provided in this article.


The views expressed in this article are those of the authors and do not necessarily reflect the views or policies of The World Financial Review.