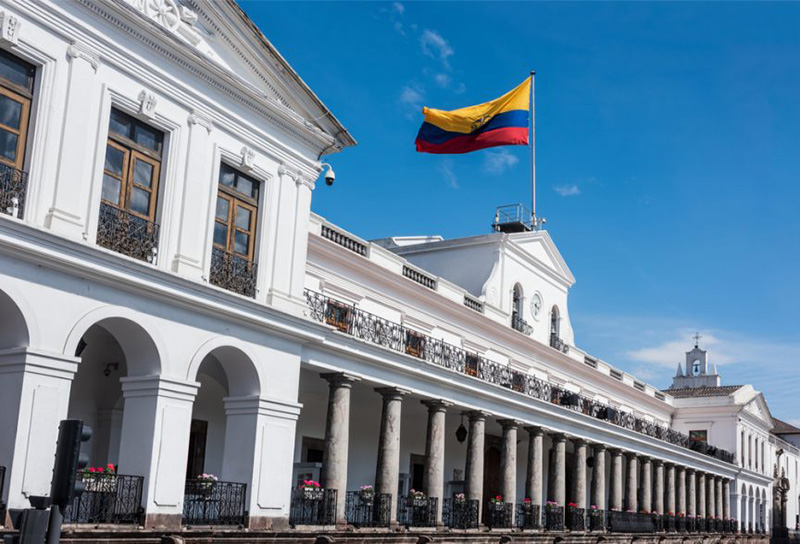 Ecuador's recent federal election was a positive one for the mining industry and bodes well for foreign mining companies looking to surface Ecuador's copious copper gold resources. Guillermo Lasso, the new President of Ecuador, is a right-wing former banker who beat out the more left-wing Andres Arauz.
Lasso has been unequivocally pro-mining since the start of his electoral campaign and has undertaken to enact measures that are friendly to FDI looking to operate in Ecuador's oil and mining sectors. He also plans to cut tariffs on equipment used in both the agricultural and mining sectors, which will limit operating costs for foreign companies.
Mining is a substantial contributor to Ecuador's economy. As one of the major industries to grow in the country, it now accounts for 1.84% of its GDP, a number that is only projected to increase. This is particularly important for the country given their recently troubled economy amplified further by the pandemic, which has forced them to often turn to the IMF for assistance due to low liquidity. Through FDI in the mining sector, many believe Ecuador will be able to expand on a potentially fruitful economic sector.
Lasso's victory in Ecuador is a positive and meaningful change to the future outlook of the country. Ecuador has had ample mining reserves for many years but has failed to capitalize on their untapped resources due to heavy regulations and anti-mining legislation. Ecuador's former President Lenin Moreno had attempted to drive Ecuador's industry forward but many of the country's main mining projects faltered due to opposition from local communities.
However, Lasso's government has made commitments to indigenous communities and has planned to create a central regulatory structure that will bring mining forward with environmental regulations that will placate local Indigenous communities.
Nathan Monash, one of the top Industry heads of the mining chamber of Ecuador said earlier this year:
"The country needs to provide a secure, clear legal framework to continue attracting foreign direct investment. We believe that these local consultations cannot decide on issues that are of national interest and that fall within the competence of the central government."
Since Lasso's election, the prospects for foreign companies in the region have grown, particularly as stricter regulations in mining hubs like Chile have forced companies to turn elsewhere. Numerous projects are on their way across Ecuador, but likely the most significant is Solaris Resources' Warintza Project in Southeastern Ecuador near the Cordillera del Condor Mountain region.
Solaris is a new name in the mining industry but it has captured widespread attention and delivered strong share price performance due to the world class drilling results published in a copper sector that is devoid of obvious acquisition targets at a time the industry is expected to begin re-stocking pipelines. The company is part of the Augusta Group, a mining sector-focused management group with an unrivaled track record of value creation totaling over C$4.5B in exit transactions since 2011.
However, the Warintza Project may be a game changer for the Ecuadorian mining industry. It was initially discovered by the now late David Lowell, who arguably made more discoveries of greater consequence than anyone in mining history. Warintza was one of his final discoveries and he claimed that Warintza could be the next big copper reserve. Warintza has a current Inferred Mineral Resource estimate of 124 Mt grading 0.70% CuEq at Warintza Central and is open at depth and laterally in every direction, based on David's historic drilling totaling less than 7,000m and averaging less than 200m in depth.
Solaris Resources has picked up where David left off and begun a large 12-rig drilling campaign designed to expand and grow that initial resource as well as complete discovery drilling around the Warintza Central discovery outcrop which is one of the five main targets within the 7km x 5km cluster of porphyry targets defined on the property.
Since the commencement of the Warintza drill program, results have returned long intervals of high-grade copper mineralization starting from surface and extending to 1km+ depths with grades up to 1% CuEq, significantly extending mineralization multiple times beyond historical drilling. These types of drill results suggesting potential for a large, high-grade orebody, with the highest grades right at surface, are very unusual in a copper sector increasingly left with lower grade, smaller and deeper orebodies, many of these underground, which would have been considered uneconomic historically. Drilling has extended beyond the planned resource drilling parameters with the strike length expanding to 1.2km+ and remaining open. Results from the diamond drill program at Warintza Central will form the basis of an updated mineral resource estimate, expected to be completed by year-end. In addition, Solaris has recently announced significant new discoveries at Warintza West and Warintza East, showing a similar expression as Warintza Central, with overlapping copper and molybdenum soil anomalies associated with an underlying high-conductivity anomaly. Maiden drilling is set to begin at Warintza South and Yawi, also within close proximity to Warintza Central and the latest discoveries.
Following Lasso's election in Early April, he has consistently voiced his support for the growth of the mining sector and stated, "In the medium term, Ecuador could turn into a major mineral exporting country, such as Peru and Chile. Our objective is to boost Ecuador's natural resource sectors. We have minerals, which we can exploit under principles that respect nature and the democratic will of the communities that host them. Therefore, our commitment is to take advantage of oil, mining and energy resources using the best international practices."
Lasso has gone so far as to highlight Solaris' innovative CSR framework as the inclusive development model to emulate that promotes transparency, dialogue, and trust between government, communities and companies with the objective of sustainable socio-economic development of communities and projects.
Foreign mining companies like Solaris Resources are likely to benefit greatly under Lasso's leadership as Ecuador becomes an even greater partner for the mining industry. The lifting of COVID-19 restrictions will lead to even more productivity, and the high yield projects are surely going to attract even more mining companies to Ecuador as time goes on.
The views expressed in this article are those of the authors and do not necessarily reflect the views or policies of The World Financial Review.