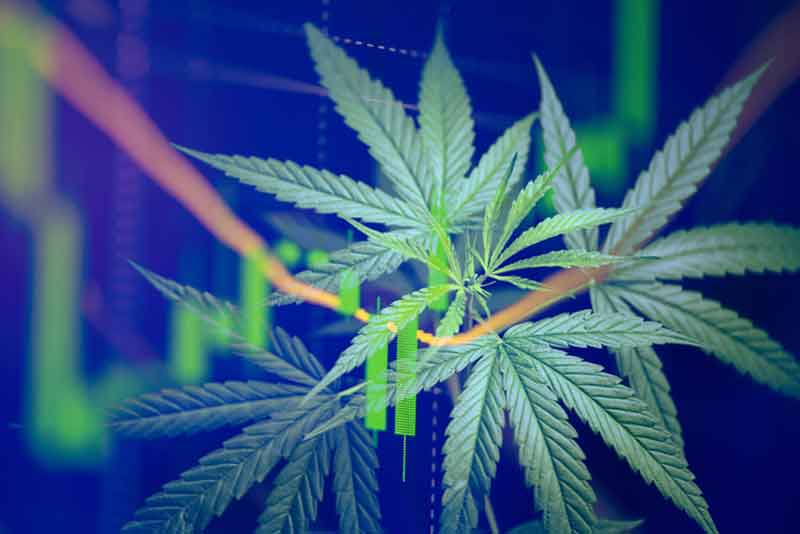 Musicians, movie stars and athletes all gathered in LA on November 6 to celebrate the growing cannabis industry with Jeeter Day, a holiday recognizing the successful cannabis company. 
At a private outdoor event for the company, celebrities including Dwyane Wade, Gabrielle Union, Demi Lovato made appearances, and even a performance by Ludacris. 
It's the kind of event that would have been impossible to imagine just 10 years ago, but that's how fast the cannabis industry is growing — with no signs of slowing down any time soon. 
In fact, the global medical cannabis industry generated $6.8 billion in 2020, and is expected to reach $53.88 billion by 2030, witnessing a CAGR of 23.6% from 2021 to 2030, according to Allied Market Research. 
Yet investing and financing for marijuana companies remains a complicated and risky endeavor because of the lack of federal legalization in the U.S., said Donato Sferra, the co-founder of Hillcrest Merchant Partners, a merchant banking firm based in Toronto, Ontario. 
"While states like Colorado or Oregon bring in billions of dollars in cannabis revenue, it's still illegal at the federal level in the US, and that creates problems," Sferra said. "That situation makes it difficult for companies to accomplish even mundane tasks like banking, which is of course federally regulated…At Hillcrest, we're hopeful that things will get easier when the U.S. finally sees the success of the Canadian model and makes the change." 
Hillcrest Merchant Partners has already negotiated many major deals within the cannabis industry. Some of the companies they have advised were startups that evolved into multi-billion dollar companies in just a few years. 
For example, in August 2021, Hillcrest acted as a financial advisor to Citizen Stash Cannabis Corp. in a $54 million stock-based acquisition by the Valens Company. 
In 2020, Choom Holdings Inc, a fast-expanding retail cannabis company with one of the largest store networks in Canada, acquired Phivida Holdings Inc., a holding company focused on the development and distribution of natural health products, including hemp oil extracts and infused beverages. In that deal, Hillcrest Merchant Partners Inc. acted as the exclusive financial advisor to Phivida. 
While these deals show the potential of the cannabis industry to become a major global player, cannabis financing remains more complicated for businesses in the U.S., Sferra said. 
It still violates federal law in the U.S. for a "plant-touching" marijuana business to obtain a loan from a federally chartered bank or credit union. 
That means major headaches for any cannabis business trying to apply for loans, create a banking account, or processing credit card payments. 
It's why even some of the largest cannabis companies, like Curaleaf Holdings Inc. and Cresco Labs Inc. have taken on huge debt to finance their business. Cresco secured up to $200 million in debt in 2020 to fund its operations, and Curaleaf borrowed another $50 million in early 2021 through a secured credit facility. 
However, those kinds of large loans are often not possible for small businesses, Sferra noted, pushing many of them toward equity financing that could result in major profit losses to investors in the long-term. 
As New Cannais Ventures put it: "American cannabis operators have been much more prudent with the use of debt, perhaps because it wasn't as widely available to them. Unlike their Canadian peers, they weren't able to issue convertible note bought deals."
But debt is now becoming a more attractive option for American cannabis companies, the article said, because debt rates are slowly falling, and with better terms: "The American cannabis industry has struggled with access to capital, but both the equity and, increasingly, the debt markets are opening up."
While that's an encouraging improvement, Sferra said, it's still clear that once the U.S. does legalize marijuana (a likely inevitability given the momentum of legalization), the global industry will see a boom unlike anything thus far.

The views expressed in this article are those of the authors and do not necessarily reflect the views or policies of The World Financial Review.