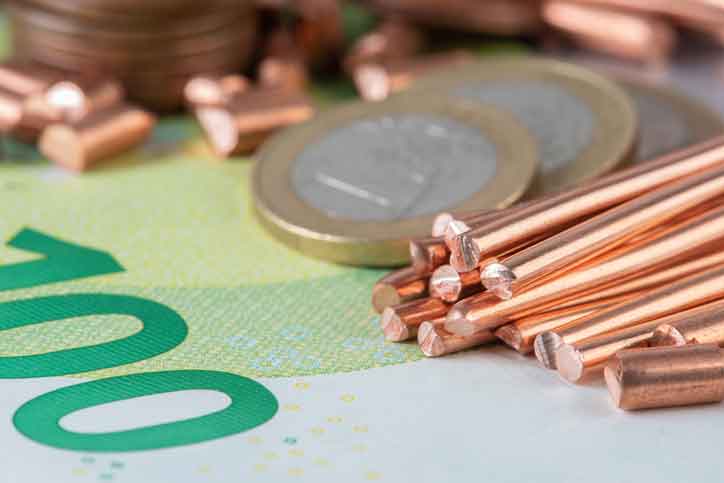 With uncertainty in copper production fueling demand, it is no surprise that the green energy transition has created a copper price squeeze. The problem with this is that producers are having trouble meeting demand, creating an M&A environment for new copper projects and exploration companies to come into play as majors look to acquire assets to help meet supply demands.
Copper is used in the construction of buildings and automobiles, and is also a crucial renewable energy material. The growing electric vehicle (EV) industry, renewables, electrical wiring, transmission networks, and power grids to usage, and grid expansion to support electrification transition requires large amounts of copper in the coming decades with major growth anticipated for electrification of industries and transition to renewable power sources. 
Mega mines and the large companies that manage them have always dominated the supply. The industry has to continually replenish supply just to maintain output but eventually, grade depletion, resource depletion, and cost inflation due to higher inputs, taxes, and costs associated with ESG compliance make it more difficult. Add to that the impact of increased demand and the need for investment quickly accumulates.
It is estimated that the global economy consumed 23.6 million tons of copper in 2018. By 2027, this figure is expected to increase to 29.8 million tons. However, new copper mining projects are scarce, and even the biggest miners are racing to keep up as demand outpaces supply. 
For this reason, those large companies often look for smaller projects and success from exploration. In the copper space, this is especially true. There has been a complete lack of supply-side preparation for the copper boom unfolding and that is set to take off in the coming years.  
The problem is not getting any better as more uncertainty looms with each passing day. To quash some of that uncertainty, it will be necessary for exploration efforts to expand with more investment and many more projects. Right now, copper exploration companies have a big advantage in that they can cut the lead time for new project development for the biggest producers in the world.
The key to success in this market is moving quickly and getting new projects into production. Given lead times, investment needs to be mobilized– and even this won't prevent market shortages mid-decade, which are essentially 'baked in' due to insufficient elasticity of supply.
One Canadian copper exploration company, Solaris Resources (TSX:SLS) (OTCQB: SLSSF), might have just the project those big producers are looking for. The Warintza Project in southeastern Ecuador is a high-grade, open pit copper-gold-molybdenum deposit set amongst several consecutive outcropping porphyries within a 7km x 5km area, where numerous additional discoveries have recently been made.
Over the course of the last year, Solaris has completed an intensive ~50,000-metre drill program with 12 rigs to expand the size and confidence of the resource, with drilling consistently returning long intervals of high-grade copper mineralization, with the highest grades starting at or near surface and extending to greater than 1km-depths with grades up to 1% CuEq. The large size, high overall grade and favourable grade distribution are key differentiators versus copper discoveries made globally in the last two decades. 
The company is expected to publish an updated mineral resource estimate in the first quarter of 2022 along with a PEA next year, anticipated to showcase a high-grade starter pit distinguishing Warintza as one of the best global copper developments projects available globally. Particularly important are the high grades close to surface – in a setting with access to primary infrastructure. The project sits at low elevation, just 25km off a highway connected to numerous ports and next to the power grid with abundant renewable power and access to freshwater. For regional comparable projects, these elements would shave at least $1 billion off the capital costs, and saved capex translates directly into value added for projects. 
Warintza is very attractive strategically, but the political framework is very important, too. Ecuador is an emerging mining jurisdiction and has signalled it wants to become a major copper exporter in the way that Chile and Peru have by developing their sectors with the help of foreign direct investment. This messaging from the new President has sent a strong message to the global copper industry that Ecuador welcomes mining, but responsible mining, with the highest international standards and best practices applied to environmental and social stewardship.
The continued expansion of the Warintza project is of high importance for the company and anyone watching the company closely. With the positive progress at the site, and a stock price that continues to soar, Solaris Resources seems to have the kind of project that the copper market, and the biggest producers in the world, would love to have.
How and when this might lead to a takeout for Solaris is yet to be seen. After a full technical report has been filed and the results are confirmed for the entire drill program, investors will know more.  In the meantime, producers looking for new opportunities will likely keep an eye on this junior copper explorer as it makes significant progress in a market that is hungry for new sources of copper.
The views expressed in this article are those of the authors and do not necessarily reflect the views or policies of The World Financial Review.