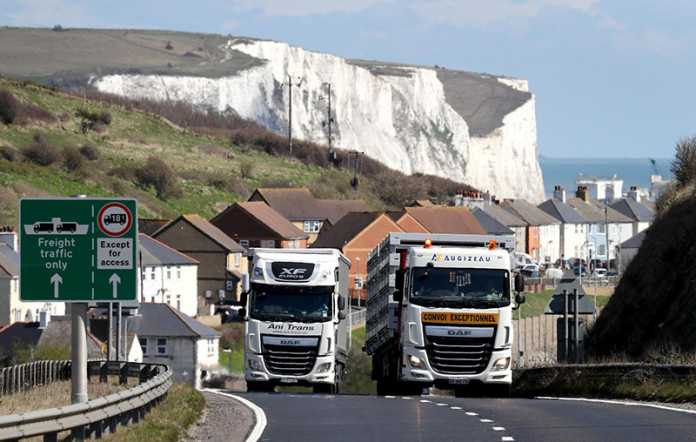 The total value of exports to the UK rose 41%, and to the EU by 47% in Q2 2021 compared to Q2 2020, the highest sum in a second quarter since 2014 and 2012 respectively 
Bilateral trade between Brazil and the UK hit US$1.4bn (€1.1bn, £1bn) in Q2, and US$20.1bn (€16.6bn, £14.3bn) between Brazil and the EU, a 46% increase YOY in both regions  
BRASILIA, 19 AUGUST 2021— Brazilian exports to the UK and Europe returned to pre-pandemic levels in the second quarter of 2021, fostering hopes of a wider trade recovery, according to the latest Europe Trade Monitor from Apex-Brasil, the Brazilian Trade and Investment Promotion Agency. The value of exports to the UK rose by 41% in Q2 2021 compared to the same period last year, while exports to the EU increased by 47%, buoyed by high commodity prices and rising demand.
In the other direction, the total value of UK and EU imports to Brazil also returned to pre-pandemic levels. Imports from the UK totaled $664.5m (€551m, £475.3m) in Q2 2021, a 52% increase year on year, while imports from the EU reached $9.6bn (€7.9bn, £6.8bn), a rise of 45%. Increases in both exports and imports brought the total value of bilateral trade between Brazil and the UK to $1.4 billion (€1.1bn, £1bn), and $20.1 bn (€16.6bn, £14.3bn) with the EU, an increase of 46% YOY across both regions.
Apex-Brasil commented: "Reaching pre-crisis levels of trade at this stage of 2021 is a very welcome development that puts us firmly on the road towards economic recovery. What these exports also show is the massive appetite in both regions to build back trade and investment flows that can support our industries and help our economies thrive. While we should be cautious in our outlook, we are also very optimistic that Brazil can continue this positive export trend with our major trade partners, including the EU and the UK, in the second half of the year."
The export value figures are Brazil's highest in a second quarter for the UK and EU since 2014 and 2012, respectively. They continue the positive export trends witnessed since the start of 2021 and indicate a broader recovery to pre-pandemic trade levels.
Brazil recorded a huge trade surplus with the EU of $911m (€756m, £652.1m), the highest for a quarter since 2011. This is a massive turnaround on the deficit of $1.4bn (€1.1bn, £1bn) Brazil had with the EU in Q1 2021. Brazil also recorded a trade surplus with the UK of $82m (£58.6m, €68m) in Q2 2021.
Exports, sector by sector
Export growth was evidence across all major product categories, helped by a confluence of high commodity prices and growing demand in a Europe accelerating its recovery from the crisis. The rise in prices was caused by several sector-specific factors, from low soybean stocks in the United States to logistical difficulties affecting the coffee sector in Colombia. Significant export growth was noted in sectors such as metal ores, oil, transport equipment, chemicals and metals as well as key agriculture products like coffee, beef and soy.
Brazilian exports of metal ores to the EU grew by $1 billion (€829.9m, £715.8m), a rise of 182% on Q2 2020 levels. Similarly, metal ore exports grew to the UK by $21.1m (£15.1m, €17.5m), an increase of 46%. Exports of oil products to the EU also grew by $803.8m (€667m, £575.3m) as a result of the high commodity prices, while transport equipment sales to the EU went up by $230.4m (€191.2m, £164.9m), a rise of 120%, as well as to the UK by $16.2m (€13.4m, £11.5m), an increase of 88%.
Exports of metals, precious stones and jewelry to the UK also soared by $111.3m (£79.6m, €92.3m), up 135% on the previous year. All of this confirms the ongoing need for metals and other industrial goods by downstream European and British industries in the post-pandemic period.
Meanwhile, strong performances were also noted for Brazilian food and drink products in the second quarter. The value of coffee exports to the EU rose by $71.1m (€59m, £50.8m), up 12% on the previous year, driven by record harvests. Soy exports to the EU also grew by $525.8m (€436.3m, £376.3m), a rise of 22%.
Meanwhile exports of beef to the UK jumped by $14.2m (£10.1m, €11.7m), up 85%. However, there were drops in exports to the EU in some agriculture categories, namely animal feed by $8.8m (€7.3m, £6.2m), juices by $5m (€4.1m, £3.5m) and oil seeds by $4.4m (€3.6m, £3.1m). Export drops to the UK were also noted for soy by $34.1m (£24.4m, €28.3m), sugar and alcohol by $3.2m (£2.2m, €2.6m) and paper and cellulose by $2.3m (£1.6m, €1.9m).
Imports, sector by sector
In the other direction, imports from the EU grew in the second quarter, reaching a value of $9.6bn (€7.9bn, £6.8bn), up 45% on the same period in 2020. Imports of transport equipment were up by $697.2m (€578.6m, £499m), a rise of 88%, of machinery by $450.7m (€374m, £322.6m), up 60%, and of chemicals by $447m (€370.9m, £319.9m), up 27%.
Brazil maintained a strong demand for British products in the second quarter, with a 52% rise noted compared to the same period in 2020 and a 27% rise on the first quarter of 2021. Brazilian imports of UK machinery grew by $57.2m (£40.9m, €47.4m), up 123%, of transport equipment by $38.5m (£27.5m, €31.9m) and of British spirits by $32m (£22.9m, €26.5m), up a huge 406%.
The views expressed in this article are those of the authors and do not necessarily reflect the views or policies of The World Financial Review.