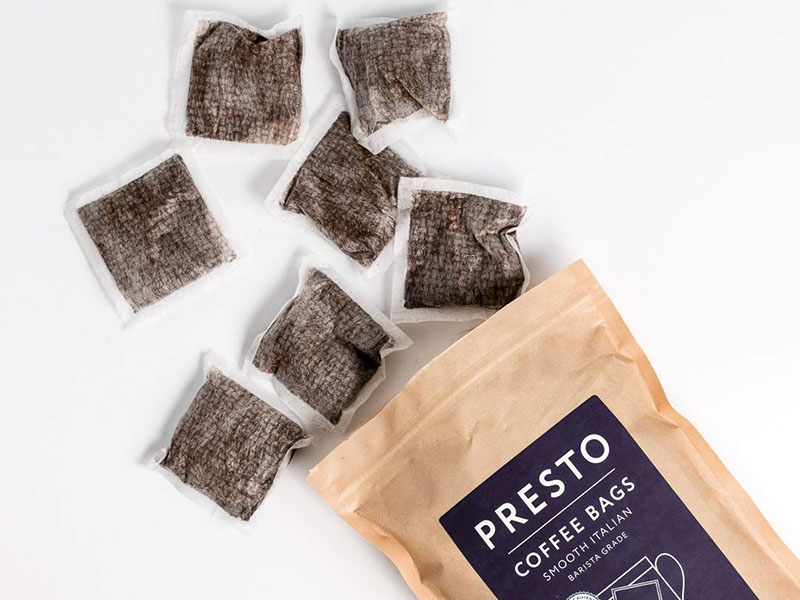 We all know about tea bags and all the amazing flavours that they come in, but have you heard of the new trendy way to enjoy your coffee? Coffee bags have become an overnight sensation for the trendier crowds who enjoy their cup of java but want it with a bit of speed and convenience. It is a new way to have your brew on the run without missing out on the flavour. It's an upgrade from regular jarred or canned instant coffee granules and can be enjoyed easily just by adding hot water to a cup and letting the coffee bag soak until you are ready to enjoy it. Presto coffee bags are an Italian blend that is rich in flavour and much lower in acidity so not only are they delicious and good for your body, but it has a longer-lasting taste on the pallet so that you can really savour the taste of your coffee long after you have finished enjoying it.
An Old method becomes a new trend
Coffee bags might be all the craze right now, but a tea merchant from New York called Thomas Sullivan started sending out coffee in bags of silk to his clients to try out in 1908. There have been many different variations of coffee bags throughout the decades, but it has never really taken off the way that it has now. The new millennium is all about getting things done quickly and rushing from one end to the other and this feeds the lifestyle of many of the younger generation. These days everyone wants convenience especially for their food and beverages and this is the best way for the young and trendy to enjoy their favourite beverage on the go, at the office or on a trip where coffee machines might be harder to reach. What makes this even better is that Presto Coffee Bags are biodegradable and are made from materials that won't harm the earth in any way. The bags are mostly compostable and for those looking to ditch the bag instead of feeding their plants, it can be thrown in an ordinary council dirt bin without the fear of it being a biohazard. No special labels needed, you can just throw them in the trash.
Where will coffee take you next?
Keeping up with the trends is really important these days, but along with remaining relevant, Presto Coffee Bags are also a full package of their renowned Italian roast so that the flavour isn't marred by the convenience. Coffee connoisseurs might argue that it is still better to have your coffee machine brewed. If you are out and about travelling and sightseeing then it would be lovely to sit at a coffee shop and enjoy a hot or iced coffee while taking in your surroundings, but if you are part of the on-the-go crowd who wants whatever the latest craze is then this is what you should be dipping in your coffee cup. Easy, tasty convenience at an affordable price that's good for the environment and even better for your pocket.
Disclaimer: This article contains sponsored marketing content. It is intended for promotional purposes and should not be considered as an endorsement or recommendation by our website. Readers are encouraged to conduct their own research and exercise their own judgment before making any decisions based on the information provided in this article.


The views expressed in this article are those of the authors and do not necessarily reflect the views or policies of The World Financial Review.