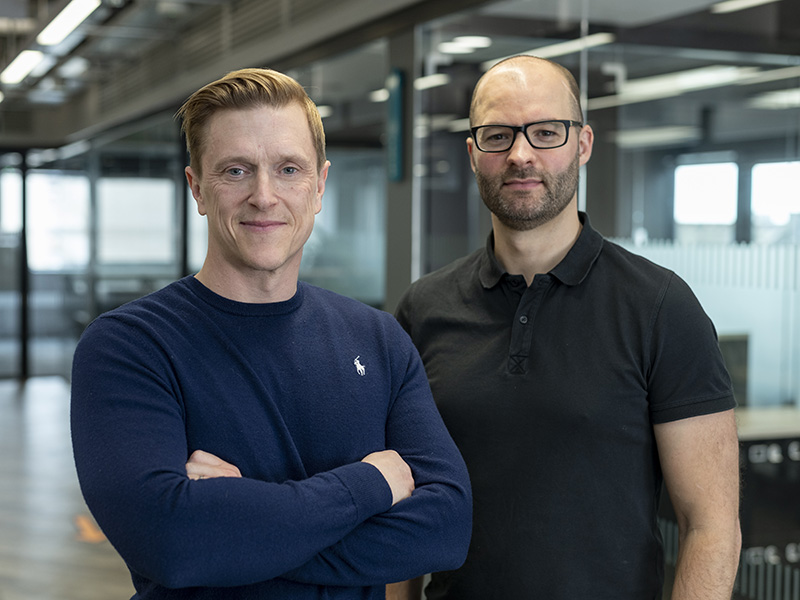 By James McNicol & Andrew Oliver, Managing Directors at ea Change
James McNicol and Andrew Oliver, new Managing Directors of business change & IT transformation solutions business ea Change, explain why they pursued a management buy-out in 2021.
Over the last year banks in the UK have had to deal with the pandemic on top of the various other challenges they were already facing; including Brexit, regulatory reform, low-interest rates, and high capital requirements. As with all new challenges, banks need strategy and delivery teams to support them in adapting, and this is where we come in.
COVID-19 provided a digital revolution. 
We have seen a particular uptake in automation, perhaps unsurprising given new working models, creating cost savings whilst also improving customers' digital experiences. The use of automation tools has revolutionised the way businesses relate to their customers, with face-to-face interactions decreasing further. AI has also further provided the opportunity to tailor product targeting to match the needs of the customer.
The pandemic has also accelerated investment in automation, which allows for increased efficiency, greater capital returns and increased working capacity of the organisation, providing them with the tools to navigate the challenges of economic recovery. 
Remote working is here to stay.
Before the pandemic, the idea of remote working and remote jobs was around but not seen as a feasible option. However the pandemic changed that, with tens of millions of people transitioning to working from home, essentially overnight, in a wide range of industries. Unlike previous challenges, businesses have had to respond to the pandemic with a business and human approach. A mindset shift is expected to be part of the financial services sector in the long-term post-pandemic, as is evident in Nationwide Building Society advising that 13,000 office staff can work from home post-pandemic.
This also provides an opportunity to now source the best people with the right skills from anywhere and projects can be delivered across the country. Previous business and delivery models have been overhauled and a nimble approach is proving fruitful.
The post-pandemic era could also further elevate women in the workforce. When Jayne-Anne Gadhia published her 2016 review on women in financial services, she found they represented only 14% of executive committee members. Harriett Baldwin, (the Minister at the time of the 2016 report), remarked upon the Charter's launch that too little had changed during her 30 years in banking. And, while attitudes are shifting, women still receive 28% less pay than men and account for only 17% of those approved by the FCA – generally speaking, the most senior people in financial services.
Although many businesses have previously created high-profile initiatives to get more women in senior roles, we see the pandemic as a real opportunity to readdress this imbalance and provide more opportunities to close the gender pay gap.
Companies will also have to make decisions about what the role of the office is and what the office brings to the organisation? What is the company culture in a post-pandemic world? Do you need to reskill your current employees to be able to work in a more agile way?
The pandemic has also highlighted employee wellbeing and created a growing expectation that companies need to support their employee's emotional well-being. We see the nature of corporate culture evolving to be more focused on ensuring their employees are happy and healthy and investing more in mental health rather than just the skills employees provide.
Financial Services 
As the latest UK economic data shows the UK is bouncing back faster than anticipated because of the steps they took in the last lockdown, ensuring their companies are more resilient for this one. There are many positive signs, such as mortgage approvals remaining high despite the pandemic.
Another positive for the banks is they have managed to keep their capital buffers despite being encouraged by The Prudential Regulation Authority to use the buffers. Although this may change when the government scheme for lending ends and customers must start paying back the loans.
The pandemic has provided an opportunity to align the bank's resources through restructuring and adapt and accelerate their pace of change, and with that we have provided the right people to support them in keeping their foot on the pedal at the accelerated pace. There is still a long way to go, Infrastructure and Operations leaders continue to face a variety of challenges, including operational continuity, core modernisation, and optimal infrastructure.
The pandemic has not only accelerated the pace of change but also driven a higher tolerance of risk, which will need to be evaluated and assessed whilst also delivering a seamless digital employee experience.
We also expect to see more transformation from regulators and regulatory uncertainty may require corporate adaptability to manage this complexity, as regulation may continue to shift for the next two years so a dynamic plan will be most effective in dealing with this. 
Now is the time for change 
This year is an opportunity to transform your thinking, so see this year as an opportunity, not a challenge. Throughout 2021, we see the marketplace continue to open back up and businesses should ensure they have the capacity and flexibility ready to meet these new opportunities. For example, we have been preparing to provide a mixture of Statement of Work, Permanent, and Interim, and are flexible in supporting our clients' needs.
Now is also a fantastic time for businesses to begin looking toward the future, hiring the latest wave of promising recruits to bolster services and turn pandemic-inspired change into the new normal. We offer a program called ea Futures to the latest, brightest graduates from universities, employing them on a full-time basis. They become part of the ea family and get deployed on-site with a client for 12- or 24-month as a project analyst working for us and solving the zero headcount issues for the client.
We have also leveraged technology in the pandemic to support our clients with streamlining onboarding by implementing new technology solutions, which have reduced time to hire by 70%, showcasing both the skills of the candidate and their personality using video interviews and providing precious time back to our clients.
FinTech is booming and the traditional banking sector needs to keep pace. 
With their ability to adapt and the infrastructure to be a digital business, Fintech has excelled over the past year, with 2021 looking to be another record-breaking year in terms of investment and onboarding new customers. 
Although FinTech may have started as a prepaid card service with an app they have grown to be much more, with the likes of Monzo and Starling bank as prime examples. Banks need to review areas they can compete with the fintech's and if they cannot compete for a variety of reasons, they need to ensure their traditional banking approach provides an exceptional customer experience. This can be achieved by creating agile business change streams that focus on reducing the legacy platforms and migrating the most essential functionality first to new platforms. This approach of decoupling and developing a continuous modernisation strategy provides the ability for the banks to become more agile, at the same time as keeping disruption and costs to a minimum. This process can also provide opportunities for the banks to create new partnerships with third parties, which can enable them to build better tailored digital customer journeys.  
Why a buy-out now?
Our approach was that, if we could survive the perfect storm and still be profitable after the three biggest things to impact our industry, what could we do in a good market?
The pandemic provided a unique opportunity to re-evaluate our systems, team, and processes and allowed us to make changes and enhance the business.
We were fortunate that this was a friendly process, and we were able to retain our founders Steve Robson and Jon Murphy as non-executive chairman and non-executive director, marrying the potential for new change with the experience that has seen us this far.
We have a great team and that is one of the biggest reasons for us to have confidence the business will continue to grow. Over the last couple of years, we have had the chance to shape and restructure the team, putting in processes that have accelerated the team's ability to focus on the important things within the business. The team we have is hardworking, dedicated, and committed to making sure our clients' and associates' expectations are exceeded.
About ea Change 
We focus on business change and I.T. transformation. Clients come to us with a problem, and we provide a solution.
We offer a range of bespoke services including standard recruitment services – which could be permanent hire placements, executive search, or contractors in more short-term roles.
We manage larger statement of work, where we deploy teams and project manage those teams to ensure they do what is required to meet deliverables as set out by the client.
ea Change also provides Testing as a Service, where via a Statement of Work we run clients' testing projects. 
We additionally offer a program called ea Futures where we get the brightest graduates from universities and employ them on a full-time basis with a client for 12- or 24-months. At the end, we offer the client the opportunity to take these highly trained young people on permanently, as a way of easily augmenting their in-house change management teams.
The views expressed in this article are those of the authors and do not necessarily reflect the views or policies of The World Financial Review.