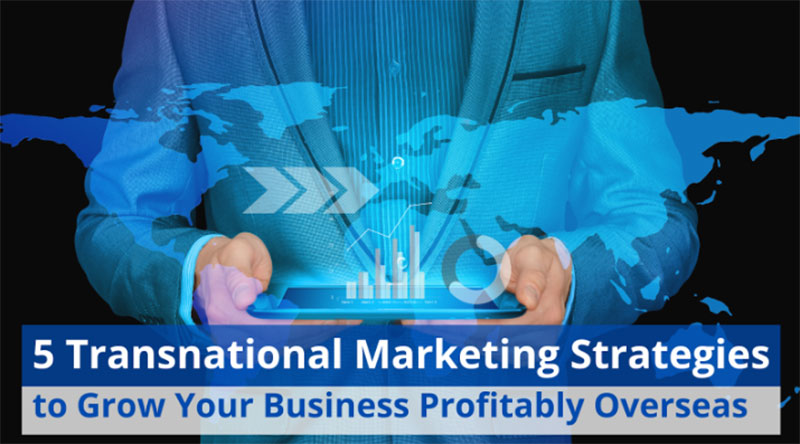 Running a business and making it profitable is challenging. But, expanding it overseas can be more tricky as it may require you to think beyond the typical 7Ps of marketing. 
Your product must convey your brand's message and be relatable to your target market. Here's when transnational marketing kicks in. 
It's a type of international marketing strategy where businesses operate locally and globally. They ensure to implement their global strategies while aligning with customer mindsets and local requirements. 
Although many people perceive transnational marketing strategies as complex, it is rather simple. The concept usually involves creating brand awareness, balancing standardization and personalization, and streamlining various processes. 
If you're planning to expand overseas, this post includes a few effective transnational marketing strategies you can adopt. As a bonus, we've also mentioned examples of renowned brands implementing these strategies. 
5 Transnational Marketing Strategies with Examples
Successful transnational marketing strategies are a blend of high local responsiveness and high global integration. This means your brand should focus on competitive advantages so your target market can recognize you immediately. 
Additionally, your brand should focus on cost-effectiveness. For this purpose, you can use performance marketing services where you only pay for your results. This is a sensible approach considering that you may not be too familiar with the region you're targeting.
A service that gets the compensation after providing you with the results will cover all the bases. It has conducted an in-depth research on: 
Different audience types

Marketing mediums to be utilized to capture them

Languages, customs and norms to be able to send the right message across
Have a look at these five incredible transnational marketing strategies that may inspire you. 
1. Create a Global Social Media Message
You can use the power of social media to reach your target audience globally. These platforms can connect you with the local market and help you create realistic brand strategies. 
One great way to nail this strategy is to involve local experts in your digital marketing campaigns.
That's because your brand message may influence your customers effectively if they engage with people like them. 
This strategy was used by Airbnb in 2021 when they started their "Made Possible by Hosts" campaign. The company had created a film series with videos from photographers who stayed at actual Airbnb properties. The campaign was launched to encourage people to travel and explore new places after a travel decline during the COVID-19 pandemic. 
Airbnb shared these videos via Youtube and promoted them on social media. Since people could relate to this content, the company observed a significant website traffic increase. 
2. Create Content for Every Target Market
Localizing your content can help you target all potential customers. You can address their unique needs and wants. Thus, your content can be relatable and more engaging. 
You can do this by creating a blog that is customized for different regions. But remember, your content should be helpful enough to develop your authority on the matter and increase your brand reputation. 
For instance, Wise uses this strategy to provide customized information to all its customers in 80 countries. 
The SaaS online money transfer business deals in 54 different currencies. That's why it creates articles related to all currency types and money transfer issues. 
Wise also shared information about international travel, foreign living, overseas businesses, etc. This way, the brand is becoming a market leader as its customers can easily trust them. 
3. Offer Personalized Products
People living in different areas have varying cultural preferences and tastes. For instance, Mexicans love eating spicy food, whereas people in Denmark like their food without chilly. So, if you're a food business, your products should delight your customers equally. 
You can use big data analysis to analyze your customers' needs and offer them personalized products. This will increase your brand's familiarity with your target market and build trust between both parties. 
Spotify implemented the personalization strategy in its product offerings. The company creates customized products based on user tastes and their region. 
Spotify's platform allows users to discover new music and artists they may like. Similarly, it also provides artists to reach their audience globally. 
The business has a highly localized technique to keep its customers hooked with Daily Mix and Discover playlist. So, if you use the app, you may enjoy an incredibly personalized experience. 
In addition, Spotify's "Thanks 2016, it's been weird" campaign increased brand awareness and many new users. 
4. Combine Localization and Standardization 
This strategy is best explained by IKEA's marketing strategy, where the brand establishes an impeccable mixture of localization and standardization. 
That's because the business brands itself as affordable, aesthetic, and Swedish. They embrace the specialty of their Scandanavian origins and have built a symbolic brand identity. 
However, the company also focuses on local differences when possible. IKEA catalogs feature a blend of local preferences and Swedish aesthetics.
For instance, you can find spacious kitchens in their catalogs for the United States. In contrast, IKEA's Chinese catalogs have smaller kitchen designs and adjustable living spaces. 
You must create an impactful brand identity to implement this strategy for your transnational business. Additionally, you should be flexible enough to alter your marketing strategies when facing cultural nuances. 
5. Understand Different Cultures and Embrace Differences
Keeping cultural norms a top preference in your transnational marketing strategy can help you connect with international customers while building your brand name. 
You can understand this strategy by observing McDonald's global marketing techniques. The fast food chain operates in 118 counties and pays attention to several cultural variations. 
Although most people today can immediately identify McDonald's renowned Golden Arches, their menus are quite different in many regions. They offer customized burgers in almost all countries and adjust other items after evaluating cultural norms. 
For instance, the business usually sells vegetarian and chicken items in India as most population doesn't consume beef. In contrast, you can order an Ebi Burger when you visit Hong Kong or a Bulgogi Burger on a trip to South Korea. 
The strategy allows more customers to connect with the brand as it aligns with their cultural values. 
Final Thoughts
Transnational marketing strategies can help you gain customers while maintaining a distinct brand identity. In addition, it can benefit your company significantly if you're efficient. 
For instance, you can educate your target market with customized blogs, satisfy people with different products, and delight your users by offering personalized services. 
Regardless of your chosen strategy, your efforts should be consistent and combined with effective performance marketing strategies.

The views expressed in this article are those of the authors and do not necessarily reflect the views or policies of The World Financial Review.