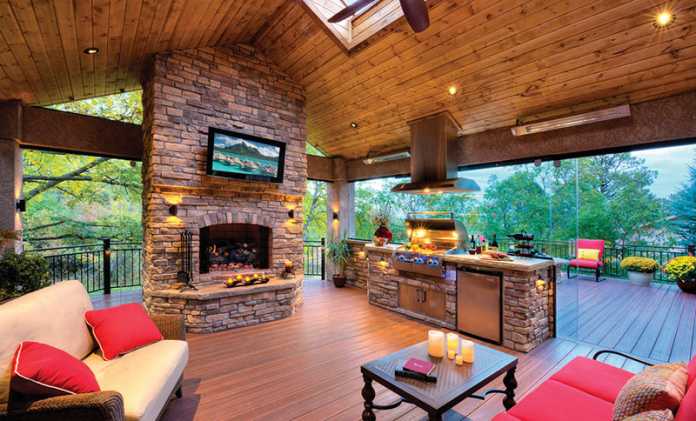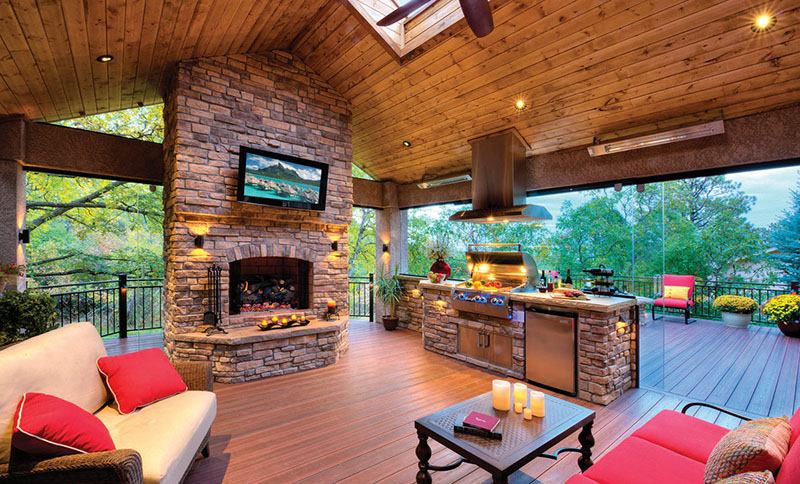 If you've decided to sell your property, it's natural that you want to get as much money from it as you possibly can. And while the size, location and the inside of your home are extremely important, it's also important that you don't neglect its outside appearance. In fact, upgrading your backyard can bring in more buyers and increase the value of your property, but only if you approach the issue wisely. Namely, not every improvement can have the same positive impact on the price you're setting for your home. Here are some excellent ideas to help you make your backyard something people will be so captivated by, that they won't regret paying the extra dollar for your estate.
Outdoor Kitchen
While homebuyers generally won't put RTA outdoor kitchen on their must-have list, it's still a feature they'll most likely love and which might be the detail that seals the deal for them. After all, a well-executed outdoor-kitchen project can be an extension of your home that allows you to prepare your meals outside on any given day, even when the weather doesn't seem ideal for it. This is why it's crucial that you ensure the functionality of this feature, meaning that you put a roof over it, so that it doesn't get wet when it rains and that you don't have to run inside to hide from the sun in the midst of summer. Also, while you can rely on the outdoor air to ventilate the space, you should also consider getting some sort of fan, perhaps a ceiling one, to increase the air flow around you while you cook. Similarly, you can add a fire pit to the outdoor-kitchen space, so that it warms you up if you decide to make a dinner outside on a chilly night. Make sure that you opt for the best quality materials and appliances, bearing in mind that they won't be used indoors and that they should, above all, be waterproof and resistant to the temperature shifts throughout the year.
Privacy
Another thing most people will surely appreciate is their privacy, which is something an intelligently decorated backyard can provide them with.Above all, you should invest in an elegant, yet efficient fence from Illinoisfence.com, that complements the style of the entire property. You fence can be as tall as you want it, depending on how close your next-door neighbors are and how much you want to protect your estate from any curious eyes. You should also keep in mind the view you have from your backyard and if too tall a fence would hide it. Privacy is something you should aim for, but a stunning view can enhance the value of your property as well, so preserve it to the best of your abilities. When investing in a fence, seek a reliable fencing supplier, so that you can get proper advice for your backyard in particular. The best ones are also licensed installers and will leave your property as tidy as they can. Plus, you should opt for a supplier who will not only make sure your home is more private, but more secure, too. In addition, you can make your home more private through clever landscaping, using stylized shrubs and trees to prevent it from being on display.
Outdoor Lighting
We live in a fast-paced world and are often at work most of the day. For those people who only get to relax in the evening, having outdoor lighting will mean the world and might lead them to choose your property over another in a blink. Furthermore, outdoor lighting can be an excellent burglar-repellent and make the property that much safer for its future owners. Finally, you shouldn't ignore the effect this type of upgrade will have on the curb appeal, which can bring you phenomenal profit once you get the right buyer. And with effective lights you can add some drama to your curb appeal and intensify it just enough to spark people's interest in your home and get them to seriously think about investing in it. Nowadays, there are so many options for outdoor lighting to choose from and smart solutions that any property can benefit from. And although this could be a high-cost investment, you can expect a good return for it once you sell, making it worthwhile.
Irrigation System
A healthy, beautifully maintained lawn can make any property more inviting, which you should use to your advantage when selling your home. If you install an irrigation system that will make the maintenance of the grass surfaces in your backyard easier, it's something you can advertise to potential buyers. Simply put, a sprinkler system is a guarantee that the grass in your backyard will always look alluring and lush, which can uplift the appeal of the entire property. Add to this the fact that such irrigation systems aren't too pricey and that they can save water, which could be relevant information to any eco-friendly buyer, and you'll soon realize that this is something you definitely want for your backyard. When making a decision on which system to purchase, go for the smart ones. The less up-to-date ones will start watering your lawn and flowers at a preset time, but the modern ones can do much more, as they have sensors that monitor the weather and soil type, so that they don't waste any water.
Playground
If you expect your property to attract families with children and if the space is ideal for such buyers, then you should make backyard adjustments to promote it as such. If you create a place for children to play safely, it's something that may make any parent want the place for their little ones, especially those who don't have the time or the opportunity to take their children to the park regularly or those who want to encourage their kids to play outside, as opposed to staying in and playing computer games. Merely putting a sandbox in one corner of your backyard is already plenty, but a swing set, a slide or a playhouse are an even better solution and could prove to be more tempting for family-oriented people with small children. What's best about this upgrade is that it doesn't have to be expensive at all. For instance, putting a chalkboard up on your fence won't set you back much, but will make your home kid-friendly instantly and can help you sell it faster.
There is more than one way you can profit from a backyard addition. It can actually get you more money for your property, you can attract more potential buyers and you can sell the estate faster. Plus, you're doing something to make life more pleasant for the people who will make your property their home, which is also something you should be proud of.
The views expressed in this article are those of the authors and do not necessarily reflect the views or policies of The World Financial Review.