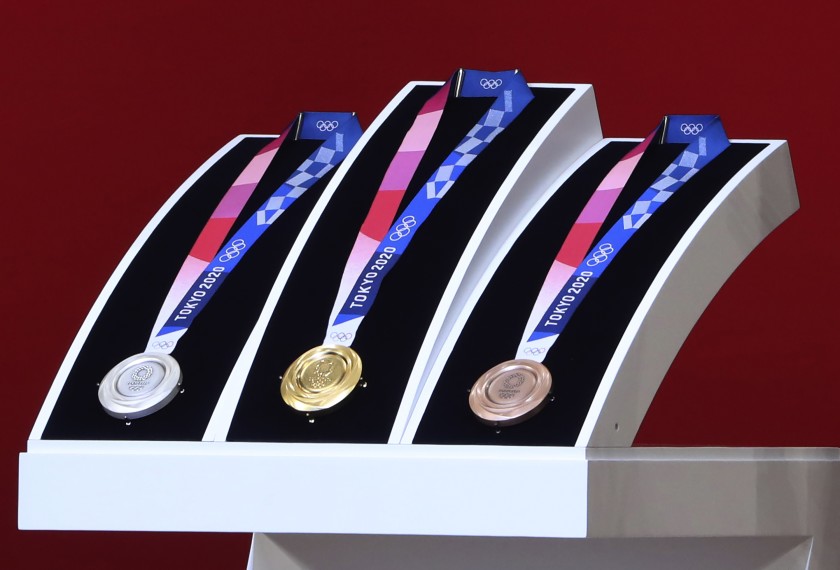 In the world of sports, ten years can feel like a second.
Every two years, we look on with our magnifying glasses to either a summer or winter Olympics. It is a global play staged by the best organisers and performed by only the best – literally – players from the cream of the crop. In the two weeks that follow, audiences get lost in the sensation of camaraderie, patriotism, competition and overall pageantry that come hand in hand with these games.
The very notion of blood, sweat, and tears don't even come close to describing the gravity of sacrifice willingly brought in by these participants and their respective teams. With the Olympics, seemingly everything is on the line and the stakes are elevated to a point of no return for some players, as their "make it or break it" performance will define the trajectory of their career moving forward. 
Each sweep of the ice against metal skate, every punch to get on knuckled hands, and every stroke of the arm in a butterfly position – all of these minute little graces are often years in the making molded to perfection. 
This makes winning all the more exhilarating and overwhelming but most of all, breathtaking. 
Athens 2004, Birgit Fischer
After already having six Olympic medals under her belt, German athlete Birgit Fischer decided it just wasn't enough. In 2004, the top Olympian in kayaking came back to the land of Greece and joined the German team, earning them their historic seventh and eighth Olympic medals. This unrivalled feat also made Fishcher become the first woman to win an  Olympic medal 2o years after her first one.
Italy 2006, Shizuka Arakawa
Shizuka Arakawa won the first gold medal in figure skating for Japan, and the second medal overall for the country in the sport, during the 2006 Olympics in Torino, Italy.
Beijing 2008, Matthias Steiner
Only a year after losing his wife to a car accident, German weightlifter Matthias Steiner struck gold by winning the superheavyweight category in the 2008 Beijing Games by besting – you guessed it – his own previous best. Steiner's bittersweet victory has remained in the hearts of many spectators to date, having been one of the most humanizing moments of vulnerability and personal triumph that greatly elevated his physical prowess. 
Vancouver 2010, Lindsey Vonn
In her third Winter Games, alpine skier Vonn—then a two-time world champion and two-time world silver medalist—had yet to win an Olympic medal following a scary crash during a training run at the 2006 Games. Media hype was rampant as Vonn planned to race in all five events, claiming history when she won the downhill, beating compatriot Julia Mancuso by 0.56 seconds and becoming the first American woman to win Olympic gold in the event. Vonn's scream after completing her run will not soon be forgotten. 
London 2012, Michael Phelps
Arguably the most famous Olympian in history, Phelps made his humble Olympics debut at 15 years old in Sydney, 2000. Since then he has managed to take the world by storm by absolutely dominating both Athens and Beijing, ammasing a total of 16 medals into his belt before competing in London 2012. Tied with Soviet gymnast Larisa Latynina at 18, Phelps anchored the U.S. men to gold in the 4×200-meter freestyle, engraving his name in the history books with (another) historic 19th Olympic medal, 15 of them gold. He would come back to Rio and extend that record, collecting 23 gold metals out of 28 in total. 
London 2012, David Rudisha
Widely considered by most to be the greatest race in history, Kenya-born David Rudisha has long established himself a household name with his impressive feats during his record-breaking Olympic debut. Since then he has broken it, countless of times, becoming the first man to break 1:41 over his own existing record of 1:40.91. Every runner's time was the fastest ever for that finishing placement. "It was the performance of the Games, not just of track and field, but of the Games," said London 2012 chairman Seb Coe, a former 800m world-record holder.
Vancouver 2012, Joannie Roachette
Considered to be one of the most emotional moments in the history of the Olympics, the Canadian figure skater Joannie Rochette skated her way through a bronze medal in the 2010 Vancouver Olympics just four days after her mother died of an unfortunate heart attack. She then went on to dedicate her monumental performance to her mother.
London 2012, Fierce Five
Gabby Douglas, Aly Raisman, Jordyn Wieber, McKayla Maroney and Kyla Ross became the first U.S. gymnastics team to win an Olympic title outside of a home Games. This group set the tone for what would become a dynasty — the U.S. women have won every Olympic and world team and all-around title since 2011. Douglas went on to capture the all-around in London. Raisman grabbed her all-around medal in Rio, a silver. Wieber kicked it off with the 2011 World all-around crown.
Rio 2016, Usain Bolt
Up there along with household names such as Michael Phelps and Simone Biles, Usain Bolt is more popularly known as "the fastest man alive". His track record since 2008 has then since included gold medals in the 100m, 200m and 4x100m. With one last relay leg, the Jamaican bid farewell to the Olympics with a "triple-triple" in the 2016 Rio Olympics.
Rio 2016, Neymar 
In what he later called the most nervous moment of his life, Neymar calmly netted the decisive shootout attempt in the Olympic final at the Maracana. The opponent: Germany, whose national team trounced Brazil 7-1 two years earlier in the World Cup semifinals, also in Brazil. Neymar dropped to his knees, was mobbed by teammates and then sobbed. Brazil, a five-time World Cup champion, earned its first Olympic soccer title and its most coveted medal of the Rio Games.
What's your favourite Olympic win?
The views expressed in this article are those of the authors and do not necessarily reflect the views or policies of The World Financial Review.