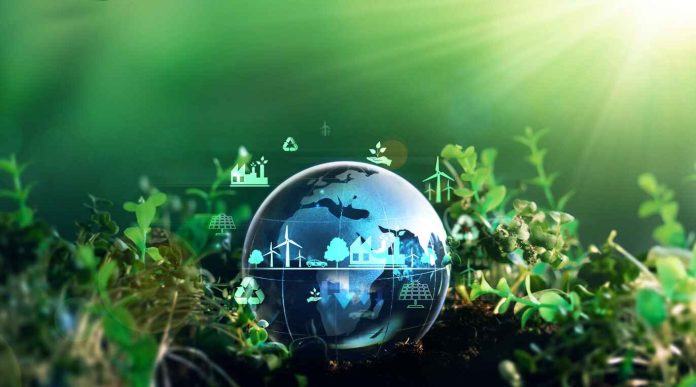 More than ever, companies are expected to exhibit social responsibility. Not only are customers asking to see it, but many prospective employees are looking for it when they scope out a new place to work. It's becoming increasingly essential for leaders to carve out a corporate social responsibility (CSR) strategy, implement it, and then tell the world about it. One of the key target areas of CSR is environmental initiatives. While CSR strategies vary widely from company to company, most find that focusing on environmental issues is a crowd-pleasing way to start. Here are five popular options.
1. Start a Corporate Recycling Program
Initiating a corporate recycling program is a low-cost way for companies to reduce waste and encourage employees to start thinking green. When someone is unsure of what is corporate social responsibility, a recycling program is a great example to help explain the concept. Basically, a company is showing awareness of the impact it has on society.
Management can encourage recycling by placing bins regularly throughout the grounds. Consider offering incentives and rewards to the employees and departments that recycle the most or offer additional ideas to improve the program. Recycling not only helps everyone to think green. It can also lower waste removal costs.
2. Use Energy-Efficient Equipment
Adopting the use of energy-efficient equipment in the workplace may involve a significant investment. However, that investment can pay off not only in reduced energy bills, but also in positive public relations. By utilizing such devices as LED light bulbs and motion sensors to activate lighting, companies can prove their commitment to reducing their carbon footprint.
The company may also investigate local, state, and federal incentives to invest in efficient appliances and machinery. These incentives can offset the higher cost of the machines. Applying for and receiving benefits from such programs can also provide opportunities to alert the community to the company's commitment to environmental responsibility. 
3. Encourage Employees to Adopt Sustainability Practices
A great way for a company to prove its commitment to corporate social responsibility is by involving the entire team in its CSR strategy. Implementing a comopany-wide sustainability initiative is a great place to start. Ask for suggestions from employees for best practices that will reduce waste and energy consumption. Consider offering awards or prizes for creative ideas. 
Workers are more likely to engage in a corporate initiative if they feel included. By encouraging instead of mandating, companies are more likely to get buy-in from employees. Suggest that folks unplug chargers when not in use. Encourage them to turn off all monitors and appliances before leaving the building. Stress to the team that every member's participation in the initiative is essential and greatly appreciated. 
4. Encourage Alternative Methods of Transportation
For many companies, corporate environmental social responsibility means offering stipends for employees to utilize public transportation. While these initiatives will vary depending on location and availability of alternative means of transportation, even organizations located in rural areas can get involved by offering incentives to carpool. As technology advances, remote work has become feasible for many workers. Allowing people to work from home eliminates the need to commute and can greatly reduce a company's carbon footprint. 
5. Utilize Environmentally-Friendly Products
Utilizing biodegradable packaging for products is a great way to prove to employees and customers that the company is committed to being environmentally-conscious. Another way is to use natural cleaning products that are free of harmful chemicals. In addition to this, incorporating live indoor plants can promote a healthy office environment. Focus on stocking shelves with eco-friendly supplies and consider incorporating more green products into the product line. These are examples of small steps that a company can take to solidify its CSR strategy. 
When crafting a corporate social responsibility strategy that focuses on environmental initiatives, companies have a wealth of initiatives from which to choose. Don't hesitate to start small and build up to more expensive outlays when the budget allows. More important than cost considerations should be the push to get everyone involved in the work. By displaying a united effort by staff and management alike to go green, organizations can prove to their communities and customers that they are committed to being environmentally responsible.
The views expressed in this article are those of the authors and do not necessarily reflect the views or policies of The World Financial Review.