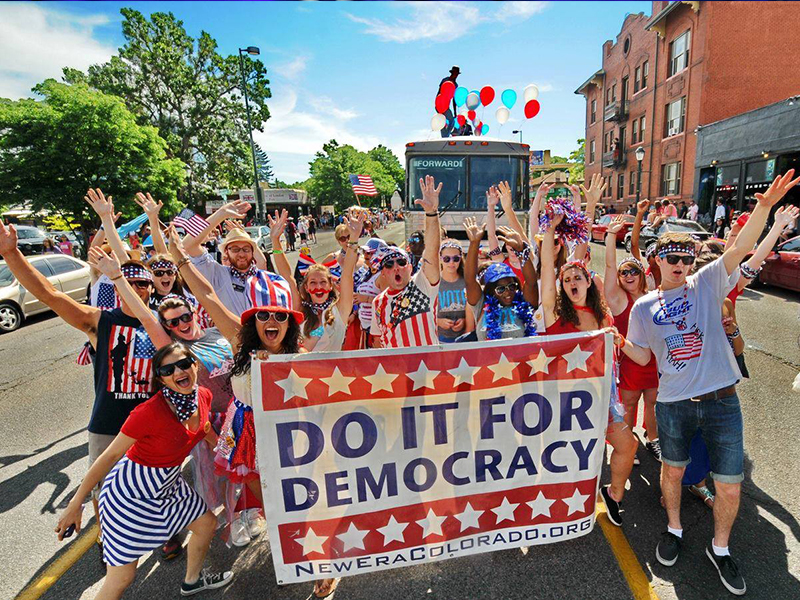 By Peter Levine and Abby Kiesa
A lasting impact of electoral engagement can deepen the civic life of communities. New research suggests that being involved with others on solutions to social problems contributes to young people to flourishing and achieving their potential.
As Election Day 2016 drew closer, news and conversations about the election focused even more narrowly than usual on the horserace and party politics, rather than, for instance, effective solutions to public problems and public deliberation about issues. Listening to the news, you may have thought that the only reason to care about youth electoral participation was to know what candidates they would support. But don't let that fool or distract you − youth civic participation is about more than just who wins elections.
An election is a good opportunity to think about how young people are engaged in our public life generally. Participation in elections is one example of a civic engagement activity which includes actions that people take to address public problems. Other activities include news engagement, discussion of public issues and policy advocacy. Decades of research has shown that people who engage have built long-term habits and skills.¹ Engagement early in life fuels later engagement, thus creating the foundation for strong democratic participation. Additionally, emerging research shows that civic engagement isn't only a civic good but also brings other individual and community-level benefits such as skill development, wellbeing and community and economic resilience.
Youth Electoral Engagement
 Elections are one way that communities address public problems. Elections create opportunities for community forums and town hall events with candidates, information about referenda and ballot initiatives, canvassing in communities, and of course, ultimately voting.
There are an enormous number of ways that young people can engage in activities related to an election. These activities provide the above development opportunities, as well as a potential gateway to new ways of engaging:
About the Authors
Peter Levine, PhD is the Associate Dean for Research and Lincoln Filene Professor of Citizenship & Public Affairs at Tufts University's Jonathan M. Tisch College of Citizenship and Public Service. He is the author of We Are the Ones We Have Been Waiting For: The Promise of Civic Renewal in America (Oxford University Press, 2013) and six previous books. 
Abby Kiesa, MA is Director of Impact at CIRCLE (Center for Information and Research on Civic Learning and Engagement), based at Tufts University's Tisch College of Citizenship and Public Service. In addition to conducting research, such as providing leadership for CIRCLE's election efforts, Abby also serves as liaison to practitioner organisations across the country to maintain a conversation between research and practice.
References
1. For examples of this work see Plutzer (2002), Kirlin (2003) and Thomas & McFarland (2010).
2. http://www.92y.org/unconvention
3. http://civicyouth.org/guest-post-developing-youth-skills-before-and-after-election-day/
4. http://www.mikvachallenge.org/great-electoral-race/
5. Commission on Youth Voting and Civic Knowledge (2013) "All Together Now: Innovation and Collaboration for Youth Engagement".
6. ibid
7. http://civicyouth.org/commission-on-youth-voting-and-civic-knowledge-releases-report/
8. http://civicyouth.org/commission-on-youth-voting-and-civic-knowledge-releases-report/8 For a sample list of skills used in civic life see Kirlin (2003) and CIRCLE Special Report on Civic Skills and Federal Policy (2010).
9. Torney Purta, Judith and Wilkenfeld, Britt S. (2009). "Paths to 21st Century Competencies Through Civic Education Classrooms: An Analysis of Survey Results from Ninth Graders."
10. http://blogs.wsj.com/economics/2016/08/30/the soft skills employers are looking for/
11. http://civicyouth.org/icivics drafting board module boosts students writing skills/
12. http://www.apaexcellence.org/assets/general/2016 politics workplace survey results.pdf
13. http://www.bttop.org/news events/assessment spotlight tufts university tisch college citizenship and public service
14. https://www.rockefellerfoundation.org/our work/topics/resilience
15. http://assets.rockefellerfoundation.org/app/uploads/20140410162455/city-Resilience-Framework-2015.pdf
The views expressed in this article are those of the authors and do not necessarily reflect the views or policies of The World Financial Review.