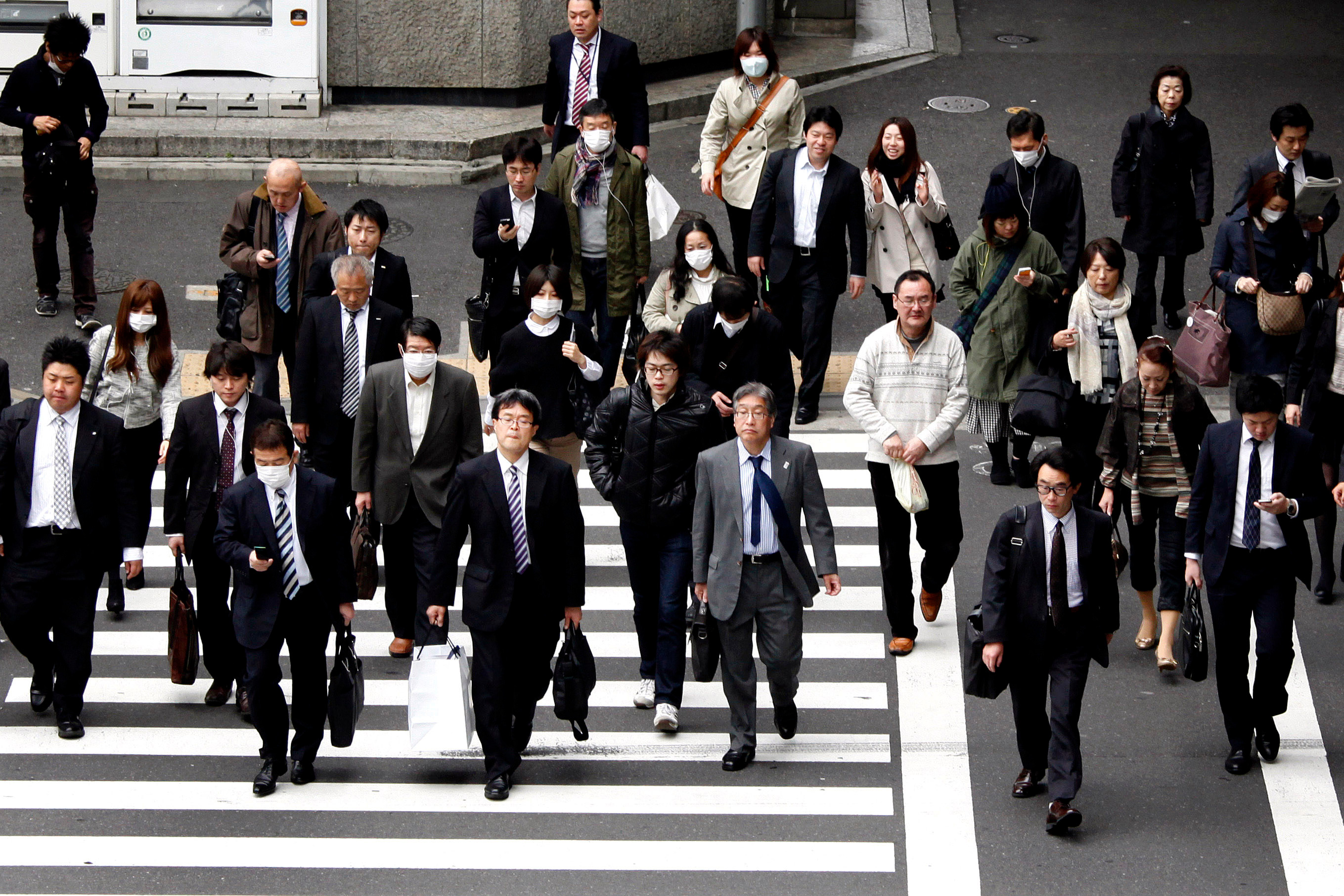 By Ginka Toegel
Ikigai– in Japanese it means, loosely, "what makes life worth living."  If reforms by the Shinzō Abe government succeed, it may one day represent a new ethos towards work-life balance. Is this possible for a population more known for a work ethic that sometimes leads to extremes including karōshi (death by overwork)? There are reasons to believe.
Workstyle reforms integral to Abenomics
Throughout the "economic miracle" years, 1960s-1990s, loyalty to Japan became equated with loyalty to employers, hard work and sacrifice – measured primarily by long working hours. But by the 2000s, these behaviours were hindering the country's economic strength, harming families and individuals – and yes, even killing. With the shrinking population putting a further drain on productivity, change became essential for renewed growth.
Prime Minister Abe's economic reforms – "Abenomics" – include promoting work-life balance to improve productivity. The economy has been steadily rebuilding since 2012 and forecasts for 2018 are strong.1 Alongside the economic push, public outcry over karōshi provided an emotional catalyst, particularly in the wake of one young woman's suicide at the end of 2015 – the misery of her overtime hours tracked through desperate tweets.2
The main tenets of Abe's workstyle reforms include cutting down on overtime hours and instituting equal pay for equal work.  They aim to increase work flexibility, such as with teleworking and helping improve mobility. Other key features include tapping into the female workforce, and improving sick leave, family leave and vacations (close to 50% of paid vacations are reportedly not taken).
The reform package was recently met with a major setback as public confidence has been weakened by questions of survey data methodologies. In response to these concerns, Abe has removed all measures related to the discretionary labour system, but he vows to ensure that the rest of the package will "absolutely pass" during the on-going session of Parliament.3
Old habits die hard
Unilever Japan introduced WAA – work anywhere, anytime. They make a point of ensuring that the Board, C-suite and managers lead by example – important when many won't leave before their bosses.
A survey by the Japan Institute for Labour Policy and Training4 found that 60% of respondents see work-life balance as the ideal. But when asked about what their lives were really like, only 38% prioritised work-life balance. For now, it seems to pay off: the survey found that not taking holidays led to faster promotion.
Many will tell you that the long hours, skipped vacations and prioritising work over private life is the "Japanese way."5 People say their workload prevents them from taking time off and worry it would "inconvenience" coworkers. Women say they're afraid of being negatively judged if they take parental leave6– and men almost never do take it. In the real world, even if people would like it, the ideal situation of work-life balance is a hard sell.
A few well-placed friends of reform
Some changes happening in larger corporations are encouraging. Trading conglomerate Itochu Corporation's HR policy aims to boost individuals' capabilities for overall efficiency. Internal reforms also include increasing time with customers while reducing time spent in internal meetings by 50% between 2010 and 2016.7 Other high-profile companies heralded for supportive internal policies include IT developer SCSK Corp. and Toyota – the latter is named on Flexjobs' 2018 list of top 100 companies worldwide.8
Multinationals implanted in Japan can also help change mindsets. Unilever Japan introduced WAA – work anywhere, anytime. They make a point of ensuring that the Board, C-suite and managers lead by example – important when many won't leave before their bosses. Even more interesting, within a month of implementing the programme, 140 external companies attended sessions at Unilever to learn how WAA works.9
Approximately 14 million people or 30% of the fully-employed workforce (excluding primary industries), are employed by large companies or multinationals in Japan. Friends like these can help the Abe government turn the tide. Even when initial sentiments are sceptical or cynical, if enough of your friends and family work for companies with such policies, you might begin to see the point.
Extending this to smaller companies
Small and medium-sized companies face more challenges to picking up workstyle reform. With tighter margins, can they afford any short-term loss of productivity during transition? Prominent corporations can write about their initiatives in glossy annual reports, reaping kudos and gaining in reputation. SMEs haven't got the incentive of this positive PR.
SMEs may be able to reach their goals faster by implementing reforms creatively. Saint-Works Corp., a shared service company within a mid-sized elder-care company, Saint-Care Holdings Group, has cut overtime hours in half by having employees wear purple capes marked with the time to leave work.10 Not only are employees adhering to the policy, they appreciate it. As one said, it's not when you extend a meeting two or three hours that the great ideas come up.
Productivity and real economic value
If people integrate the idea that work-life balance improves productivity, evolution could happen en masse, through a new definition of the right way to show allegiance.
The Abe reforms are backed by penalties for excessive hours and improved surveillance of unpaid overtime. There are carrots as well as sticks. For example, the Ministry of Economy, Trade and Industry and the Tokyo Stock Exchange jointly honour "Health & Productivity Stocks" – Itochu and SCSK are among them.11
But to ensure workstyle reforms are more than tokens, you must appeal to the business case. Research shows there is an inverse correlation between productivity and working hours.12 Flexible work strategies improve attraction, retention and loyalty, and have a demonstrable impact on cost-savings and ROI.13
Itochu Corp. was the top general trading company in FY2015 in terms of Net Profits – against far larger competitors. They attribute their success to HR policies of maintaining a "small cadre of highly-capable people" and integrating workstyle efficiencies. Saint-Care too has seen profits rise.14
Harnessing a culture of commitment
In the West, we have long recognised the value of work-life balance. This doesn't mean we always do it. We typically leave the question of finding work-life balance up to individuals and families. It's something that gets negotiated over the dinner table between tired working couples more often than at boardroom tables. The classic exception is the Scandinavian countries, where work-life balance is a way of life, broadly viewed as better for society.
Although Japan came late to the concept, change is happening rapidly. If it hits a tipping point in attitudes, the country could actually move into a leadership position. Change could rest on the same traits that led people to overwork in the first place: the desire to be well-regarded and contribute to the whole. If people integrate the idea that work-life balance improves productivity, evolution could happen en masse, through a new definition of the right way to show allegiance. The "Japanese way" would no longer be logging endless hours. Instead, balanced workstyle could become the norm, not unlike the Scandinavian countries.
The other characteristic that can be harnessed for positive workstyle change goes back to ikigai. In parallel to the drive towards overwork, the value of having true purpose has always existed in Japan. Ikigai is part of what gives Japan one of the longest life expectancies in the world – including making Okinawa a "blue zone", one of six pockets in the world with an unusually high number of centenarians. This is not to suggest work itself should become the meaning of ikigai. Rather, more balanced workplace practices could bring more ikigai to the office, people could find more meaning in their work, contributing to the betterment of all.
About the Author

Ginka Toegel is Professor of Organisational Behaviour and Leadership at IMD Business School. She specialised in providing one-to-one leadership coaching and team-building workshops to top management teams in both the public and the private sector. Her major research focuses on leadership development, team dynamics, and coaching.
References
1. https://www.nippon.com/en/currents/d00375/
2. http://www.scmp.com/news/asia/east-asia/article/2057914/japan-embarks-work-hour-reform-after-suicide-woman-who-did-105
3. https://asia.nikkei.com/Politics-Economy/Policy-Politics/Japan-drops-key-labor-reform-proposal-after-survey-furor
4. https://www.japantimes.co.jp/news/2015/08/25/national/favor-work-life-balance-inclined-use-paid-holidays-survey-shows/#.WoldHzBG3IV
5. https://www.japantimes.co.jp/opinion/2016/01/30/commentary/work-life-balance-japan-leans-one-direction/#.WogOlDBG0dU
6. https://www.japantimes.co.jp/news/2017/06/29/national/social-issues/women-japan-cite-judged-work-top-concern-taking-maternity-leave-survey-shows/#.WogA8DBG0dU
7. https://www.itochu.co.jp/en/files/ar2017E.pdf
8. https://www.flexjobs.com/blog/post/100-top-companies-with-remote-jobs-in-2018/
9. https://bccjacumen.com/you-gotta-have-waa/
10. http://www.scmp.com/news/asia/east-asia/article/2057914/japan-embarks-work-hour-reform-after-suicide-woman-who-did-105
11. http://www.meti.go.jp/english/press/2017/0221_003.html
12. http://www5.cao.go.jp/keizai3/2017/0721wp-keizai/2syo2017.pdf
13. https://www.shrm.org/hr-today/trends-and-forecasting/special-reports-and-expert-views/Documents/Leveraging-Workplace-Flexibility.pdf
14. https://www.saint-care.com/en/highlight/
The views expressed in this article are those of the authors and do not necessarily reflect the views or policies of The World Financial Review.