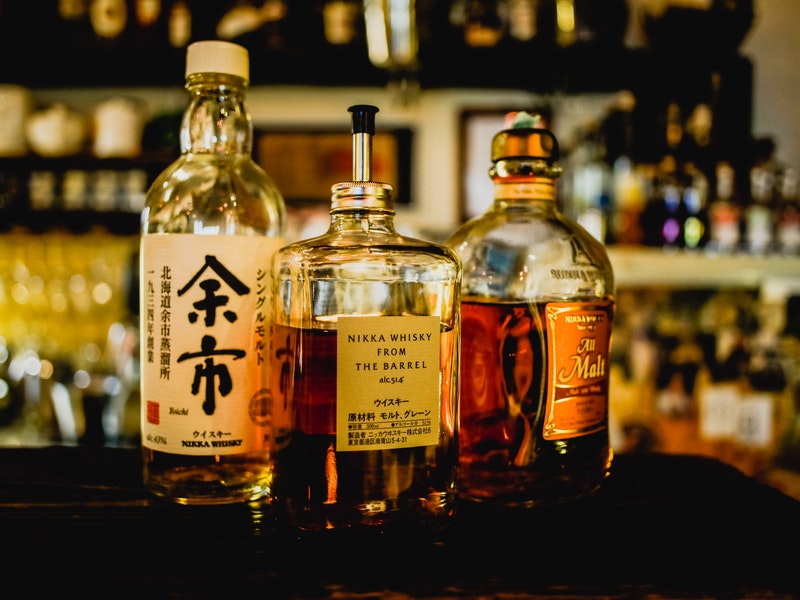 What exactly is whiskey investment? In its simplest form it involves putting away money in a liquid asset that you're expecting to accrue value over time. Not much different than any other form of investment, really. But it's not nearly as straightforward as it might seem. Which is exactly why you need the help of professionals before you delve into the fray. 
Before we look at the folks who are uniquely qualified to assist, let's take a look at some of the most important numbers in whiskey investment. The past decade has seen the advent of whiskey investment funds, and of those one of the most notable belongs to Knight Frank Luxury Investment Index. Comprised of some of the top-valued scotch whisky on the planet, it saw its value rise a staggering 535% between 2009 and 2019. This represents a return of nearly 20% year over year. Indeed, rare whisky, in particular, climbed almost 23% in just 12 months of measure.
These are super attractive numbers to any investor—even disinterested parties that aren't particularly enamored with whiskey, itself. Indeed, if they were to invest in other commodities, the most lucrative among them would have trouble coming close to the returns we've seen in rare whisky over this same time period. 
According to The Wealth Report 2020, rare whisky was the best performing collectable of the decade. And it's not even close. Watches, coins, cars, diamonds, art, wine…you name it, and rare whiskey crushed it as an investment asset by comparison. Scottish whisky is one of the UK's most successful exports and the industry has been experiencing significant growth as more countries are developing a taste for the historic spirit. So it's simple, right? Buy a bunch of whiskey, sit on it, and let the value climb towards the sky. 
Not so fast. The aforementioned Knight Frank Luxury Investment Index measures a group of 100 different rare and collectible Scottish whiskies. But there are literally thousands of different Scottish whisky expressions on the market today. And the large majority of them won't actually go up in value at all.
In other words, you can't just go to your local bottle shop and pick and choose at random. You have to know what you're doing. And this is even more crucial when dipping your toes into the nascent whiskey cask investment space. Over the past several years these sorts of equity plays have become increasingly popular, as have the companies willing to provide you with access to whole barrels of Scotch, Irish Whiskey, Bourbon, Rye—you name it.
Of these upstarts, there are many unscrupulous actors—and even worse, incompetent ones that are riding the wave of whiskey popularity to try and turn a quick profit on barrel brokering. If you're considering getting into whiskey investment, it's absolutely essential to steer clear of these folks and park your money in a service that stands up to the stress test.
What You Need to Know when Buying a Cask of Whiskey
The proven whiskey investment industry leaders at this point are Whiskey & Wealth Club. And there's not even any meaningful competition of which to compare. Whiskey & Wealth Club occupy a unique position in the market and it's based entirely upon expertise, relationships and passion. The people behind the company aren't just financially invested in whiskey—they are emotionally invested in the product. 
They are pioneers in the world of wholesale premium cask whiskey ownership. Not long ago, this was accessible only to industry insiders. But thanks to Whiskey & Wealth Club, and those that came after them, the opportunity is now available to private clients. As specialised cask whiskey wholesalers, Whiskey & Wealth Club provides its clients with a one-stop shop where you can purchase your equity, have it held under bonded storage, then sell it or bottle it under your very own labeling. As such, it is a service that appeals to investors and whiskey connoisseurs in equal measure. 
The implications are many. And the advising you receive along the way is just the first way in which Whiskey & Wealth Club provides incomparable value to its clientele. You'll want to make sure that you're investing in casks from producers with cache. Brands that are popular now and will continue to grow in stature as the years wind on and your whiskey accrues wisdom in the barrel. Play your cards right and you can even hedge against potential shortages in the future—and reap the windfall as a result of your shrewd foresight. Whatever your motivations, Whiskey & Wealth Club works with you to understand the game plan and to line up an exit strategy well in advance. It's cask whiskey ownership, perfectly tailored to you.
Investing in Scottish Whisky and Irish Whiskey
And it's more than just scotch. Although Scottish whisky is the single most traded spirit in the world—and accounts for nearly 75% of Scotland's entire food and drink export revenue—the global superstar is about to see serious competition in the space from its Irish whiskey counterparts. 
In the past, the secret to Scotland's success has been their distillers' ability to adapt and drive to take premium whisky worldwide. Now craftsmen from Ireland have tapped into that same formula. They're reinvigorating the category to enjoy the same stature it did throughout the 19th century, when Irish whiskey was far and away the most popular form of whiskey on the planet. It's already the fastest growing spirit today. And this rate of growth is showing absolutely no signs of slowing. 
Founded by whiskey expert and native Irishman Jay Bradley, Whiskey & Wealth Club is specially positioned to leverage the relationships within the explosive Irish Whiskey trade. There is great promise and the potential for fantastic return within this subcategory of investment. And Bradley knows exactly where to find it. His decades of expertise were most recently vindicated with a World Whiskies Award for his Irish Single Malt—The Devil's Keep, named the best Irish single malt on the planet. 
Bradley has fielded a team of like-minded experts to oversee client relations. And so the investors who work with Whiskey & Wealth Club report best-in-class customer satisfaction. The assets they purchase through Whiskey & Wealth Club, investment-grade at half the wholesale price, are from some of the most esteemed producers in both Ireland and Scotland. Whiskey barrels of untouchable repute. Buying a cask of whiskey will never be this painless of a process from the purchase to the ultimate pour. 
Historic Distilleries and the Fine Craft of Whiskey Cask Curation
 As already mentioned, well known whisky brands hold huge sway in the Scotch market. This is why Whiskey & Wealth Club continues to only work with established names and distilleries like 200-year-old Bladnoch distillery in the Scottish Lowlands or 141-year-old Bunnahabhain in the historic Islay region of Scotland. 
If you've ever visited one of these storied facilities you are well aware of the sensual overload they convey. Walk through the dunnage warehouse where the precious barrels are stored and you can smell the wondrous mélange of wood and grain wafting up to the rafters. It's an absolutely transformative experience and it all feeds into the mystique which underpins the entire experience of whiskey formulation. This is the very magic that investors are buying into. It's not just a commodity, it's an actual experience. It holds with it the weight of heritage and tradition and it is best understood by those that live, breathe and drink it. 
And it's something that cannot be rushed or improved upon by modern technology. It's a patient process that starts with the distillate itself and relies upon the quality of the cooperage—the oak casks in which it slumbers—in order to be masterful in the end. That brings us to the significance of cask curation; stewardship. If you're holding on to whiskey in the cask that isn't being properly cared for, it could be of questionable quality by the time that you decide to have it bottled. Whiskey & Wealth Club are pros in the fine art of cask curation. In fact, founder Jay Bradley is a dedicated student of the very subject. So you can rest assured that whenever you chose to seize your whiskey (it requires a minimum of three years by Irish and Scottish law), you'll be left with something sensational. 
Putting whiskey in the barrel, you see, isn't just about aging. It's about maturation. The difference is in how it is kept and cared for along the way. Distillation is merely the first step in a process that can go on for decades. It is definitely important to start with great liquid off of the still, but most of the flavor in the end product will be produced in the warehouse, while sitting in the barrel. That's where the most impactful flavor compounds are crafted, as that distillate mingles against the interior of the oak staves that hold it. Complex molecules are extracted from that wood—esthers, congeners, phenolic compounds. You know, the good stuff. 
How the barrel was crafted, where it sits in the warehouse, how carefully it is monitored along its journey. These are just a part of what you need to do to make sure you come away with something you can be proud to sip and call your own. 
To Invest in Whiskey you'll want to Understand Exit Strategies
Which brings us to the all important topic of exit strategy. If we're talking about whiskey investment, then that assumes there's ultimately a party interested in purchasing it from you. Whiskey & Wealth Club doesn't leave that complicated task up to you. They take an active hand in helping you offload your product, either fractionally, or all in one transaction. Leveraging their relationships, it's not uncommon for them to have a client sell back a cask to the very same distillery that produced it years prior. They even pay the duty on the barrel for the first five years in which it is stored. 
The aggregate value here isn't just taking care of the things you know you don't know how to deal with, but also in taking care of the things that you didn't even think of to begin with. Whiskey cask investment can be a load of fun, but it can also be a complete and utter nightmare if you don't know what you're getting yourself into. The experts are the only element separating the former from the latter. And the foremost experts are all under one roof at Whiskey & Wealth Club in their London-based offices. Comfort, quality, peace of mind…It's all right here when you need it.
But this is all a lot to take in. And it's a very serious decision to be made, as is any potentially sizable investment. So let's have a brief recap of what you need to know if you're considering getting into whiskey investment. 
Whiskey is an incredibly lucrative and historically appealing investment option at the present moment. Irish whiskey, in particular, was the fastest growing spirits category of the past decade. Sales of Irish whiskey increased by 140% from 2010 to 2020, and experts predict this trend is likely to continue. Much of this growth is being driven by premium, ultra premium and luxury expressions—bottles that can go for more than $100 a piece, sometimes thousands of USD per unit. And the United States market, in particular, is spearheading this growth. More than 4.9 million cases of Irish whiskey were exported to the United States in 2020 alone. 
Slowly but surely, Irish whiskey will start nipping at the heels of Scotch whisky. But for now, scotch remains the gold standard for single malt investment. As new markets are developing tastes for premium scotch—namely China, Japan, India and other Asian countries—aged stocks have become increasingly scarce. The rare is only getting rarer, because scotch producers can't age their liquids as fast as these emerging markets are snatching it up. As a result, there has been a significant increase in value over the last decade. Just remember that these numbers are reflective of the super rare stuff, coming from producers that are already revered for their craftsmanship. 
Cask Whiskey Investment: Legalities of Ownership, Insurance & Risk
 You can get into this booming market in a meaningful way with entry into the world of cask whiskey ownership. It's an increasingly popular method of whiskey investment but it comes with its own set of risks. These could include a decrease in global demand—albeit entirely unlikely given today's trend lines; changes in rules and regulations regarding licencing; tariffs and trade wars. The best way to off-set those risks is to throw in with a trusted name in the market. And that name is easy to remember: Whiskey & Wealth Club. 
After finalizing the transaction, Whiskey & Wealth Club provides clients with an official certificate of ownership. This legally binding document confirms full ownership of the cask; and it often includes a bonded warehouse storage certificate, so you can know exactly where your barrel is maturing. You might even consider planning a visit while its slumbering. As if you needed an excuse to take a trip out to the idyllic landscapes of Northern Britain and the Emerald Isle. It's one of life's happy coincidences that the places where the best whiskey is made also happen to be some of the most picturesque places on earth. 
In Ireland, Whiskey & Wealth Club purchases casks under a bonded tenancy agreement with the Irish Revenue Commissioners and the excise warehouse. This amounts to a legal contract granting full, unencumbered ownership of each cask purchased, while Whisky & Wealth Club simply holds it under trust until the exit moment when the client wishes to sell. All of those casks are then insured with Aviva plc. — one of the world's largest and most trusted insurance companies. Shortly after incorporating back in 2018, Whiskey & Wealth Club also became the first wholesale cask purveyor in the industry to register with Her Majesty's Revenue and Customs through the Warehousekeepers and Owners of Warehoused Goods Regulations (WOWGR). Through this registration, both with HMRC as well as with Irish Revenue Commissioners, Whiskey & Wealth Club affords its clients the added peace of mind that they are conducting business with a company that keeps standards and practices at the top of their agenda. 
By all conceivable metrics, Whisky & Wealth Club is leading the way in the industry. Whether it be in customer satisfaction, return on investment, due diligence, innovation, compliance—they are the benchmark by which the imitators all struggle to follow. And you're just not going to find anyone else that is checking off all of the boxes. Every step of the way, the Whisky & Wealth Club is going above and beyond what is necessary in order to provide their clients the highest degree of security imaginable in an investment arrangement. 
Whiskey investment comes with risks, of course. But now you know what you're getting yourself into. And you're not going to breathe that easy if you're investing on the stock market or a traditional securities exchange. Because there's no stock on earth that tastes as wonderful as your very own cask of whiskey. If all else fails, you know that you've got about 250 bottles of aged spirit to call your own. Cheers to that!
The views expressed in this article are those of the authors and do not necessarily reflect the views or policies of The World Financial Review.