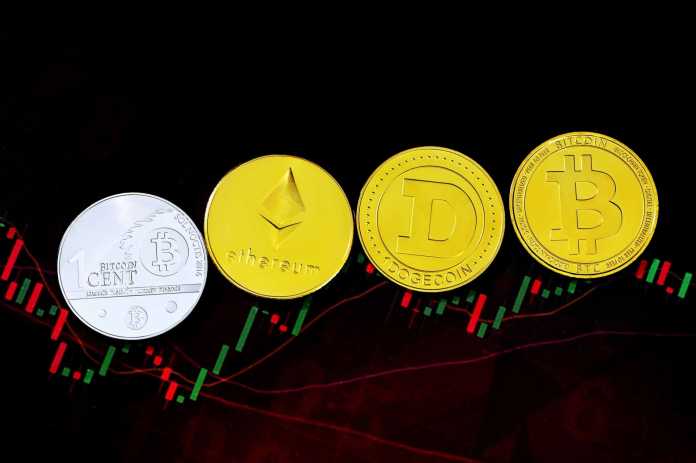 By Thomas Jackson
Cryptocurrencies are digital currencies that are not managed by the government or any central system but are built on blockchain technology. In the last decade, cryptocurrencies have gained traction, have become more popular, and are becoming more of an option for individuals and organizations to invest in.
As a beginner in crypto, you're unlikely to know which cryptocurrency is the best and which one to invest in. There are more than 6000 cryptocurrencies, so picking out the best one with high growth potential by yourself may be an arduous task. Bitcoin is an obvious crypto investment given its popularity and constant growth – even with the frequent market volatility. However, there are many other cryptocurrencies that you can invest in with high growth potential as well. 
In this article, we'll be discussing some of these cryptocurrencies that are the best investment for beginners. 
1. Bitcoin (BTC)
BTC remains the most valuable and profitable of all cryptocurrencies, which will be the case for a long time. The price, market volume, and market cap of bitcoin are far higher than other cryptocurrencies. Even though there are thousands of other coins in the market, bitcoin still accounts for more than 40% of the crypto market cap, making it an ideal investment option for beginners and experts in cryptocurrency. 
Also, several businesses now receive bitcoin as payment for goods and services – another reason why it is a wise investment. For instance, Visa transacts with BTC, and in February, Tesla announced that the company has invested $1.5 billion in BTC and will also be accepting it as means of payment for its cars. Additionally, the large banks are already incorporating BTC transactions in their offers too. 
2. Ethereum (ETH)
ETH is a far different cryptocurrency from BTC because it isn't a cryptocurrency only; network developers can also use it to create their cryptocurrency. Although it has a far inferior value to bitcoin in the market, it is far ahead of other digital currencies. As a result, it represents a profitable investment for beginners and expert crypto traders. 
According to the essayontime.co.uk platform, ethereum came out many years after hundreds of cryptocurrencies hit the crypto market but has surpassed them by far due to its unique technology. 
3. XRP
Digital payment company, Ripple, created XRP to work as a crypto payment platform and allow exchange between fiat and cryptocurrencies. It also enables other cryptocurrencies to be exchanged on its network. As a result, XRP has grown massively in recent years, and several banks now use the network to execute modern banking functions. If you want to invest in XRP visit this guide to learn more.
Ripple also put heavy investments into non-fungible token projects using the XRP ledger – a public blockchain. Many experts claim that this investment puts Ripple in the position to be an "Ethereum killer."
4. Cardano (ADA)
This cryptocurrency network has a relatively smaller footprint, and there are several reasons why it is more appealing as an investment option. First, it requires relatively lesser energy to complete transactions using the Cardano network, unlike the much larger bitcoin network. This means the transactions are not only faster, but they're cheaper as well. The platform also claims to be more secure and adaptable, and they are consistently improving the network's development to remain ahead of hackers. 
5. Binance Coin (BNB)
This is one of the very few cryptocurrencies that reached their peak after 2017 – a year in which there was a big bull market and many cryptocurrency prices rose to their peak, then plateaued before the prices started to fall again. However, unlike many other coins, Binance Coin continued to experience a slow and consistent upward trend after 2017. As stated in an assignment writing service, this coin's consistent and stable performance is one of the reasons it is regarded as a stable investment option because it poses fewer risks.
6. Polkadot (DOT)
The Polkadot currency was created by some of the breakaway leaders at Ethereum to form a new cryptocurrency with a better network. So, rather than having a single lane for carrying out and completing transactions, Polkadot has several lanes. 
Polkadot was designed to reward genuine investors and sorts out those that are only trading to make fast money from crypto. Investors that are well-engaged on this platform also help with decisions such as network fees, removing or establishing parachains, and network upgrades. 
7. Chainlink (LINK)
There are several reasons why investors find this cryptocurrency appealing, and the chief of that is its affordable price. However, this coin has also shown that its value can rise well enough over the years, and it still has plenty of room for growth. 
This cryptocurrency is also available and is traded on Coinbase – one of the world's largest crypto exchange platforms. This accessibility is another reason why it's an appealing investment option. 
8. Dogecoin 
Although the hype around this coin isn't as much as it was at some point, it is still a strong digital coin that's attracting several investors. While cryptocurrencies such as Bitcoin have limited coin supply, Dogecoin doesn't have limits. As a result, something that started is now a cryptocurrency with several supporters and investors, including celebrities and billionaires, notably Elon Musk. 
9. Tether
This is a stable coin, so it is pretty unique among other cryptocurrencies. Stable coins have the backing of fiat currencies such as the Euro or US dollar. This means that if an investor buys 1 Tether coin, they will have the same value of 1 fiat currency (backing the coin). Theoretically, what this means is that Tether will have a more stable value than other cryptocurrencies that suffer market volatility. 
Conclusion
Cryptocurrencies are not going anywhere, they are here to stay, and if you're reading this article, it means you know that fact and are ready to be a part of the present and the future. Welcome to the crypto world! One of the biggest concerns as a beginner is which crypto to buy. That's why we made this article to help you solve this issue. 
About the Author
Thomas Jackson is a professional freelance content writer and cv writer. He also works as an essay reviewer at rushessay.com, and is an active member of several writing clubs in New York. He has written several songs since he was a child. He gets inspiration from the live concerts he does in front of close friends and family members. 
The views expressed in this article are those of the authors and do not necessarily reflect the views or policies of The World Financial Review.