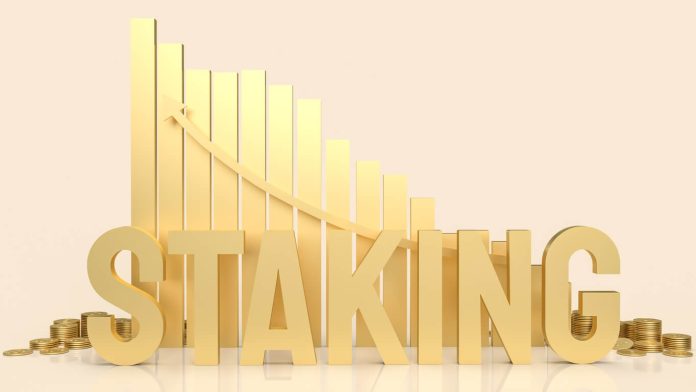 Currently, staking has become one of the fully viable ways of moneymaking in the crypto realm, and more and more people try to learn about reliable platforms and coins to stake for higher profits. We know that it's really easy to get lost in the sea of ads and put your money in the wrong place, this is why we decided to bring you a brief guide on platforms for staking you can trust. Definitely, there are many more services that deserve attention, but you need to start somewhere, so why not with these? They are trusted by users, have a long record of successful operations, and are accessible all over the world. 
Just in case: what is staking?
Staking is locking your crypto coins in the wallet integrated with the platform that maintains the network of some cryptocurrency. Staking relies on proof-of-stake verification of transactions, and people do not have to mine new bits of blockchain to complete the transactions. Staking replaces mining to some extent, it helps to keep the network functioning without putting pressure on power grids and hardware, that's why it is considered to be sustainable. It is one of the reasons staking gains such popularity with every passing day.
This is a mono-currency platform with high technical capacity and ROI, that's why we give it the first place. It's easy to navigate if you are a beginner and it provides all the necessary explanations about how it works and what your staking obligations and benefits are. So you learn and earn on the go, so to say. 
aStake supports MetaHash coin (MHC) and provides technical assistance in maintaining the hardware and keeping the blockchain payment systems running. That's why the staking platform is deeply interested in coin success and guarantees the security of your initial fund deposit and the growth of the coin. MHC, in its turn, is a powerful player in the DeFi field that creates new payment opportunities based on the proof-of-stake method. MetaHash develops a whole financial ecosystem, including apps, and NFTs, so watch out for this coin (and coming tokens) closely.
Depositing time and profitability: The depositing period is one year and the annual reward is 17% (in addition to the natural growth of coin price). Coin supply is limited, so you have to wait for your turn to stake it. Once the amount is available, you get them deposited in your wallet, and staking begins 9wth all applying benefits).
Particularities of the platform: although now aStake is a mono-currency platform, it plans to expand its operations into the bigger world of crypto. So later on, some popular and promising coins will be added to the list.
You can pay for your coins via credit card or spend some bitcoin, ether, or tether. Both payment methods are welcomed.
The platform operates in the majority of European and CIS states, so you should not face any troubles while using its services.
Binance
You've probably heard about Binance at some point in your life in the context of crypto exchanges, but now the platform has added the option of crypto staking. As a long-standing popular crypto exchange, Binance offers access to around 100 different coins and tokens for staking, which is a big plus if you seek to diversify your portfolio. 
Another advantage is flexible timeframes for staking. You may lock up your coins for the time from 15 to 120 days, just to get the feel of how the process works. The platform supports integrated wallets, so you can perform all necessary operations in one place.
Depositing time and profitability: profitability depends on the coin you select and can vary from 1.5% to almost 70% APY. The brackets are huge, and it is also conditioned by the type of staking (of which a bit later). The lowest APY is offered for the most popular and profitable coins like Ethereum (1.5%), and the highest offered interest is for ASTR (69.76% for 90-days staking) and for ATOM (30.49% for 120-days staking).
Particularities of the platform: the particular side of the staking feature at Binance is the staking mode, or rather modes. The exchange offers locked and flexible staking, each of which has its pros and cons. Locked staking means that you should not withdraw funds during the staking period or you will lose rewards. The minimum time is 30 days, which is not that long, compared to 90 or 120 days of required staking. 
In the flexible staking, you invest in DeFi projects developed by third parties and offered for common staking (staking keeps the DeFi systems running by providing verification). The staking term here may be as short as 24 hours. Yet the downside for it is that the smart contract you are supporting is attacked and you are left with nothing.
So all in all, Binance offers higher yields, differentiated staking time frames, and multiple coins, but it comes with higher risks. 
Crypto.com 
Crypto.com is often cited as a trustworthy platform preferred by many stakers, beginners, and experienced ones alike. That's why it wins the honorable third place in our ranking. It offers the staking opportunities for more than 40 coins, from known ones to newcomers linked to DeFi. Hence, by staking these new coins you also support the development of decentralized finance and whole new blockchain ecosystems. It is a nice fact to know if you are into meaningful investments and sustainability matters. 
A big bonus of using Crypto.com is that they have their dedicated exchange app, so you can check your deposit or look to withdraw funds right on the go. The platform offers its coin for staking, but it comes with a caveat.
Depositing time and profitability: profitability of staking offered on the platform may look modest compared to some other services, but Crypto.com values its reputation and offers coins that are worth your trust (they are less risky to invest in, so APY is lower). The highest APY offered is 14% for USDCoin. If you stake Cronos (Crypto's currency), you can get around 12% per annum, and there are even better rates, but to unlock them, you have to stake an equivalent of around $4,000 or higher. 
You can choose to lock your funds for traditional 1 or 3 months or choose the flexible mode. 
Particularities of the platform: payments for the staking can be made using your regular debit or credit cards, but mind the fees are charged. The lowest fee starts at 2.99%. The verdict: the app makes the platform convenient to use, but the highest rates of APY are reserved for its coin Cronos. Mind that.
Conclusion
Well, as you can see, options for staking abound on the web, and if you find a very, very lucrative offer with high yields, look for the fine print. Coins may be risky, or conditions of staking may be unfavorable to you. So before trusting your money to them, read reviews, look through their ToS, and decide what you want to accomplish with your staking. We suggest that you start your journey with the platform we offer, test the waters, and then expand your staking horizons with confidence. aStake (as well as Binance, and Crypto) won't disappoint you anyway.
Disclaimer: This article contains sponsored marketing content. It is intended for promotional purposes and should not be considered as an endorsement or recommendation by our website. Readers are encouraged to conduct their own research and exercise their own judgment before making any decisions based on the information provided in this article.


The views expressed in this article are those of the authors and do not necessarily reflect the views or policies of The World Financial Review.