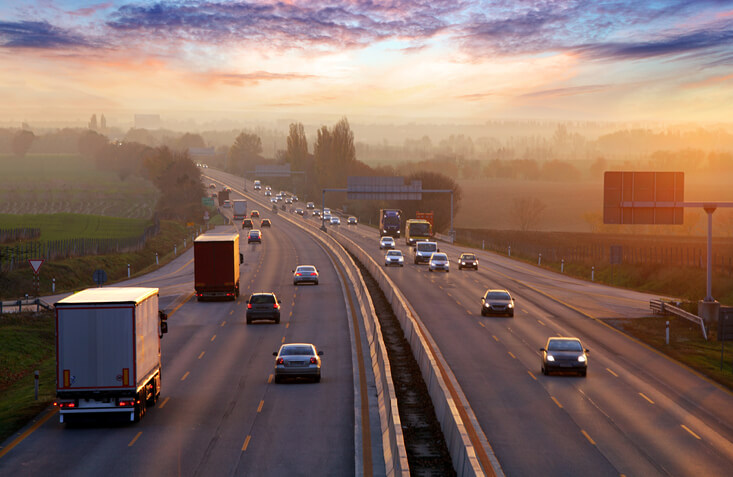 Transporting your vehicle across the country can be a big deal or a breeze, depending on how you choose to transport your car, van, SUV, or truck. You may think doing it yourself is the most cost-efficient method or you may want other people to handle the hassle for a little bit of money.
When you're moving a car long distance, you have three main options for transporting it: driving the car yourself, towing it behind you, or hiring car shipping companies to move your car for you. Car shipping services provide a convenient and efficient way to ensure the safe and secure transport of your vehicle, allowing you to focus on other aspects of your move.
Each of these methods of vehicle relocation has its pros and cons but the most cost-effective method for moving your car may not be the same as the cheapest. Though it seems to be the cheapest method, you may find you have more expenses with driving long distances than with towing or shipping your car. 
Perhaps you wonder, "how much does it cost to ship my car," let's explore the most cost-effective way to transport your car and other money-saving tips.
Driving
You may think that driving is the most affordable to move your car from one point to another. However, keep in mind that this only refers to up-front costs. Just because you're not paying someone else to help you doesn't mean you're getting the best deal.
Depending on where you are and where you are going, you may find driving to be more hazardous and potentially more expensive in the long run. Here's a list of expenses you can expect if you drive your car cross country:
Gas

Maintenance

Meals and snacks

Lodging

Parking

Potential car trouble or breakdown
Though it's possible you will make it cross country without a hitch, you must plan to have some maintenance issues on the way. You should plan preventative maintenance before you go no matter how you decide to move your car.
On the other hand, you could pay someone else to drive your car to your new home. This saves your body some of the wear and tear caused by driving but it doesn't save your car any. Consider this option if you have two vehicles to move and only one driver, but also factor in twice the road costs and lodging. It may be more cost-effective to tow or ship a car or your second car. 
Towing
Towing is another affordable option for moving your vehicle. Be aware that most moving companies will not allow you to tow a vehicle behind their van or truck because of liability issues. Some may allow it for an extra charge. Investigate what your moving company provides for car shipment before you contact other shipping companies. You may get a discount for using both services from the same company.
In any case, you will probably be required to rent or buy some of the equipment necessary to tow your car. You should also determine what you want to pay and how much equipment you wish to be responsible for on your journey. Not only will you have to pay for extra insurance for your rented equipment, but you will also be responsible for returning it to the appropriate company.
Make sure you can return your rental equipment somewhere around your new home to avoid a lengthy side trip.
Shipping
Shipping is by far the easiest and most convenient way to move your car. It's also the most expensive car transport method, at least in up-front costs. Some factors that affect the car shipping cost are:
Fuel costs

Time of year

Distance

Open or enclosed transport
Just as with driving your own car, you will be paying for the driver's road costs upfront. The benefit of this is paying a flat fee you can prepare. When you're driving your car yourself, you have no way of estimating what you'll spend. 
Another benefit of shipping your car is you can shop around for quotes from florida car transporters as soon as you know you are moving. The sooner you book your reservation, the more you are likely to save. Don't forget to check with your moving company to see what they offer in the way of car transport.
If you're moving overseas, you may not have a choice in how you get your vehicle from one place to the other. Your only likely option is to hire a shipping company to move your car to another country. The costs vary depending on the size and weight of your car and the distance it needs to be transported, but an open delivery method guarantees affordable crosscountrycarshipping.com shipping vehicles cost. Unless you live close to a port or terminal, consider shipping your vehicle to the port rather than driving it there. 
Takeaway: The Cheapest Car Transport Method is Not Always the Easiest
Your individual circumstances will likely determine which way of moving your vehicle is right for you. Tally your anticipated costs for the road and for towing your car and compare them to moving companies' quotes and auto transport companies' quotes. You should also consider if you're physically fit to drive your car for extended periods.
The most cost-effective means of moving your car is the option that saves you the most time and money in the long run. You may be surprised by how affordable some shipping and towing options are. The important thing is that you compare quotes from several companies and carefully tally the costs of each type of transport.

The views expressed in this article are those of the authors and do not necessarily reflect the views or policies of The World Financial Review.