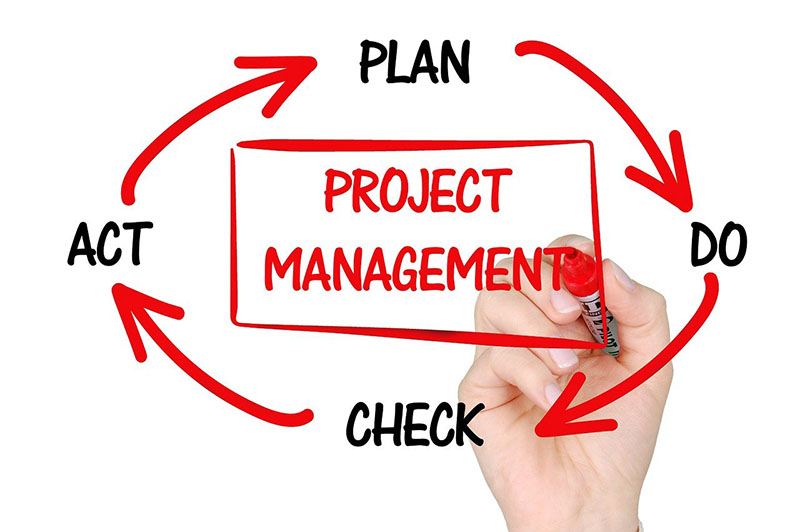 Making a business successful is a lot of hard work. One of the main things a business needs to do to achieve success is to take on new projects and complete them on or ahead of schedule. While this may sound like a relatively easy thing to do, it is actually quite difficult. Businesses around the world lose billions of dollars in revenue annually as a result of project management failures. The main thing you need to fix project management problems is a better understanding of how to structure and manage new projects.
If you want to expand your knowledge of proper project management procedures and principles, obtaining Project Management Professional (PMP) certification is crucial. While most business professionals have heard of PMP certification, many are confused about what this certification is and how to obtain it. Read below to find out more about what a project management professional is and how to become one.
What is Project Management Professional Certification?
The Project Management Professional (PMP) certification is a project management certification that is recognized around the globe. The test needed to gain this certification tests a person's ability to manage the business priorities, people, and processes involved in most professional projects. Over a million people around the world have earned this certification. These people are based in industries like:
 

Business

 

Information technology

 

Health

 

Construction
Obtaining this certification allows you to showcase your abilities as a project manager. People with PMP certification are sought out by business owners looking to optimize their ability to manage new projects. Before you can take the exam to get your PMP certification, you will need 35 hours of project management training. You will also need around three years of experience leading projects.
How To Get Your PMP Certification
If you meet the criteria mentioned above, you will need to make an account with the Project Management Institute (PMI) to get started with the application process. When you create this account, you will need to share personal information like your educational background and details about the projects you have worked on in the past.
Once you make this account, you will have to wait to hear back from the PMI team. If your application is approved, you will then need to pay the exam fee and schedule a time to take the test.
Prepping For Your Exam
Once you have a date of when you will take your PMP certification test, you will need to start preparing. There are tons of different PMP exam prep providers on the market. If you want to get a good idea of what will be on this test, then you need to take the PMP practice exam on PM Exam Simulator.
Once you take this test, you can see what areas you need to work on. The time invested in preparing for this exam will pay off when you are able to ace it on the first try.
Taking Your Exam
It takes around four hours to complete the PMP certification exam. In most cases, you will have to go to a designated test facility in your area. If you pass the test, it will be valid for three years. Once this three-year time period is up, you will need to either take the exam again or provide proof that you have spent 60 hours on professional development activities.
Why PMP Certification Is Worth The Time and Effort
One of the main things most people want to know about PMP certification is whether or not it is worth the time and money they invest. There are some definite benefits that come with getting your PMP certification which we will cover below.
The Industry Recognition
With PMP certification, you can show both clients and potential employers that you possess the skills needed to adequately manage a project. If you work in a highly competitive industry, PMP certification can help you beat out the competition for highly-coveted jobs.
The Ability To Earn a Higher Salary
One of the biggest benefits that come with getting PMP certification is the ability to earn a higher wage. On average, people with PMP certification earn over $15,000 more a year than professionals without it. If your main concern is to earn more money, then getting this certification is a no-brainer.
A Great Way To Learn New Skills
Learning how to master the fundamentals of project management can help you in every aspect of your professional life. When studying for your PMP certification test, you will learn lots of new skills and strategies you can use in your current job. These skills include things like budgeting and conflict resolutions. Having these skills in your arsenal can make you more desirable in your chosen field.
Land Your Dream Job
When trying to hire a great project manager, most businesses will look at a variety of different candidates. As a potential employer looks over your resume, they will want to know what makes you better than the other potential employees vying for the job. If you have PMP certification, then you will definitely stand out. This means you have a higher chance of getting your dream job.
What Is On The PMP Exam?
You might be wondering what you are in store for when taking the PMP certification exam. This test has over 180 questions and will take about four hours to complete. You are allotted two ten minute breaks during this test. The questions are a mix of matching, fill in the blank, multiple-choice, and multiple responses. The key to getting a great score on this test is taking the time to adequately study the materials at your disposal.
Now that you know more about PMP certification, it is time to make a move and take this test.

The views expressed in this article are those of the authors and do not necessarily reflect the views or policies of The World Financial Review.