Whether you're watching a magic show, betting money on online casinos, or trusting an agent to help you buy a house, you know deep down that there's more than meets your eye. You know there's some bias in the process that you're unaware of. Especially so, if you love spending your evenings betting on online slot and blackjack, you're well aware of that feeling.
Speaking of online gambling, your chances of winning a bet relies heavily on whether or not the platform's algorithm is authentic. But even if it were not, there's no way you could really challenge or verify the authenticity of traditional online casinos. This is the reason there's a rise in demand for online gambling platforms that support provably fair games. 
What is Provable Fairness and Why is It Important?
As the name suggests, provable fairness refers to the characteristic that allows end-users to authenticate the fairness of a process. On the same note, online casino games that implement this feature and allow users to verify their result generation process are called provably fair games. While they may be more complex to develop and deploy, provably fair games have a clear advantage over traditional online betting games. 
To make things more clear, let's consider two scenarios:
In the first scenario, suppose you're playing the famous dice-roll game, Craps, on a traditional online gambling platform with no provable fairness. And by the time the game reaches its conclusion, you're about to lose all your money. Now, imagine the frustration of not being able to verify if the game operator played the game fairly or not.
In the second case, consider you're playing the same game but on a platform that promises provable fairness. On this platform, even if you're about the lose your money, you may not be as stressed as in the first one. This will be because you can easily verify the results of the game and rest assured that the house did not cheat you and that the declared results were fair.
Besides allowing users to verify the results, provably fair games can also have tremendous benefits for casino operators. As the online gambling industry grows, more people will demand provable fairness in the games. Provably fair games can be the best way for casino operators to win people's trust and attract more users to their platform.
Blockchain and Smart Contracts Power Provably Fair Games
Transparency lies at the core of blockchain technology. And it goes without saying that with transparency comes fairness. So, with blockchain technology at the core of casino games, we're looking at the future of online casinos where games are provably fair and operators can no more trick the players.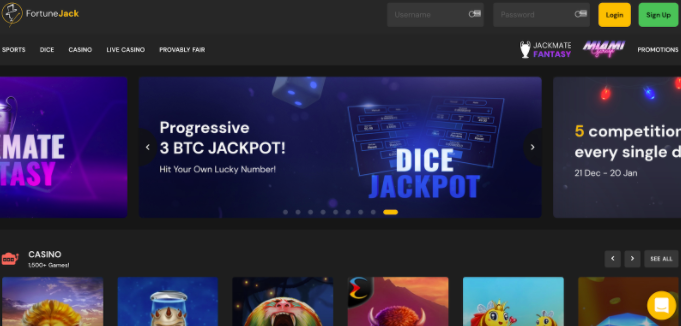 Blockchain-based casino platforms rely on smart contracts to operate the games. These contracts are self-executing codes that trigger actions based on the given inputs. They are automated, which makes them free of any middlemen interference. Also, they are immutable, meaning that once a smart contract is deployed, it is not possible to change the code to bias the operation of the games.
Additionally, blockchain-based casinos payout the rewards to their users in cryptocurrencies. All the transactions are thus publicly recorded on the blockchain ledger. So, in case the users want to confirm whether a casino pays out the house edge they promise, they can tally the transaction records to calculate the same.
Altogether, blockchain and smart contracts make casinos more accountable for what they do and how they operate. This can have significant benefit for the users as well as casino operators that want to promote fair play.
Bitcoin Casinos Vs. Provably Fair Games
The difference between Bitcoin casinos and provably fair games is very often overlooked or misunderstood. Bitcoin casino or cryptocurrency casino simply refers to an online casino that enables cryptocurrency deposits and withdrawals. On a Bitcoin casino, users can deposit Bitcoin or other supported cryptocurrency and place their bets using their crypto funds. It is not necessary that all Bitcoin casinos offer provably fair games.
On the other hand, provably fair games usually utilize blockchain technology and smart contracts to ensure that the games are fair. Due to the use of blockchain technology, online casinos that offer provably fair games also often support payments in Bitcoin and other cryptocurrencies. We can assume that provably fair games are an improvisation of Bitcoin casinos.
Provably Fair Casino Games are the Future
Provable fairness in casino games will play a major role in building trust in casino operators. It will solve the age-old problem for casinos and their players. And as people become more aware of blockchain technology and provably fair casino games, traditional online casinos may have a hard time if they do not switch to provably fair gaming. This is why it is safe to say that provably fair casino games will be the future of the online gambling industry.
The views expressed in this article are those of the authors and do not necessarily reflect the views or policies of The World Financial Review.