What Is Tradervue?
Launched in 2011, Tradervue is an online trading journal and analysis tool for traders looking to improve their trading performance. Tradervue allows automatic imports from 80+ of the largest online brokerages and offers insightful reports, personalized recommendations, and access to professional mentors and coaches.
With Tradervue's analytical features, you can set up Global Filters to find the best stocks for you, track how much you're paying in commissions and fees, set up price alerts, or quickly share your trading data with professional investors to see how you can increase your profits. Tradervue offers two subscriptions and a free plan – with no time limit.
In this quick Tradervue summary, I will go over all the best features of this platform. If you want to read a more in-depth analysis, check out our full Tradervue review.
Pros & Cons of Tradervue
Pros
Keep track of US equities, futures, options, and forex

Import trades automatically from 80+ brokerages

Detailed reports and customizable charting tools

Affordable subscriptions

Free plan with no time limits

Mentoring feature for beginner investors
Cons
No mobile app

The free accounts are very limited
Import Your Trading Data Automatically From 80+ Brokers
With Tradervue, you can import your trading data instantly from more than 80 compatible brokers. If your broker is not currently supported, you can always import your data as a CSV file or manually. Contact Tradervue customer support, as they continually add compatibility for new brokers.
Some of the brokers already supported include:
Thinkorswim

TD Ameritrade

Interactive Brokers

MetaTrader 4 & 5

Schwab

Webull
If your broker is not listed on Tradervue's website, you may want to check out some alternatives in our full list of the best trading journals.
Access Advanced Analytical Tools
Tradervue offers access to advanced analytical tools that will help you gain key insights into all your investments. Some of the most popular include Automatic Price Charts & Comparisons, Global Filters, and the Commissions & Fees tool, which makes it very easy to see where your money is going and how you can optimize your finances. For the full list of features, check our full Tradervue review.
Price Alerts are created automatically when you import or record a trade in your journal. You can sort them by timeframe – anything from 1 minute to weekly or more. For experienced investors, this is a huge time saver; you can filter and visualize key metrics – like entry and exit prices, all-time highs/lows, and more – at a glance. 
For beginners, we recommend the Tradervue mentoring/coaching feature. With the Tradervue coaching tool, you can quickly share your trading data with certified coaches and professionals and get actionable recommendations on improving – is Tradervue legit?
Choose From 8+ Detailed Reports
One of the best features of Tradervue is its comprehensive reporting resources. With Tradervue, you can choose from 8 advanced reports and gain key insights into all your portfolios. Here are the most popular reports:
Overview reports: With key metrics like daily/cumulative P&L, volume, win percentage, and more
Risk Analysis Report: Analyze your portfolio and your performance in terms of your risk profile to find your risk-adjusted performance
Comparison Reports: Winning vs. losing days, longs vs. shorts, support trades vs. breakout, and more
Advanced Reports: Plot by trade duration, P&L, day/time, volume, and many other specific data points
Liquidity Report: Gain insights into the relation between adding or removing liquidity, entry and exit shares, and essential intraday trading data
The liquidity reports can benefit day traders, and they work in tandem with some of the best day trading platforms for beginners.
As a free Tradervue user, you'll have limited access to these reporting tools; if you'd like to access all 8+ different reports, subscribe to Tradervue Silver or Gold.
Tradervue Fees
Tradervue Basic Plan: Free
Tradervue Silver Plan: $29/month
Tradervue Gold Plan: $49/month
Sign-Up Process
Tradervue is available for investors worldwide, and the signup process is very quick. Here's how to get started:
Visit Tradervue's website

Scroll down and click Sign Up Now

Select one of the three subscriptions

Fill in some of your basic information
Tradervue offers a 7-day free trial for their two premium subscriptions – available only for new users. You can read everything about this in our full Tradervue review.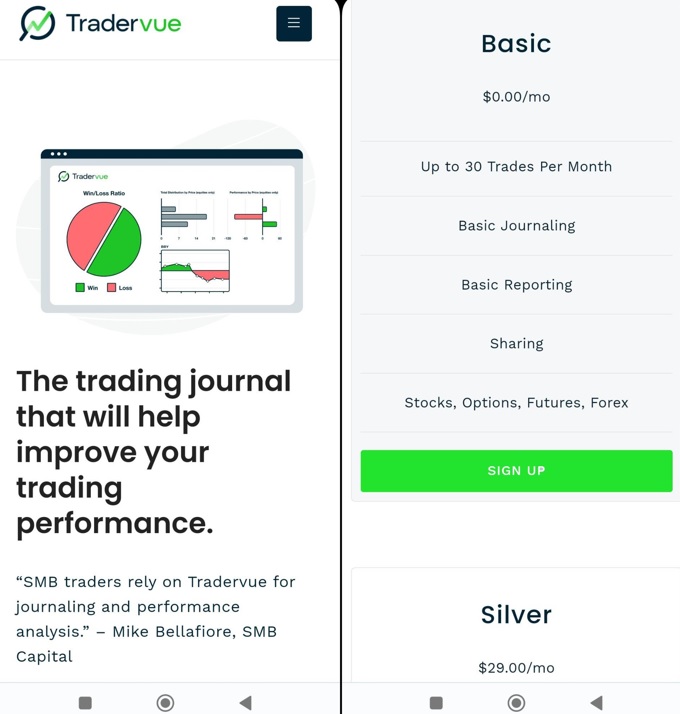 Final Thoughts
Tradervue is one of the best trading journals in the market, with comprehensive support for US-based equitihighd highly compatibility with a wide range of the largest online brokerages. Tradervue's excellent reporting tools and recommendations make it a perfect choice for beginners and intermediate investors. For advanced traders, risk analysis and overview reports coupled with a very reasonable monthly subscription make it one of the best options to keep track of your investments all in one place.
Disclaimer: This article contains sponsored marketing content. It is intended for promotional purposes and should not be considered as an endorsement or recommendation by our website. Readers are encouraged to conduct their own research and exercise their own judgment before making any decisions based on the information provided in this article.


The views expressed in this article are those of the authors and do not necessarily reflect the views or policies of The World Financial Review.