The phenomenon of slower world trade growth coincides with new protectionist sentiment and challenges to the view that globalisation is welfare-enhancing, fair, and consistent with national economic objectives. Public policy will need to adjust to these changes in the global economy and in the global dialogue.
As is widely reported by the IMF and others, global trade is growing at a far slower pace since 2012 than at any time in the previous 30 years. This is all the more worrying since economic growth itself has been anemic since the Great Recession and current forecasts are not terribly ebullient. Do these factors spell doom for globalisation as we have come to experience it? Is this further validation of the "Realpolitik" of more vigorous pursuit of national economic interest as noted by Prof. Dani Rodrik in his Globalization Paradox (2011)? Let's first take a look at the slowdown in world trade.
According to IMF's World Economic Outlook (October 2016), the fall-off in trade values can potentially be traced back to cyclical factors such as the slowdown in global investment as well as the re-balancing in China, if one looks at the demand side. The WEO claims that three-fourths of the trade slowdown can be attributed to weaker economic activity and a subdued investment picture. This may also include the indirect effects of a levelling off in logistics improvements. More interesting, however, is the claim that there has been a marked shift in Global Value Chains, namely, that the process of off-shoring may have reached its limits.
According to IMF's World Economic Outlook (October 2016),there has been a marked shift in Global Value Chains, namely, that the process of off-shoring may have reached its limits.
If we dig further than the recent global under-performance of economic growth as a result of near-recession in Europe, slower growth in China and other BRICS, and a reluctance of consumers to spend, businesses to invest and governments to pursue fiscal expansions, we need to look at the composition of trade itself. An important 2015 IMF working paper by Constantinescu, Mattoo, and Ruta (WP/15/6) seeks to find the roots of the trade slowdown in structural forces, concluding that at least half the recent slowdown stems from a now lower elasticity of trade to GNP than observed in the 2000s.  Moreover, this follows a declining pattern seen in the first decade of the 2000s as compared with the 1990s, where in the US and even in China, the trade to income relationship has declined. The same researchers then attribute much of this decline not to a change in trade composition per se, but rather to a fall in the tradable component of manufactures.
 About the Author 
Dr. Leipziger is Professor of International Business and International Affairs at George Washington University, where he concurrently is Managing Director of the Growth Dialogue. A former Vice President of the World Bank and Vice Chair of the Spence Commission on Growth and Development, Dr. Leipziger is a prolific author of books, journal articles, and think-pieces on economic growth, development and finance. In his book with Prof. Antonio Estache, Stuck in the Middle (Brookings, 2009), he was early to recognise the plight of the middle class and the threats to globalisation if fiscal and social policies did not deal effectively with the growing income inequality in the US.  Dr. Leipziger is a Member of the WEF Futures Council on Growth and Social Inclusion, and he is a frequent media contributor.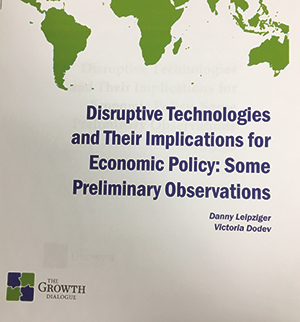 The Growth Dialogue is an independent think-tank, a voice dedicated to working on policies of inclusive and sustainable economic growth and aimed at providing support and advice to both governments and institutions. It is a successor to the Spence Commission on Growth and Development. Its recent work has focused on urbanisation and city-led growth, growth and inequality, and the impact of disruptive technologies on shared growth objectives. For more on its activities, see www.growthdialogue.org.
The views expressed in this article are those of the authors and do not necessarily reflect the views or policies of The World Financial Review.