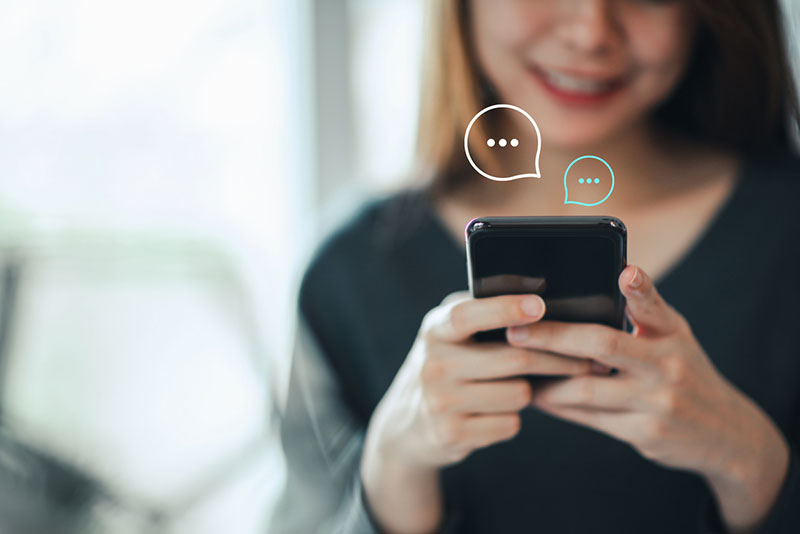 AI-powered chatbots are scaling reliable, efficient, cost-effective customer service across all sectors. Chatbots are apps that help solve users' or customers' problems or queries. In short, you can increase customer service response rate and enhance customer engagement and satisfaction using chatbots.  
But, there are always whispers and questions about chatbots:
Do they increase leads and sales conversions? 

Do customers like or dislike them?

Are they applicable to every sector? 
You can get the answers to these questions and more by understanding the top chatbot statistics in 2023 and beyond. The article covers vital statistics and trends in the chatbot worth looking out for in 2023. 
Let's dive in. 
1. Global Chatbot Market Value in 2023 Will Be More Than $5.5 billion 
According to Businesswire, the chatbot market will hit $5.68 billion in 2023. That translates to a 35% cumulative annual growth rate (CAGR). Although Statista projects it to be $2.2 billion, the former can hold because of increased digital transformation in the post-pandemic era. 
Put differently; the expanding chatbot market value shows that more firms are embracing it to maximize its benefits. The benefits include improved operational efficiency and reduced costs by having fewer human agents respond to repetitive queries that you can automate. 
For example, Flipkart, an Indian e-commerce giant, offers order updates and resolves issues using a chatbot embedded in its WhatsApp Messenger. So, several firms, even your rivals, maybe already using it. As such, you should also use it to compete effectively with your peers by 2023. 
2. Chatbots Will Increase Sales Conversions By Over 20%
Although email has been the most effective marketing, it only generates about 15% conversion rates. Chatbots now rival that and offers some of the best conversion optimization for your store. As such, you can increase your revenue by 20%-40%, depending on your sector. Here are the ways chatbot strategies are driving the best conversions in 2023 and beyond:
Optimizing AI learning by offering dedicated support from AI engineer

Assigning a dedicated NLP (Natural Language Processing) engineer to increase your bot's understanding of humans, including their emotions. 

Design it to offer 24/7 prompt responses to problems and queries, thus reducing support tickets

Offer prompt reminders and sales offers to reduce cart abandonments. You can achieve this by integrating your omnichannel communication with a chatbot, including social media platforms like Facebook Messenger. 

Offer relevant product suggestions to shoppers or users based on their needs and experience that the bot collects as it interacts with them. That improves customer personalization and upselling capacities. In fact, the strategy drives 30% of Amazon's and Netflix's revenue. 
In short, the ROI potential of chatbots will increase in 2023 as they become more intelligent and can run several winning strategies to boost your lead generation and conversion.  
So, scale your chatbot and turn it into a revenue generation engine. The best part is you only need a few initial set-up procedures to drive your revenue through customer service automation. 
3. Chatbots Will Handle More Than Three-Quarters of Online Retail Conversations in 2023
Retail sectors adopt chatbots more than any sector. According to Juniper Research, more than 70% of chatbot interactions will be in the retail industry. That is over three-quarters of total conversations across all sectors. 
It means most online retail shops like eCommerce are adopting more chatbots in 2023. So, if you're in the retail sector and not onboard, level up before it's too late. You stand to lose in a field where almost every rival has automated their customer service support while you're stuck on old manual ways. 
Sectors like Finance drive more than 90% of successful customer interactions in 2022. So, the success rate may be near 100% in 2023, showing chatbot's great benefit in banking and insurance services. 
4. Chatbot Users May Cross Over 2 Billion in 2023
There were about 1.4 billion chatbot users in 2022. With the rolling out of WhatsApp Cloud API and other platforms to drive omnichannel communication, more chatbots will be operating from 2023 onwards. As such, there will be exponential growth in chatbot users from 2023. 
For example, the WhatsApp Cloud API platform alone had 1 billion users monthly since its launch in 2022. If most WhatsApp Cloud API users leverage chatbots, that is about 1 billion chatbot users, and you've not counted other platforms like Facebook Messenger. 
5. Cloud-Based AI Chatbots On the Rise 
As mentioned earlier, most business communication channels like WhatsApp Business Cloud API runs on the cloud. So, effectively scaling customer service support through bots embedded in these systems will work better through the cloud. 
That means we will see more cloud-based AI chatbots that allow you to scale your communication and customer service support as your business demands. Integrators or service providers will only charge you for your network resource usage. 
So, if you're running platforms like the old on-premise WhatsApp Business API, ditch and choose the Cloud API alongside a cloud-based chatbot. It will ensure your reliability and scalability depending on your business demands. 
5. Chatbots Will Understand Humans Better 
Previously, people have complained that some chatbots do not understand their problems or query. The result is terrible satisfaction levels and a negative attitude toward chatbots. Well, that will soon be a history with advanced artificial intelligence technology. 
The AI tech now leverages natural language processing (NLP) and Natural Language Generation (NLG) to perceive and analyze users' queries and requests, including human emotions. 
So the advancement means AI chatbots will understand you more and interact with you almost as if it's human agents. They will appreciate your feelings and respond kindly and empathetically, making them more persuasive than ever. 
A better understanding of humans or users means better identifying needs, tastes, preferences, and problems. That translates to better and more effective response and handling of queries, improving customer satisfaction. 
In short, AI tech advancements will improve chatbot experiences and customer satisfaction in 2023 and beyond. 
Wrap-Up 
There are more opportunities online alongside requests and queries that will need a prompt response from you as a business. Chatbots can help you maximize these opportunities while ensuring you address your customers' every need. 
So, understanding key chatbot statistics and their underlying trends can help you prepare early to leverage the power of your chatbots. We've shared these key stats from sales conversions to cloud-based chatbot deployment. So, pick the stat that affects you the most and use it to your advantage.

The views expressed in this article are those of the authors and do not necessarily reflect the views or policies of The World Financial Review.