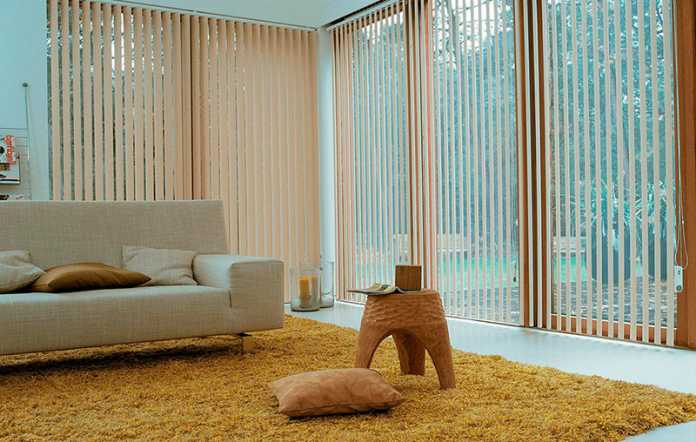 Curtains definitely look very pretty, but don't blinds look so much better? They add a certain aesthetic to your room and give you a break from boring old drapes.
If you are thinking of installing vertical blinds in your house, keep reading to find out why they are a really good choice for you and your home!
1. Perfect for large windows or doors
If you have sliding or bay windows in your house, then vertical blinds are the right choice for you. These blinds are great for covering back sliding doors and large windows. You can also choose to install shutters, but that is an expensive investment. With vertical blinds, you'll be able to cut down a lot on your costs.
If you plan to install them for your doors, they are perfect for that since they can swing easily to one side, unlike curtains. In areas like your kitchen, vertical blinds are ideal as you can easily regulate the amount of sunlight entering or blocking your view.
Most blinds swing to one side, but there are some that part in the middle. You can choose the latter if you have a middle door and windows on either side of it.
2. Adds aesthetic beauty
Vertical blinds add a beautiful appeal to your entire room, no matter what style of blinds you choose. Although these blinds were meant for function over fashion earlier, blinds nowadays add a dash of color to your room and make your house look so stylish!
Of course, the kind of pattern or color you choose depends on the room you'll install your blinds in. For your kitchen, you may select a light-colored blind with simple designs, while for your bedroom, you might need modern vertical blinds to make the space more stylish.
For your living room, vinyl blinds will look gorgeous! Vinyl ones are very easy to maintain and are perfect for rooms that have people coming in and out.
3. Styles and designs
With blinds comes a huge selection of styles and designs. The best part- you can choose yourself!
Or if you'd want to take help from experts, you can look up websites like Shade Factor that provide you with a huge range of choices and help you make the perfect pick!
Some of the most-loved materials for blinds are
Vinyl– Appears very stylish and are easy to maintain, which is why they are so popular.
Wood– Costs much more than vinyl blinds and are slightly difficult to clean. However, they are the most aesthetically beautiful material for blinds.
Aluminum– Cost-effective and resistant to dust and dirt. However, they tend to make a loud noise when clanging together.
Fabric– Very beautiful but need to be cleaned regularly. You may choose from sheer to complete opaque ones.
4. Easy to use
Your new window treatments should never be a hassle to use, which is why blinds are a great option. Blinds come with a simple chain that you can pull to shift them to one side.
In case you're worried about your children getting hurt by the chain, don't worry anymore! Many blinds come with automated options that are safe for your little ones.
Apart from handling, blinds are easy to clean too. If you have wooden or aluminum blinds, they require little to no cleaning. Because of their design, dust and debris also do not accumulate much, which is perfect if you live amidst the city!
5. Privacy
Blinds add privacy as no other alternative option can! When you have a large window in your bedroom, drapes or curtains can leave gaps that hamper privacy. Blinds are the best option here.
Even if someone sways against the blinds, they will return back to their original position in seconds- something that curtains can't do. So with blinds, you can be sure that your privacy will be a full 100%.
Over to you…
The best thing about blinds is that they help to cut down on energy waste. According to a survey done for window treatments, it was found that cloth blinds were 27% more effective in cutting down on annual energy waste than Venetian blinds, and 22% more effective than drapes.
Therefore, installing new vertical blinds in your house not only keeps your house beautiful but contributes to saving the environment too! Don't wait anymore, go to the nearest interior designing store or look online to buy some trendy new blinds today!
The views expressed in this article are those of the authors and do not necessarily reflect the views or policies of The World Financial Review.