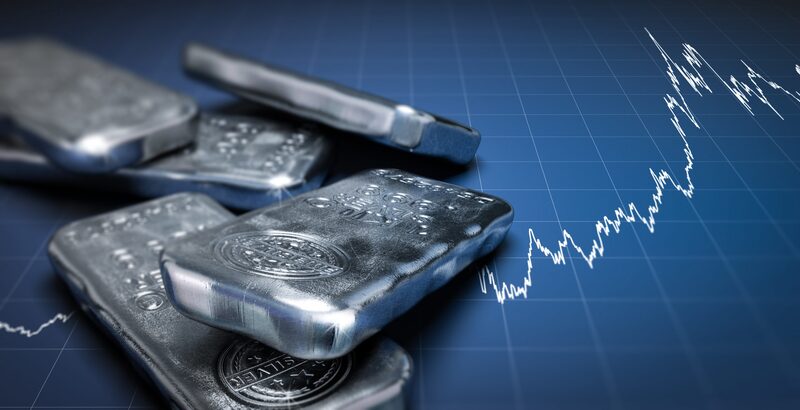 Silver has had an uncertain 2021, amid a nervous investment climate and wavering outlook for 2022. Markets always look to safe havens during times of economic turmoil and silver is often regarded as the more affordable alternative to gold in such periods. Notwithstanding, 2022 began stronger for the precious metal. From January to March, silver dipped slightly and then rallied further in April, maintaining those levels to date.
General sentiment has since shown that investors are predominantly positive on silver, suggesting that 2022 could be a big year. Several analysts have increased their price targets, the ongoing geopolitical crises in Europe precipitating a significant flight to safe-haven assets.
Among the assets that allow investors to gain exposure to this market are silver mining stocks. And for value investors looking for the next breakout, 2022 provides several options. 
Honey Badger Silver (TSXV:TUF)
Honey Badger Silver is a Canadian pure-play silver company focused on aggregating a 3-tiered portfolio of silver assets at various stages of advancement, including ultimately royalties and streams. Over the last 12 months, the Company has acquired four properties in the Yukon, including its recent purchase of a 100% interest in the Clear Lake deposit, which hosts 5.5 million ounces of silver in addition to significant resources of zinc and lead.
The Clear Lake purchase represents a significant milestone as Honey Badger adds its first asset with historic silver resources to its growing portfolio of high-grade district-scale properties.
In addition to its properties in the Yukon, the company also holds a dominant land position within the historical Thunder Bay Silver District in Ontario, Canada.
As part of its plan, Honey Badger continues to aggressively evaluate a steady stream of acquisition opportunities. Moreover, the Company is considering the monetization of substantial inventories of zinc and other associated metals as a means of creating significant value for its shareholders. One such example is the Clear Lake acquisition which contains 1.3 billion pounds of zinc and 185 million pounds of lead.
Outcrop Silver & Gold (TSXV:OCG)
With a portfolio of five projects in Colombia, Outcrop Silver & Gold (TSXV:OCG) is a silver and gold exploration company with the country's high-grade silver property, the Santa Ana silver project. Current drilling has included the highest-grade drill intercept in November 2021. Results showed 0.95 meters at 5,550 g/t silver and 70g/t gold.
Summa Silver (TSXV:SSVR)
Summa Silver has projects in Nevada and New Mexico, with both projects in historic silver districts. The silver and gold exploration company's Hughes project in Nevada is located on the Walker Lane trend. In New Mexico, the Mogollon project sits on a past-producing silver and gold-bearing vein field. The company has chosen its land position strategically in the US, where mining has been held back in past years. However, the Biden administration has signalled that it is ready to support domestic mining projects provided they are adhering to strict ESG protocols. February 2022 saw the company close a C$11.5 million private placement. The placement had investors including Eric Sprott and First Majestic Silver.
Canada Silver Cobalt Works (TSXV:CCW)
Canada Silver Cobalt Works is targeting battery metals with its two major projects in Canada. The company will be on the cusp of developing properties that could be critical to the green-energy transition in North America and Europe. In Ontario, the company has the Castle East silver-cobalt project, and in Quebec, the Graal battery metals project. The Castle mine reportedly produced 9.5 million ounces silver and 136 metric tonnes cobalt before closing in 1989 because of lower silver prices.
However, with prices rising and stabilizing again, the company is in the right position with its Castle East property.
2022 has been a productive year so far, and the stock price reflects that progress. Canada Silver Cobalt Works reported drill results from Castle East in mid-January, and then shared its 2022 outlook and 2021 summary of operations in February. It has also shared exploration updated, entered into an option agreement to acquire the Allsopp property, and reported a new drill intercept for Castle East, including a highlight grade of 5,887.59 grams per tonne (g/t) over 0.53 metres.
As silver prices continue to set new highs and higher lows, investors have been turning to mining stocks which have had a strong 2022 thus far. Coming quarters may continue to see similar results from top pure-play silver mining stocks like Honey Badger Silver and others as they continue to release results and advance drill programs.
The views expressed in this article are those of the authors and do not necessarily reflect the views or policies of The World Financial Review.