Interview with Ms. Flavia Santoro Trujillo, President of ProColombia
Attracting foreign investment is central to the government of Colombia's strategy to stimulate the country's diverse range of industries over and above mining and energy. Here, Flavia Santoro Trujillo, president of the country's development agency ProColombia, outlines what sets Colombia apart from the crowd as a foreign-investment opportunity.
What would you say have been the defining trends in the Colombian economy in recent years? What does the road map for the future look like?
For the last 15 years, Colombia has been on a path of constant, stable growth. Colombian President Ivan Duque has called on us to work together to build an equitable country based on legality and entrepreneurship; this is the goal we are focused on.
The national government passed the Law of Economic Growth as a mechanism that led to reduced tax burdens for companies, incentives for direct foreign investment, and the promotion of policies that resulted in improved execution of large infrastructure projects.
Economic growth has been boosted by the arrival of foreign investment. In 2019, growth reached US$14.493 billion, which was the highest growth recorded since 2014, and 25.6 percent higher than the growth seen in 2018.
We can see that investors continue to show an increased interest in Colombia. According to the Central Bank's balance of payments, direct foreign investment grew by six percent in the first quarter of 2020, with recorded capital income of US$3.589 billion. Of this total amount, 70 percent – or US$2.486 billion – was invested in non-mining and non-energy sectors, which is a 22.7 percent increase compared to investments seen in the same period in 2019.
The recovery of sectors such as construction and tourism and having inflation under control are just a couple of the key factors that, prior to the pandemic, led to the Colombian economy enjoying the greatest growth of all Latin American economies and being in the top five (in size) in the region, and demonstrated a positive trend for even higher growth.
Our road map for the future is marked by an economic reactivation strategy that seeks to achieve V-shaped growth. Our economy was growing but is now contracting as a result of coronavirus and we will have to get back on a path of recovery. This will be based on a reactivation strategy comprised of tools that facilitate not only investment, but also the relocation of large multinationals that may look to Colombia as both a platform from which to export to other countries and a site that is much closer to their production and consumer centres. Lastly, we will adopt strategic sectorial and regional measures.
International organisations such as the IMF and the World Bank agree that our economy will experience a "rebound" effect as it contracts in 2020 due to the pandemic, before moving to recovery and growth of from 3.6 to 4.0 percent in 2021.
Could you give us some background on what led to the setting up of ProColombia? What, essentially, is the organisation's mission?
With the opening up of Colombia's economy at the beginning of the nineties, ProColombia was created as the agency that would support the country's internationalisation. Twenty-eight years later, we continue to work towards increasing non-mining energy exports, attracting direct foreign investment and growing international tourism in Colombia.
As an organisation, we promote the country's development and our contributions are increasingly significant. As a point of reference, ProColombia currently provides support for 73 percent of the non-mining and non-energy investment that enters the country.
How would you say the investment climate in Colombia has developed in recent times?
Of all the countries in Latin American, Colombia has implemented the most reforms in favour of direct foreign investment. We have positioned ourselves as the third-largest recipient of investments. According to UNCTAD, only Brazil and Mexico are ahead of us and we are sure that we can become number one in the region.
A decade ago, the main investments that entered Colombia were derived from extractive activities. Now, more than 70 percent of investments received are non-mining and non-energy-based and this is extending throughout Colombia's regions. This has generated a value cycle in which many new poles of development have been created in more than ten Colombian regions and, increasingly, more sectors are carrying out productive activities as a result of the arrival of FDI.
From the point of view of foreign investors, what are the advantages that Colombia offers? What particular strengths does the country have that might distinguish it from other potential investment opportunities?
Colombia is a friend to foreign investment and a nation that fosters and stimulates investment, while also offering guarantees, political and economic stability, and legal assurances for investment. According to the World Bank's Doing Business index, Colombia is the country that offers the greatest protection to investors and the third-ranked market for ease of doing business.
We are the most recent member country of the OECD, which is a testament to our public policy reforms and standards that make Colombia an outstanding, responsible and committed nation with great influence in Latin America.
Additionally, Colombia has a prime strategic location that connects all markets on the continent with Europe and Asia. Thanks to the trade agreements in force, Colombia offers access to more than 1.6 billion consumers around the world.
Colombia offers qualified talent and tax incentives that are provided for in local legislation and also has an attractive regime of free trade zones. In fact, Colombia has the greatest number of industrial parks of this kind in Latin America.
Which of the country's industries would you say are likely to be of particular interest to investors? What sort of help can ProColombia offer in order to assist those industries in their development?
Given Colombia's agricultural vocation and the availability of land for productive activities, agribusiness is a sector that has great potential in terms of receiving investment. The FAO has identified Colombia as one of the countries that will be called upon as a food provider in the next 30 years. Another sector of interest is that of civil infrastructure development aimed at optimising road connectivity, as well as modernising ports and airports within the country.
We are also working to streamline manufacturing development progressively and to increase added value in the sector in order to be more competitive in the international market. Lastly, I could point to the software and IT sector, where we see our developers gaining more and more space as global vendors of solutions and digital start-ups.
ProColombia provides valuable information and competitive proposals to investors going through a decision-making process, in order to ensure that their choices are not only profitable, but also that they contribute to creating equity, growth and development in Colombia. Similarly, we offer assistance in developing personalised agendas and provide consultation services for all steps in the investment process and during expansion in our national territory.
Are there any industries that are notably on the rise in Colombia, or perhaps any that the government is especially interested in developing?
There are several industries and I can point to the creative industries, also known as the orange economy, as an example. The orange economy has total support from the government, which seeks to make the most of our greatest asset, our talent. Prominent here are the arts, start-ups, film, literature, and 4.0 industries, amongst others.
We also have the renewable-energies sector. Even now, when we have an optimal electricity grid that is fed by more than 70-percent hydraulic power, there is enormous potential to develop solar and wind farms to take advantage of the sunlight and wind that our land enjoys.
The whole world is, of course, currently preoccupied with the COVID-19 pandemic. What challenges has Colombia specifically had to face in this regard?
The Colombian government has enacted a swift response to COVID-19 and has kept the infection and death toll relatively low compared to that of other Latin American nations.
The country has one of the lowest rates of infection and deaths per million inhabitants, as compared to countries in Europe and Latin America.
Our nation took early isolation measures, which allowed us to strengthen the health system's capacities by increasing the number of ICUs and buying emergency supplies and medical equipment. The social distancing implemented throughout the country was also key in slowing the virus infection rate.
However, these measures that aim to save lives have also had a great impact on our economy. The government has implemented relief initiatives to assist businesses from different sectors, which include tax waivers, payroll payment assistance, and forbearance on social security obligations. In addition, the government has extended lines of credit through government-controlled financial institutions and has reduced interest rates.
Colombia has attempted to find a balance between adequate distancing and economic activity by keeping open those sectors that are crucial to the economy and our supply chain. These sectors include food, agriculture, financial and essential services.
Construction and some manufacturing sectors have already resumed activities and, in the coming weeks, with the proper protocols, a wider portion of the economy will reopen. We are confident about the future. We believe that the measures we have taken to face the pandemic will help Colombia recover its economic and social growth path, once this has passed.
In terms of the future, how much of a strategy rethink has the coronavirus necessitated? Has ProColombia been able to identify any ways that the threats represented by the coronavirus could be converted into opportunities for the country's industries?
We believe that the measures taken under the leadership of the national government will help Colombia to get back on its path to economic and social growth.
We seek to turn difficulties into opportunities, and that is how various industries have adapted and undergone transformations to fulfil the demands of the current situation.
As I mentioned previously, we believe that direct foreign investment is essential for our economic recovery. Accordingly, we will continue to focus our efforts on promoting Colombia as an ideal destination for business and for investment.
In this vein, we have been adjusting our strategy to take advantage of new opportunities, with investment incentives and the use of virtual tools and technology to promote and attract new investments.
The interest and confidence shown in Colombia has not diminished in recent months and we will continue to work closely with potential and current investors to ensure that their business ventures in our country are successful and profitable.
Executive Profile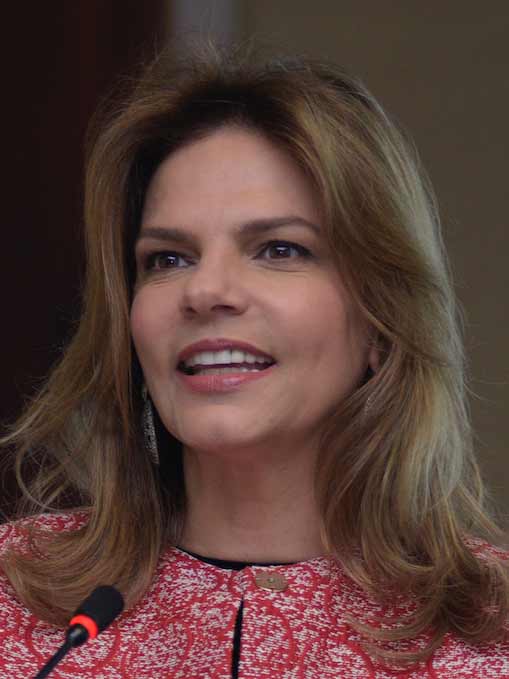 Flavia Santoro is the President of ProColombia. She is a lawyer of Javeriana University in Bogotá.  She has a master's degree in insurance law and has great experience in the development and management of institutional relations within the private sector, fortifying strategic and commercial alliances for fundraising. 
Through her current role as President of ProColombia Mrs. Santoro is committed to promoting exports, foreign direct investment and tourism for Colombia, and strengthening international ties that bring Colombia closer to new business opportunities.
The views expressed in this article are those of the authors and do not necessarily reflect the views or policies of The World Financial Review.