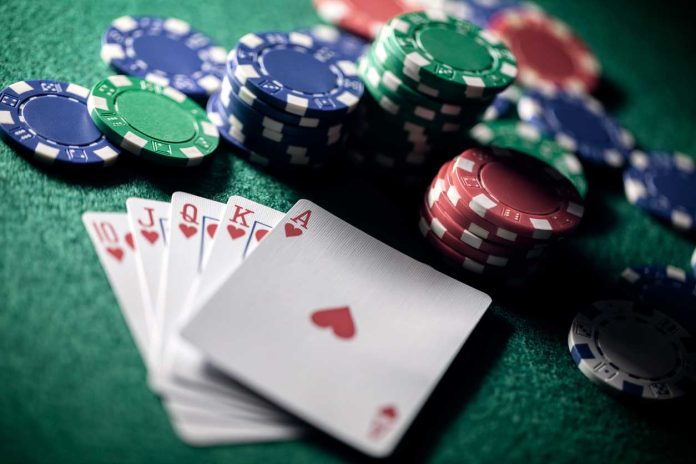 The devastation caused by COVID-19 wreaked havoc on both the social and economic ecosystems of the planet. It came dangerously near to decimating certain aspects of human existence. Poker, along with most other forms of gambling, has been severely impacted by the emergence of COVID-19, albeit this has been a relatively minor setback when compared to the misery inflicted in other sectors.
Gambling may not be everyone's cup of tea, but anybody with even a passing interest in economics cannot dispute the industry's widespread and pervasive effect. According to the best US online poker sites classification by Top10pokersites, some of the brands there are among the most visited recreational websites today.
Although it may have seemed that everything was in disarray, there was some good news for poker enthusiasts. Many people who normally would have gone to a casino during the COVID-19 lockdowns instead played poker online as a kind of entertainment. There's little doubt that online poker was already on the upswing before the pandemic, but that event served as a spark that propelled it to new heights.
Trend-Driven Growth
The ever-changing, ever-quickening pace of development in the arena of online poker is a constant and fascinating phenomenon. Poker is gaining popularity and acceptance as a new form of entertainment in many parts of the world. Before the pandemic, industry trends were crucial to the sector's development and success.
Newer trends are now defining the industry's trajectory.
Live dealer gambling has emerged as one of the most eye-catching developments. It is easy to understand why poker players would jump at the chance to play against actual human dealers in a setting that's almost identical to that of a casino without ever having to leave the comfort of their own homes.
Also, there has been a huge uptick in interest in poker applications for mobile devices. In addition, since 2020, when the world was effectively shut down, the mobile poker gaming business has seen a surge in popularity. Poker-playing applications for mobile platforms like Android and iOS have seen a lot of success. This is because players want to be able to take their games with them wherever they go.
On top of all that, the online poker business is joining the growing number of sectors that accept and utilize cryptocurrencies. It is anticipated that a significant proportion of poker players would adopt cryptocurrency, prompting further changes at online poker clubs.
And that's not all. The use of virtual reality (VR) enabled solutions is becoming more popular among online poker rooms to entice and keep customers. This kind of poker gaming is very desirable because it gives players the experience of being at a table with other players while yet affording them the convenience of playing from the comfort of their own homes.
As a logical continuation, technologies like the Metaverse and AR (Augmented Reality) have the potential to radically alter our perception of poker played online. Live events are almost probably going to be the ones that profit the most from them.
Key Focus on Responsible Gambling
Even as the online poker gaming industry flourished in the aftermath of the epidemic, new concerns about the prevalence of problem gambling emerged. In a positive turn of events, this became a focal point in its own right as a means of ensuring the sector expanded responsibly and ethically.
Players have a heightened awareness of the risks associated with playing casino games online. There has been a rise in the popularity of online poker, and many players are specifically looking for poker rooms that implement stringent risk management procedures and promote responsible gaming.
Similarly, ad campaigns are frequently what may drive conversions for a poker site, therefore it's important to do them responsibly. Marketing is at the heart of every online casino. The way these are regulated has also improved immensely, giving poker players even more confidence in the industry for keeping their well-being in mind.
New Formats and Game Types
One need just go back to when the game of poker was first developed or even to a time before the epidemic to see how much it has evolved. At one point, Texas Hold 'em was the undisputed king of poker, with players able to take their pick between cash games and tournaments. New formats have since taken the spotlight as well.
There has been a decline in the market share of Texas Hold 'em as other games, such as PLO and 6+ Hold 'em, have gained popularity. The emergence of innovative new forms like Spin and Goes has also piqued the interest of young players anxious to join in on the fun.
The dynamic nature of the game makes it difficult to predict which games will ultimately triumph. Although we can't guarantee that they won't be as mathematically solvable as Texas Hold 'em, we can anticipate that they will be just as exciting. It turns out that's the only way to maintain a healthy level of competition without sacrificing the games' overall appeal.
Making the Case for Poker as a Sport
After the epidemic, there was also a better chance that poker would be recognized as a sport. Some poker players have long advocated for the game to be treated more like chess, which is played as a serious sport all over the world. Many poker tournaments, both online and off, have shown, however, that the game can take on the characteristics of a sport.
These changes have also been influenced by regulations and rules. However, when it comes to poker laws, there is little point in debating whether or not the game is more based on skill or chance. Potential for standardization exists, but it will need significant effort from all parties involved.
Stronger Than Ever
It's unlikely that most online poker sites need to implement any additional preparatory procedures because of worldwide events like the pandemic. They have, in the previous few years, seen a large inflow of online poker players, and many of them have already set up sophisticated infrastructure to accommodate this trend.
The focus now should be on maintaining and growing the enthusiasm displayed by newcomers to the game. Major changes are on the horizon for what remains to be the most-played card game in history.
The views expressed in this article are those of the authors and do not necessarily reflect the views or policies of The World Financial Review.