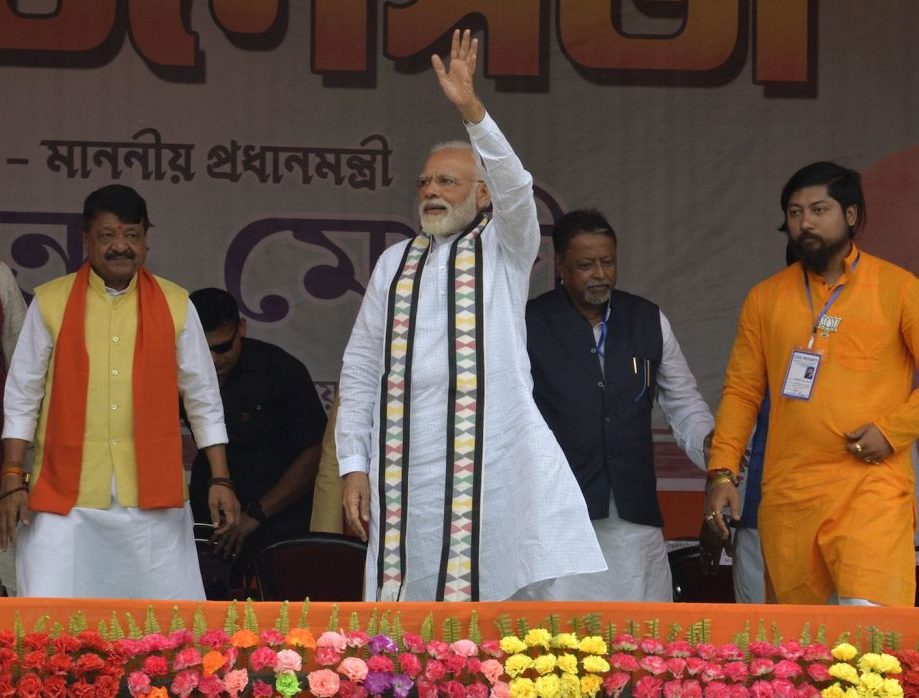 In this article, the author examines the economic performance of Modi's government, which came to power in 2014, and also analyses the politics of the Hindu Right, especially since the BJP (Bharatiya Janata Party) gained a majority in the last parliamentary election in India.
The BJP came to power in 2014 because it projected an image of a party that would address the economic difficulties of the people, such as the rising unemployment, the severe problems in the agricultural sector, and rising inequality. However, in the subsequent five years, these problems remained; the promise of creating jobs remains unfulfilled, and the problems in the agricultural sector have actually deepened. These issues were further compounded by demonetisation and the hurriedly implemented GST (goods and services tax), both of which occurred at enormous cost to the common people. Rather than resolving the problems people faced, and indeed still face, the BJP government has been frantically attempting to divert attention from these economic issues by stirring up a nationalist frenzy and religious bigotry.
Politically, Modi's government is now much more aggressive in the sense of reinforcing 'Hindutva' project, and has thus hardened attitudes towards minorities compared to Vajpayee's previous BJP government. This was due to the BJP's improved performance in the last election, and the fact that it now holds a large majority in the Indian parliament. This was not previously the case, as under Prime Minister Vajpayee (1998-2004), the BJP was only a minority government, who consequently needed to accommodate the smaller parties in order to remain in power. For this reason, Vajpayee image was projected as one of a soft democrat, accommodative and less aggressive; however, this was purely due to the then prevalent political circumstances. At present, the RSS/BJP leadership is more confident of its position, which is why the RSS (Rashtriya Swayamsevak Sangh) leader, Mohan Bhagwat, is currently more aggressive in terms of propagating, and adherence to, Hindutva than his predecessors.
Rather than resolving the problems people faced, and indeed still face, the BJP government has been frantically attempting to divert attention from these economic issues by stirring up a nationalist frenzy and religious bigotry.
The BJP's anti-minority policy seems to hold immense appeal to educated upper-middle class Indians, including professionals. At present, all the top constitutional functionaries in India, such as the President, Vice President, Speaker, Prime Minister and the majority of the BJP ruling state's Chief Minsters, have been members and functionaries of the RSS. The media, with very few exceptions, is also complicit in its tacit support of the Hindutva camp.
This narrow RSS/BJP narrative about history and minorities is even being forced upon school children through the teaching in thousands of primary schools run by the RSS. The Modi government has clearly been involved in the systematic destruction of various institutions, especially public universities and higher academic institutions, where the majority of the top administrative posts have subsequently been filled by people who have been either functionaries of the RSS or are sympathetic to the organisation. Any academic pursuing a course of true critical thinking is charged as being "anti-national". The RSS has repeatedly called for a 'strong state' and the control of the media, and indeed this has been a major part of the RSS's strategy in recent years. RSS members have been appearing on the prime-time shows on all major Indian TV channels.
Economic Performance
Indian capitalists see in the Modi-led BJP government a disciplined and authoritarian regime, and one which would implement neoliberalism and keep the workers in control, while workers and farmers are currently deeply disappointed with today's economic policy. This has become apparent through a series of demonstrations in India's major cities by trade unions and farmers that have taken place over recent months. Modi is facing a crisis of credibility in terms of his much-vaunted ability to deliver on either investment or jobs.
The BJP government claims that the Indian economy has experienced rapid growth in the last five years, which is blatantly incorrect. The claimed GDP figures have been incorrectly calculated through the use of poor data sources and due to methodological change in the calculations. This has enabled the present government to suggest that the Indian economy has performed better during the current term of government (2014-18). There is a lack of correspondence between other crucial developmental indicators, such as agricultural and industrial production and figures on investment and capital formation and trade.
In India, public education and health are the worst hit under neoliberalism. Education spending by the central government has decreased from 6.15% in 2015 to 3.71% in 2018. The government is allowing the Higher Education Financing Agency to allow the private sector to dominate the education sector, which will make higher education a distant dream for the poor sections of the society. Similarly, in the health sector, the government has chosen private insurance companies and private healthcare lobbies as its partners, leaving the poor at the mercy of market forces and profiteers.
The BJP government claims that the Indian economy has experienced rapid growth in the last five years, which is blatantly incorrect.
Commenting on the BJP's performance, the eminent economist and the Nobel laureate Amartya Sen (2018) argues that despite being the fastest-growing economy the country has taken a "quantum jump in the wrong direction" since 2014. India is now the second worst performance in the south Asian region. "Things have gone pretty badly wrong… It has taken a quantum jump in the wrong direction since 2014. We are getting backwards in the fastest-growing economy… Twenty years ago, of the six countries in this region – India, Pakistan, Bangladesh, Sri Lanka, Nepal and Bhutan, India was the second best after Sri Lanka. "Now, it is the second worst. Pakistan has managed to shield us from being the worst."1
Growth in the industrial sector was 6.7% in 1980-1990,5 and while it slowed down somewhat in the post-reform period (1991-2017), the secondary sector still grew at an average of 5.7% annually. The past decades in India appear to have witnessed inadequate diversification of India's production structure away from agriculture and into manufacturing3 and somewhat premature rapid diversification into the service sector.2
However, since neoliberal reforms were undertaken in 1991, the agriculture sector hardly saw any benefits and, during this period, its growth rates were negligible. The pursuit of neoliberal economic policies has led to the withdrawal of the state role in assisting farmers in particular and the rural sector in general, and is instead promoting the interests of global financial capital, with which the Indian corporate capital is closely integrated.3 Despite the fact that the majority of the country's population has not witnessed any improvement in its living conditions, the government nevertheless celebrates this as a "great achievement" 4. On this account, the statistics reveal that half of India's population has witnessed stagnation in its real per capita income.
The share of agriculture in terms of GDP in 1950-51 was 56.70%, while its share in total employment was 85% for the same period. Since the share of agriculture in GDP fell sharply and by 2015-16 it was 13.05%, while the fall in the share in the agricultural employment was much slower (55%), and more than half the population still depends on agriculture for their livelihood, as shown in Table 1.
Table 1: Share of Agriculture in GDP and Employment in India, between 1950-51 and 2015-16
Source: National Sample Survey, various years, Central Statistical Organisation, Government of India, New Delhi.
About the Author
Dr Kalim Siddiqui is an economist, specialising in International Political Economy, Development Economics, International Trade, and International Economics. His work, which combines elements of international political economy and development economics, economic policy, economic history and international trade, often challenges prevailing orthodoxy about which policies promote overall development in less developed countries. Kalim teaches international economics at the Department of Accounting, Finance and Economics, University of Huddersfield, UK. He has taught economics since 1989 at various universities in Norway and UK.
References
1. Sen, A. 2018. "India Has Taken a Quantum Jump in the Wrong Direction after 2014", Business Standard 9 July. https://www.business-standard.com/article/current-affairs/lack-of-attention-on-education-health-magnified-in-modi-rule-amartya-sen-118070800113_1.html
2. Siddiqui, K. 2018a. "The Political Economy of India's Economic Changes since the last Century" Argumenta Oeconomica Cracoviensia No.19. pp. 103-132.
3. Siddiqui, K. 2018b. "The Political Economy of India's Post-Planning Economic Reform: A Critical Review", World Review of Political Economy 9(2): 235-264, summer, Pluto Journals.
4. Siddiqui, K. 2018c. "India's Economic Reforms and Challenges for Industrialisation", Journal of Perspectives on Financing and Regional Development (JPPD) 6(1): 1-21, July.
5. Siddiqui, K. 2015a. "Challenges for Industrialisation in India: State versus Market Policies", Research in World Economy 6(2): 85-98. ISSN 1923-3981.
6. Siddiqui, K. 2015b. "Agrarian Crisis and Transformation in India", Journal of Economics and Political Economy 2 (1): 3-22. ISSN: 2148-8347,
7. Siddiqui, K. 2017a. "Hindutva, Neoliberalism and the Reinventing of India", Journal of Economic and Social Thought 4(2): 142-186, June. ISSN 149-0422.
8. Siddiqui, K. 2017b. "The Bolshevik Revolution and the Collapse of the Colonial System in India", International Critical Thought 7(3): 418-437. Routledge Taylor & Francis.
9. Siddiqui, K. 2016. "Will the Growth of the BRICs Cause a Shift in the Global Balance of Economic Power in the 21st Century?" International Journal of Political Economy 45(4): 315-338, Routledge Taylor & Francis.
10. Siddiqui, K. 2019. "Corruption and Economic Mismanagement in Developing Countries", World Financial Review, January-February.
11. Siddiqui, K. 2014. "Flows of Foreign Capital into Developing Countries: A Critical Review", Journal of International Business and Economics 2(1): 29-46, March.
12. Siddiqui, K. 2018. "Hindu nationalism and the Consolidation of Hate Politics in India", World Financial Review, September/October.
13. Indian Express. 2018. "Lynching without End," Indian Express, New Delhi, 17 March.
14. Siddiqui, K. 2016. "The Economics and Politics of Hindu Nationalism in India", Asian Profile 44(6):497-507.
15. Bauer, O. 1978. "Fascism" in edited by T. Bottomore and P. Goode, Austro-Marxism, pp. 167-86, Oxford University Press.
16. Rosenberg, A. 2012. "Fascism as a Mass Movement", Historical Materialism 20 (1): pp. 144-189.
17. Gatade, S. 2011, Godse's Children: Hindutva terror in India, New Delhi: Pharos Media & Publishing Pvt Ltd.
18. Sartre, Jean-Paul. 1976. Critic of Dialectical Reason, 1, London: Alan Sheridan Smith.
19. Thapar, R. 2002. "In defence of history" SOAS Lecture, London. https://eprints.soas.ac.uk/17278/1/2003/521/521%20romila%20thapar.htm
20. Trushke, A. 2017. Aurangzeb: The Man and the Myth, New Delhi: Penguin.