The traditional approach to asset-liability management (ALM) practice in banks operated as a reactive process following product origination by the customer-facing business. In the Basel III era a more proactive approach to ALM is required, in order to manage the balance sheet from an effective viability and sustainability standpoint. The article describes proactive "Strategic ALM" discipline and its implementation process.
Banks are by their nature risk taking institutions. This is a requirement of their business, because their corporate clients may wish to tailor their funding to meet the precise needs of their business, so as to achieve some certainty in this area, enabling them to focus on what they do best. Similarly, retail clients may wish to access banking products and services to meet their personal needs, such as purchasing a house or investing for a child's education. To meet this demand, banks offer the lending terms, maturities, rate options, currency, optionality, and contingencies demanded by their clients, and take on the range of risks that such tailoring represents. Because banks have a wide range of clients with varying borrowing and deposit requirements, exposures may to some degree offset each other, but will not match completely in terms of timing, amount and currency. This is more evident as products become more complex and offer more alternatives.
Therefore a key area of focus for banks is managing their capital, funding, liquidity and interest-rate risk requirements. These all fall under the umbrella of the asset-liability management (ALM) discipline in a bank. When a bank borrows more than it needs, there can be inefficiencies in terms of capital use. This can also result in added interest rate risk, and a loss when lending on. However, failure to have sufficient funding results in the bank having to rely on central bank liquidity, poor market perception and loss of investors, which could ultimately lead to failure. Thus, ALM becomes the most important aspect of a bank's risk management framework.
In this article we suggest that the discipline of ALM, as practised by banks worldwide for over 40 years, needs to be updated to meet the challenges presented by globalisation and Basel III regulatory requirements. In order to maintain viability and a sustainable balance sheet, banks need to move from the traditional "reactive" ALM approach to a more proactive, integrated balance sheet management framework. This will enable them to solve the multi-dimensional optimisation problem they are faced with at present.
The Origins of Asset-Liability Management (ALM) 
Historically, interest rates were stable and liquidity was readily available to banks in developed nations. Banks focussed primarily on generating assets to increase growth and profitability. However, in the 1970s changes in regulation, inflation, and geopolitics led to greater volatility and thus increased risk from asset and liability mismatches (see Figure 1).  This led to the development of Asset-Liability Management (ALM) as a formal discipline, where both sides of the balance sheet are integrated to manage interest rate, market, and liquidity risk. In essence however, this discipline remained reactive in nature, with Treasury and Risk having little or no input to the origination and deposit raising process.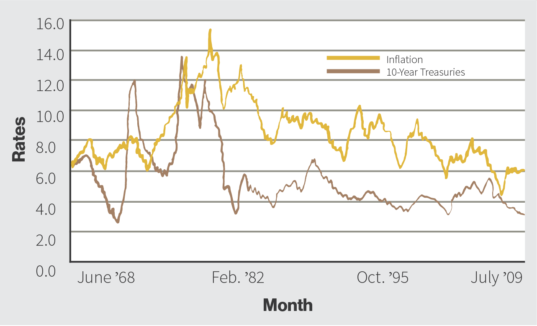 Figure 1: US Treasury yields and US inflation historical levels
Source: St. Louis Fed.
Traditionally, ALM was defined by four key concepts:
• Liquidity, defined as
◦ Funding liquidity: the continuous ability to maintain funding for all assets
◦ Trading liquidity: the ease with which assets can be converted into cash
• Term structure of interest rates: the shape of the yield curve at any given time depends on interest rate expectations, liquidity preference, and supply and demand from different borrowers and lenders. ALM strategy would consider how changes to the shape of the yield curve in the short and medium term will impact the bank.
• The maturity profile of the banking book
• ALM would report and monitor the maturities of all asset and liabilities to measure and control risk
• Interest rate risk, essentially the risk of loss of net interest income due to adverse movements in interest rates or interest rate spreads.
In essence however, "ALM" as undertaken in all banks has always been a reactive process, and despite its name has rarely, if ever, managed to integrate origination policy across both sides of the balance sheet. As a discipline, such an approach is no longer fit-for-purpose in the era of Basel III.
About the Author
Professor Moorad Choudhry lectures on the MSc Finance programme at University of Kent Business School. He was previously Treasurer, Corporate Banking Division at The Royal Bank of Scotland, and is author of The Principles of Banking.
The views expressed in this article are those of the authors and do not necessarily reflect the views or policies of The World Financial Review.