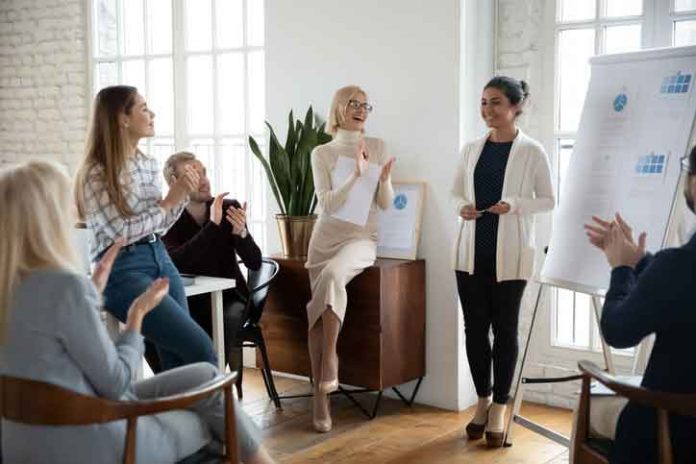 Introduction
Looking into new ways to implement employee recognition in the workplace can help boost workplace morale and increase employee engagement by using recognition strategies that are a bit more out-of-the-box.
Sure, you can put their picture on the wall or send out an email saying they're the "employee of the month", but is that really something that motivates your staff to push themselves and do the best that they can? 
Check out this list of ideas put together by some of our favorite business leaders. They have shared some concepts that can be executed in a variety of workplace environments and we hope they'll work for you as well.
Use Behavioral Science – Pyramid of Needs
We've all heard of Maslow's Hierarchy of Needs. In this recognition strategy, you would be utilizing some of the pyramid's ideas to promote employee recognition by meeting needs that they may have. Studies have shown that people are happiest in work environments that are meeting all of their needs, so why not implement this in your employee recognition strategies?
"This strategy is something that can be used incrementally on an individual basis," says Christy Pyrz, Chief Marketing Officer of Paradigm Peptides. "The pyramid of needs goes from basic needs all the way to self-actualization. You will need to determine where on the spectrum your staff falls. This might mean that recognition for one staff member might include allowing them to work a flexible schedule as a reward for their reliability so they can make it to their kids' soccer games on Thursday nights or it could be a collection of notes of encouragement and appreciation from coworkers to fulfill their need for belonging or elevate their esteem."
"Using behavioral science and Maslow's pyramid to determine rewards and recognition ideas can be a very fulfilling way to give recognition," says Mark Sider, CEO and Co-Founder of Greater Than. "This method not only allows for the staff to feel appreciated and valued, but in the long run it will increase the likelihood that you have a reliable staff that wants to stick around because their needs are being met completely." 
Encourage Peer-to-Peer Recognition
Leading by example and encouraging your staff to encourage each other through your appreciation of their efforts is a great way to help people feel seen and appreciated while also building relationships within your teams. You can start this by doing it yourself with people higher up in the organization and then encouraging them to keep passing it on.

"Peer-to-peer recognition can be just as powerful, if not more, than recognition from the top," says Adam Bém, Co-Founder and COO of Victoria VR. "Think about it: wouldn't you value the opinion of your close coworker who sees what you're doing and the effort you're putting into things more than the CEO who you see once per month at staff meetings? That's not to say that leaders shouldn't praise or recognize staff, but it's important to see the value of recognizing peers and creating a workplace culture that facilitates this type of recognition."
"Show your staff how to appreciate and recognize each other by giving them the opportunity to nominate each other for awards or recognition or by providing each person with the resources to provide encouragement to their peers," says Anthony Puopolo, CMO of REX MD. "Even providing each staff member with a stack of blank cards to write in to encourage and recognize the efforts of their peers can start to create a domino effect of positivity and recognition among your employees that will contribute to a much more positive work environment."
Brag About Your Team on Social Media
This one is targeted at your Gen Z and Millennial employees, but most Boomers are also on social media at this point too – even if it is just to keep in touch with their kids. Share the great work your staff is doing on a social platform where they can be acknowledged professionally for their efforts on a public platform where their friends and family can see.

"Being recognized at an office dinner or luncheon is one thing, but being bragged about by your boss on a social platform for the world to see can leave your employees feeling so valued and appreciated," says Ray Leon, CEO of Pet Insurance Review. "Share those major accomplishments online and boost your brand's social media presence along with your appearance as a great place to work because of your pride for your employees and their efforts."
"Depending on your industry, your staff may not be seen by your customers on a regular basis," says Dan Potter, Head of Digital at CRAFTD London. "In those scenarios, it can be easy for them to feel like their efforts don't make a difference, but when something is posted about them on social media and others are able to comment or interact with the post to show their appreciation and respect for what your staff member does, it can give them that validation and motivation to be even better."
Ditch the Banquets 
Company dinners aren't everyone's cup of tea, but your staff probably feels the same. Instead of booking an expensive venue with expensive catering to host a typical formal awards night, try finding something a bit more fun to do with your staff to show your appreciation for them.

"I love hearing the creative ways that industry leaders are finding to recognize their staff," says Lina Miranda, VP of Marketing at AdQuick. "I've heard of some that will invite their entire staff over for a dinner and game night at their house or they'll go out as a company or team to some fun venues like mini-golf or an escape room for experiences that can function as a staff recognition time while also building team morale and relationships outside of the office."
"A lot of brands are rethinking the award process for staff recognition," says Sean Doherty, GM of Box Genie. "Sure, it's nice to get dressed up and take your partner with you to a dinner banquet, but these banquets often don't allow for much casual conversation or team bonding. Instead of a stuffy banquet, try thinking of award or recognition locations that are more casual or where people can invite their families to come along. I've heard of companies renting spaces at the park, zoo, amusement park, and even a private movie theater to facilitate these events."
Conclusion
Staff recognition is something that brands should be doing to help encourage their staff to do their best and strive for excellence. Encouraging your team to stay at the top of their game can take on a few different appearances. Many of the ideas above can be used together to promote a positive workplace culture that facilitates growth and motivation.
Employee recognition doesn't have to be a fancy banquet. In fact, most staff feel banquets and ceremonies are too inauthentic. Encouraging peer recognition and meeting the behavioral needs of your staff are two of the more basic methods of recognition.
It also isn't a bad idea to look into what your staff wants for recognition purposes. Ideas like social media appreciation posts and team events where recognition is awarded are more public displays of appreciation that can help motivate your staff to stay at the top of their game.
We hope this article has left you with some great ideas to implement within your brand as you rethink employee recognition with some more out-of-the-box ideas.
The views expressed in this article are those of the authors and do not necessarily reflect the views or policies of The World Financial Review.