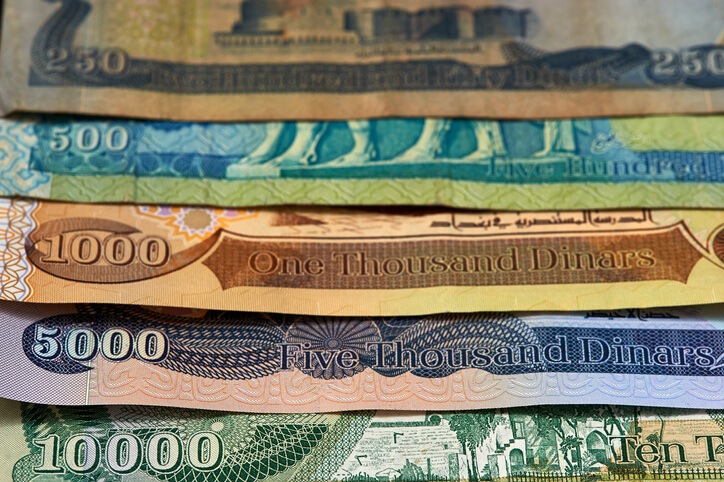 Are you planning to sell your Iraqi Dinar, Iraq's currency? It can be as part of your trade or simply as an exchange in the forex market. In the quarter of 2021, the exchange rate of Iraqi Dinar (IQD) is $1 = 1,450 IQD.
It is crucial to stay alert while selling currency. You have to take precautions to sell Iraqi Dinar securely. Read on to know what precautions to take when selling Iraqi Dinar.
Look for Sign of a Scam
Ensure to be alert and watch out for any typical signs of a scam before selling Iraqi Dinar. Generally, financial scams have similar characteristics. Look out for the below red flags of a financial scam:
Individual agents with no solid reputation promote or run the financial scheme. It is recommended to trust only reputed websites, brokers, financial firms, and other entities.

Too many unofficial promotions. It can be through telemarketing calls, email, or the internet.

Marketers who promise exaggerated returns and offers

Warnings from reputable banks or state governments against specific platforms or individual agents

Suspicious available quotes

Impractical reasoning or negotiating
If you spot any of these warning indicators, avoid using the platform or the buyer. It can be risky and lead you to a scam.
Do Your Research
It is essential to research the market and Iraqi Dinar before you sell it. In this way, you will be aware of all the trading knowledge, market trends, and fair processes. There are fewer chances of anyone tricking you into experiencing loss or scams.
Make sure to also learn about the economic factors and geopolitical factors before selling Iraqi Dinar. All these analyses will help you come with techniques to sell safely and profitably. You can try to get experience by selling smaller denominations of Iraqi Dinar or other currency.
Try to establish a proper money management strategy. For example, it is less risky to start selling smaller amounts for the first time. It minimizes your loss in case of a scam or lower profits. Additionally, ensure to understand any tax implications involved in selling Iraqi Dinar.
Evaluate each buying offer you receive. Check if it meets the regulations and the current market conditions.
Find a Trustworthy Selling Service or Platform
It is crucial to avoid using a questionable selling service or platform. To sell Iraqi Dinar securely, make sure to do business only with trustworthy services. Start by checking the reputation of the service or platform before you seal the deal.
Check if the service has appropriate registrations and licenses. Generally, reliable services have a registration with the US Treasury and state licenses. The testimonials and reviews of previous sellers with the service are also helpful. If the service has an online presence, you can check and verify its reputation.
In addition, you can research the service's account offerings. Check their spreads and commissions, initial deposits, withdrawal policies, and leverage amounts.
Services with reliable customer service can be more trustworthy. The customer service representatives can also clear your queries or provide additional information. You can find out about the service's policies and offerings for free and without any obligations.
Ensure Efficient Security
Before you decide on a service or buyer for selling Iraqi Dinar, check their security measures. Security features such as solid encryptions, physical security, and secure communication channels ensure better security. 
Additionally, do not give away too much of your personal details. You can use a separate email for sales instead of your personal or business email. Avoid meeting in person. You may use a secure online website or meet only in public spaces.
It is crucial to use secure portals for transactions as well. Inquire which safety measures the selling service or platform offers to you. Then, you can check its efficiency through research and decide accordingly. If you are directly selling to a buyer, make sure to verify the information they provide.
Maintain A Good Record
You can maintain a systematic and proper record of all your transactions while selling Iraqi Dinar. It keeps track of all your discussions and activities with the service. You may also note down the negotiations and other helpful information. Make sure to include the dates and correct amounts.
The record can serve as your proof in case the deal goes wrong. Additionally, it allows you to keep tabs on everything. The service cannot try to trick you or deny any previous claims.
Moreover, it helps you learn from your mistakes. Or you can check which selling strategies work and try to improve them. 
It is crucial to ensure safety and security before you involve in trading or financial transactions. If you plan to sell Iraqi Dinar, make sure to take the above precautions. Avoid getting into any deals that seem suspicious or refuse to show valid proofs.
Disclaimer: This article contains sponsored marketing content. It is intended for promotional purposes and should not be considered as an endorsement or recommendation by our website. Readers are encouraged to conduct their own research and exercise their own judgment before making any decisions based on the information provided in this article.


The views expressed in this article are those of the authors and do not necessarily reflect the views or policies of The World Financial Review.