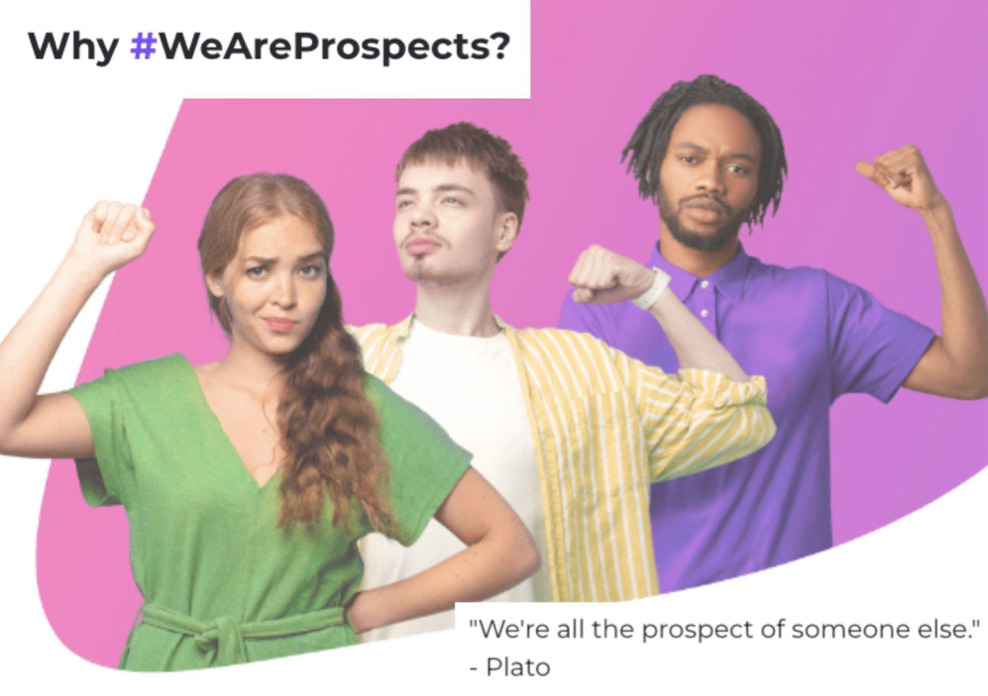 If you have ever been involved in the B2B buying process, you know just how complex it can be compared to the B2C industry. Instead of one-click purchases, next-day delivery, and consumer-centric customer service, B2B prospects are left in the lurch for most of the sales experience, leaving many frustrated.
To put this into perspective, three-to-one B2B purchasers prefer to educate themselves rather than speak with sales professionals to learn about products and services, according to Forrester.
Clearly, if B2B sales channels are to be widely adopted, they must meet the seamless, easy, and informative standard of B2C digital platforms. While such transformational change takes time, a few organizations are taking steps to assist in accelerating this process in order to provide greater value to prospects sooner.
Walnut is one such company, after having launched its #WeAreProspects viral campaign to expose ongoing flaws in traditional B2B buying experiences while offering discounts on solutions aimed at making prospects' lives easier because, as Plato once said, "We're all the prospect of someone else."
Why the B2B sales experience is broken
One of the primary issues with the B2B sales experience is the fact that prospects are finding it difficult to access demos of the product they are interested in buying. Rather than being handed over the keys for a test drive, SaaS organizations are set up so that sales reps must walk prospects through the generic value propositions of the product.
This old-school model is problematic for a number of reasons, but mainly because 43% of B2B customers prefer not to interact with a sales rep at all, which means that companies unwilling to open new sales channels may inadvertently exclude themselves from a large percentage of the B2B market.
Another major pain point in the B2B industry is its long sales cycles. Hubspot estimates the average time for onboarding a new customer to be 84 days (almost three months!). It goes without saying that many buyers would be unwilling to wait that long and may look for alternatives in the meantime.
Finally, seller centricity creates huge bottlenecks in sales funnels, which causes a whole host of issues for both sellers and prospects. When companies focus on boosting individual seller performance rather than making the prospect the priority, they cannot truly understand the unique wants and needs of the company they are selling to, which results in suboptimal sales performance.
Who's on board?
With all of this in mind, it's easy to understand why Walnut has been working hard to launch its new digital campaign. Throughout the effort, Walnut will collaborate with prominent SaaS firms, many of whom will give discounts and free trials on their products to help kick-start the campaign. On that topic, let's take a look at some main participants.
Contractbook – A platform for collaborative contract management that streamlines the sales process for both buyers and sellers by automating the sales cycle and synchronizing contract data across enterprise platforms. Contractbook support teams in avoiding the conflict and even mistrust that might result from the implementation of traditional contracts.

Cloudshare – By generating personalized, interactive demos in just a few clicks and enabling prospects to test drive the product early in the sales process, B2B organizations can save time and money by shortening sales cycles and closing more deals. When you sign up for an annual contract as part of the campaign, you'll be eligible for exclusive savings.

Similarweb – Sales teams can uncover relevant prospects with the help of the Similarweb Sales Intelligence platform, which gives you access to digital analytics, including traffic trends, engagement statistics, and even the tools and technology that people use to interact with your service.

Dooly – Salespeople can easily share information with people across the organization thanks to Dooly's connected workspace. The platform gives sales teams a consistent experience, streamlining the buyer's journey as much as possible.

Postal – A powerful and efficient platform for offline marketing interaction that go-to-market teams can use to scale, implement, and track their offline marketing plan in order to scale their brand. You can score a free trial by mentioning #WeAreProspects.

Sales Assembly – Sales Assembly provides growth-stage B2B tech companies access to all the training, certification, programs, tools, resources, strategy, peer connections, and talent they need as they continue to scale – all in one easy-to-access place.

Apollo – Apollo is a sales intelligence platform with features to assist you in prospecting, engaging, and generating more revenue. Sellers and marketers use Apollo to locate new customers, engage with contacts, and create a modern go-to-market strategy that drives value to prospects and improves business outcomes.
Leading the change
The #WeAreProspects campaign from Walnut looks ready to start a B2B revolution, and it's about time. With interest in the SaaS space growing with each passing year, it's important that prospect expectations are met (and even surpassed) if these tools are to be as widely adopted as many in the industry expect them to be.
The views expressed in this article are those of the authors and do not necessarily reflect the views or policies of The World Financial Review.