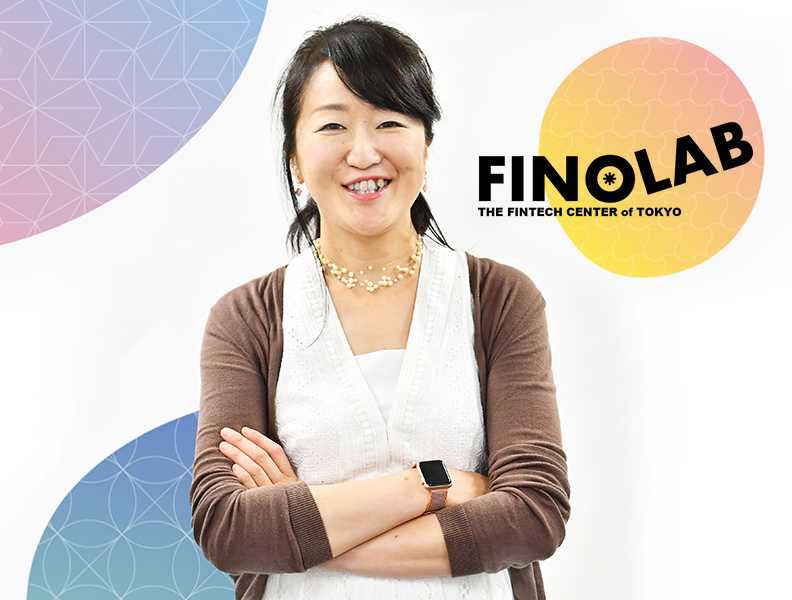 Interview with Ms. Chie Ito, FINOLAB Inc. CEO and Finovators Co-Founder
FINOLAB, Inc. was set up with the goals of supporting fintech start-ups in Japan, stimulating innovation in a co-working environment, and promoting Tokyo as a global fintech hub. Here, their CEO, Ms. Chie Ito, describes the motives for setting up the organisation, gives her insights on the effects on the current health crisis on the finance industry, and describes her hopes and aspirations for the future.
Hello, Ms. Ito. Thank you for sparing us a little of your time. It's a great pleasure to have the opportunity of talking to you. To begin with, could we talk about what constitutes a typical workday for you? What might we find you doing during the course of a normal day?
The most interesting part of working in this area is that there is no "typical" day. One day, I would be having discussions with my staff to arrange meet-ups, interviewing several start-ups, and having a brainstorming session with intrapreneurs. Maybe the next day, I would be busy preparing a board meeting, shooting videos for promotion, and making presentations to release a new service of FINOLAB. A lot of different things happen every workday and I enjoy my work.
You're CEO of FINOLAB. Could you give us a little background on the history and the idea behind the founding of the company?
FINOLAB was created in February 2016 to support fintech start-ups and to promote open innovation as a co-working space and fintech community in the financial district of central Tokyo, with the support of Dentsu Group, the biggest advertising group in Japan, and Mitsubishi Estate, the biggest real estate company. And in July 2019, it became FINOLAB, Inc., with full legal status as an independent company, to make its initiatives sustainable on a long-term basis to support start-up and corporate members to promote the fintech ecosystem in Tokyo.
You're also a co-founder of the mentor group FINOVATORS. Could you tell us a little about that?
In addition to physical support like providing an office space, we thought it was important to give professional advice to members, and at the launch of FINOLAB in 2016, we formed a pro bono mentor group called FINOVATORS, which consisted of experts in finance, such as lawyers, bankers, venture capitalists, ex-government officials and technology experts.
In your view, what are the most significant challenges facing digital start-ups and what would your advice be in order for them to attain a higher rate of success? Do you think the government could do more to facilitate things in that regard?
We are often asked for an advice from start-ups in three major areas, such as fund raising (introduction to venture fund), human resources (recruitment of engineers), and business development (connecting to corporate partners), but over and above these factors, we feel that the fundamental business idea, collaboration for execution, and continuous learning from the market are critical to succeed. Government can give support in fund raising by providing subsidy or public loans for start-ups, but we feel it is not sufficient at this point, especially in difficult times like the present.
We are trying to support both Japanese start-ups to expand into the global market and non-Japanese fintech players to come into the Japanese market to drive healthy competition.
FINOLAB aims to make Japan a leading centre of digital innovation. How do you prepare your organisation and the start-up companies that you support in reaching this goal? Do you have any specific short- and long-term goals?
We are trying to support both Japanese start-ups to expand into the global market and non-Japanese fintech players to come into the Japanese market to drive healthy competition. When FINOLAB, Inc. was established, we created a Global Advisory Panel with well-known fintech experts, such as Brett King, Chris Skinner, Ghela Boskovich and Melissa Guzy, to obtain advice for our international expansion. As a short-term goal, we are making significant efforts to improve FINOLAB's visibility among global fintech players by expanding our network with other fintech offices around the world and by presenting at industry events, such as Finovate and Money20/20. And for the long-term goal, we would like to see the global status of Tokyo as a global fintech hub improve in the years to come.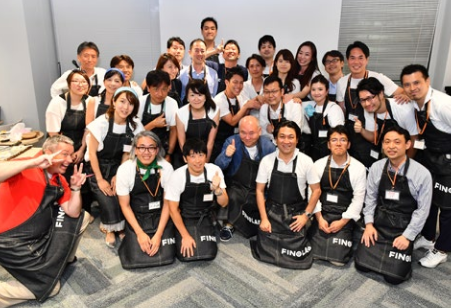 What do you think are the most important digital trends to watch out for in the coming years, in particular, in the world of finance?
In the world of finance, we are emphasising the importance of digital trends in "ABCDE"; namely, Artificial Intelligence replacing the human workforce, Blockchain creating new infrastructure, Cashless payment becoming dominant, Data becoming the main business driver for financial services, and the Extended network, such as 5G, having a strong impact on the customer interface.
The repercussions of the current worldwide health crisis are still to be fully understood, but it seems clear that the future will see fewer face-to-face interactions between individuals, leading presumably to a greater number of electronic transactions. Do you see implications ahead for the fintech industry as a result of the effects of COVID-19?
We have been observing a big shift among existing financial institutions from conventional physical channels, like branch offices, to online and mobile channels to create new relationships with customers, and start-ups will have big business opportunities to meet these needs, by creating apps, digital marketing tools and digital payment solutions.
The economic impact of coronavirus globally is also likely to be formidable. How do you view the role of the fintech industry in helping to deal with the economic issues in Japan, and in the world at large?
Since many small and medium enterprises (SMEs) are struggling to secure working capital to continue their business during the semi-lock-down period in Japan, the role of online lending and crowd funding have become very important to support SMEs with quick credit decisions and matching processes in place.
Turning to your own background, it's clear that you have had a very successful career journey, including your involvement in the development of a foreign exchange trading system and, of course, your work at FINOLAB. Would you tell us which aspects of your career so far have given you the most satisfaction? And what do you look forward to in the future?
I started my career as an IT engineer working for capital markets divisions of banks. I worked with many traders and they always gave me quick and direct feedback for IT systems. I felt that the power of technology worked for finance, and I was excited and thrilled, though there were no women in dealing rooms and IT divisions at banks in those times. Now I have been working in the fintech ecosystem for more than five years, I believe in the power of fintech and hope it will make the world a better place. I would like to contribute not only to the financial industry, but also to all other industries by supporting entrepreneurs and intrapreneurs.
 I believe in the power of fintech and hope it will make the world a better place.
The top echelons of business have traditionally been dominated by men in societies all around the world. As a successful business person in Japan, would you say that you have faced barriers in your career as a result of being a woman and, if so, how have you coped with this?
I do not think I've faced that kind of barrier. There were sometimes difficulties or uncomfortable things as a result of being a woman, but also many helpful things. For example, since there were only a few women in the company, customers or colleagues easily remembered me. I guess there would also be difficulties or uncomfortable things as a result of being a man. In my experience as a businesswoman, there are rather more good things than bad things. Maybe I was too busy to think about my gender, because I had a lot of things to learn as a businessperson. When things didn't go well, the reason was obviously my lack of skills or experience.
How would you describe the current situation in Japan for women who choose to pursue a career in business? In particular, do you think women are fairly represented among CEOs and other business leaders in the country?
I have to admit female CEOs and business leaders are still few in Japan. However, it is increasing. The most important thing is not the number of women in high positions but the number of women who can go their own way.
Do you think it's important that there be role models for women who aspire to reaching top levels of management in business? Do you have any advice for women who may just be starting out on their career in the world of business?
I hope that female business leaders become much more common in the future and, to make that happen, I think role models for women should not be limited to female business leaders. We can learn from many excellent business leaders in the world. Women are tough, vigorous and energetic by nature. We can do many things as businesspeople before thinking about gender issues.
What does success mean to you, personally?
Success for me is to be happy and, in the latter days of my life, to feel truly grateful for all the people I have known and worked with.
It is often said that the key to happiness is finding a suitable equilibrium between the professional and the personal aspects of our lives. Can you say what, for you personally, is an ideal work-life balance?
I would like to work anywhere and anytime I want, and there is no need to mentally separate work from life. That would be ideal for me.
Executive Profile
Ms. Chie Ito is the Chief Executive Officer of FINOLAB Inc. After taking charge of building a money exchange trading system for a major bank, engaged in partner alliances with overseas solution vendors and launching new businesses. Since 2014, she has been in charge of new business development and partner alliances, in addition to working with FinTech startups such as Japan's largest FinTech pitch contest "FIBC".
The views expressed in this article are those of the authors and do not necessarily reflect the views or policies of The World Financial Review.